NBA Trade Rumors Live Blog 2.15.16: The Dwight Howard watch is on
Could the Wolves move their point guard? Are Al Horford and Dwight Howard on the move? Is Boston serious about making a deal?
by

Eye on Basketball staff

• 12 min read
Our NBA trade rumors live blog will keep track of all the whispers, indications, and reported talks between teams between now and the deadline. Here's the latest on Monday, February 15, with three days to go until the NBA Trade Deadline. 
 
This has to be called the Dwightside deal.
 

Could you imagine a trade centered around Dwight Howard and Hassan Whiteside? The New York Daily News' Frank Isola reported that the Rockets and Heat are discussing just that. 

I'm sure no one will have strong reactions to this because both Whiteside and Howard are universally liked.

Also: ESPN's Chris Broussard said on the radio that Howard wants to go to home to Atlanta. Maybe he loves the Hawks' neon uniforms. 

 
Shump Being Shopped
 

The Cavs are looking to make moves, but it had been thought they were only looking to deal Timofey Mozgov who has struggled and has an expiring contract, or Anderson Varejao, who is past his prime. ESPN, however, reports that the Cavs are also dangling wing Iman Shumpert. 

Sources say that the Cavs, though, have been more and more active in recent days in pursuing upgrades to their bench, with center Timofey Mozgov and swingman Iman Shumpert -- both in the midst of down seasons after their mid-season arrivals in 2014-15 -- said to be available. 

Source: Trade buzz: Kevin Love untouchable? - Marc Stein- ESPN. 

Shumpert was the key trade target for David Griffin last year, with J.R. Smith being the throw-in. However, LeBron James is close with Smith (and reportedly urged the team to acquire Smith). Shumpert on the other hand has struggled with injuries and isn't a lights-out shooter enough to impact the offense. 

He's got the best value of any non-essential, non-Love player on the roster. That he's available is surprising because of how good the team is, but that also didn't stop them from firing their coach and being involved in all these talks. Speaking of Love ...

 
All Out Of Love
 

Is Kevin Love available? Is he not available? Are they absolutely keeping him? Are they shopping him? Is he hungry? Who's hungry?

So much noise about Love, and now ESPN only muddies the water further:

The Cavaliers have been adamant for weeks that Kevin Love is going nowhere, but the chatter about potential Love deals isn't going away until the deadline passes Thursday at 3 p.m. ET, since even Cavs GM David Griffin has acknowledged "that there's no such thing as untouchable."

But league sources say that the Cavs have made it clear to interested teams -- starting, of course, with the Love-hungry Boston Celtics -- that they'd covet a star in return if or when they do reach the point of letting Love go ... and not a package of draft picks and role players like the Celtics are offering.

Source: Trade buzz: Kevin Love untouchable? - Marc Stein- ESPN. 

OK, so he's definitely not being traded, unless he is, and the Cavs won't do a deal, unless they get a star. 

The read on this is that a deal for Love remains extremely unlikely, because teams are unlikely to give the Cavs an upgrade in star power for Love. It's also notable that they are broadcasting that Boston doesn't have enough. 

However, there's always the possibility of a three-team trade that sends Boston's assets to a team in exchange for a star. It's remote, but don't rule it out. Is Love on the block? Yes and no. Glad we cleared that up. 

 

 
Deer Meat Mostly Not On Sale
 

The Bucks are floundering and there was speculation that they could look to make sweeping changes including moving former No. 2 pick Jabari Parker and top free agent signee Greg Monroe. ESPN shuts hat down, saying the Bucks are rejecting those offers. 

Sources say that Bucks center Greg Monroe, contrary to recent speculation, is not being made available. Despite the Bucks' 22-32 struggles in Monroe's first season in Milwaukee, they're not looking to surrender their marquee free-agent newcomer before he completes his first season in town.

The Bucks, sources say, are also turning aside the calls they're getting on young forward Jabari Parker, who continues to recover from ACL surgery, but point guard Michael Carter-Williams is undeniably gettable.

Source: Trade buzz: Kevin Love untouchable? - Marc Stein- ESPN. 

Milwaukee shouldn't make any drastic moves. This year was a step backwards, but with more time in the system and as their young talent improves, the future remains bright. But man, they really should not have traded Brandon Knight for MCW. 

 
Cleveland is trying to play vulture over Sacramento. 
 

The Cavs were linked to talks for Ben McLemore last week, and were reportedly trying to shop Timofey Mozgov to Sacramento as well. Now ESPN reports that the Cavs are also trying to snag Kosta Koufos. 

Among Cleveland's various trade targets this week, ESPN sources say that the Cavs have pursued Sacramento big man Kosta Koufos

— Marc Stein (@ESPNSteinLine) February 15, 2016

So basically the Kings are just swapping out bigs from the 2013 Denver Nuggets. Wonder if JaVale McGee is next. Koufos makes a lot of sense, though. He's a smart defender and a quality rim protector who has soft touch around the rim. He's be a great fit for what Cleveland does, as a backup or starter, and has Ohio ties through Ohio State.

 
Everybody Loves Patrick
 

Raptors forward Patrick Patterson is in demand across the league, per Yahoo Sports. 

Even though his numbers are down, the sixth-year forward has appeal across the league. Under contract for the next two seasons at $6 million per, Patterson is a stretch power forward that many teams covet

Source: Guide to the NBA trade deadline: Raptors - Yahoo Sports. 

Makes sense. Patterson's a prototype stretch four, able to rebound, defend 3's and 4's, can knock down shots from the outside at 34.5 percent, and athletic. The Raptors could use an upgrade at that spot. Getting him, however, is going to be difficult. Patterson is the type of asset that Masai Ujiri can bleed teams for. 

 
Clippers denied by Denver?
 

Hey, remember when the Clippers and Nuggets reportedly talked about a Blake Griffin trade? Well, ESPN's Chris Broussard said on the radio that Los Angeles had a huge asking price and Denver said no.

The reported offer? Griffin and Lance Stephenson for Danilo Gallinari, Kenneth Faried, Will Barton and Nikola Jokic.

The Nuggets would surely love to have a superstar, but if I was running the team, I'd politely decline that one. That's way too much talent to be sending away, even for an elite player like Griffin. 

 
Ricky Rubio available?
 

Minnesota point guard Ricky Rubio is "readily available," according to the New York Daily News' Frank Isola, who reports that the Knicks want an upgrade at point guard but likely don't have the assets to get him. Isola also reports that dunk contest champ and Rising Stars MVP Zach LaVine would take Rubio's starting job if there was a trade. 

Reminder: A few days ago, Wolves GM Milt Newton told 1500ESPN's Darren Wolfson that no one had called about Rubio. They gave him a four-year, $55 million contract extension last summer.

LaVine obviously has incredible potential, but he's more of a shooting guard than a point guard. If Rubio is moved and Minnesota doesn't get another floor general, expect sloppy basketball for the rest of the Wolves' season.

 
An order of large Nuggets, to go.
 

You can have Denver forwards Kenneth Faried and J.J. Hickson if you want them, according to the New York Daily News. 

Last week, ESPN linked Faried to the Raptors, but the fit there is questionable because of spacing issues. He's had a solid season for the Nuggets, though, and should attract some interest if he's indeed on the market.

Hickson has been an afterthought in Denver, and he's been reportedly on the block for a while. The Nuggets just have too many bigs -- beyond those two guys, Nikola Jokic, Jusuf Nurkic, Joffrey Lauvergne and Darrell Arthur all deserve playing time. It would be a surprise if one or two frontcourt players aren't moved before the end of the week.

 
Morris staying put?
 

The Markieff Morris saga is not over, and perhaps it'll linger beyond Thursday's trade deadline. The Arizona Republic's Paul Coro said in a radio interview on Arizona Sports 98.7 FM that Morris' value probably won't be much different at the end of the season, and the Suns don't have to make a deal like they did with Goran Dragic this time last year. 

I guess that's true, and it's hard to imagine Phoenix getting much back for him. We've been talking about Morris wanting out since August. Seems like he should have been moved many months ago.

 
Nets  open for business?
 

The New York Daily News reports that the Nets are open to trading Thaddeus Young or Brook Lopez. One suggested deal has Young going to Toronto for Patrick Patterson and Delon Wright. It's suggested that the Nets may want a first-round pick, too, but that's unlilkely given Young's value at this point. 

It should be noted the Daily News reported the proposed Kevin Love- Carmelo Anthony- Celtics assets 3-way swap that was quickly and loudly shot down by both players (Carmelo Anthony and LeBron James denied it having any truth to it) and multiple other outlets. 

 
Al Horford doesn't want out and the Atlanta Hawks aren't actively shopping him. 
 

Sporting News reports two important distinctions with the Hawks: 

Horford is a free agent this summer, and though the Hawks could lose him for nothing, a league source told Sporting News that he has not sought a trade or informed the Hawks he would not stay in Atlanta. The same source said the Hawks are not actively shopping Horford, either.

Source: NBA All-Stars from Kevin Durant to Al Horford face wild trade rumor mill. 

These two elements are important because a. if Horford has not indicated he's out, the Hawks are not under pressure to trade him. That improves their leverage in a possible trade, but it also may push them to see if they can just keep him this summer. 

The fact that they are not actively shopping him doesn't mean he's not on the block, it means they're not approaching teams. You hear this a lot but the situation is the same, it's just a matter of outgoing vs. incoming calls. Hunting down a trade for a guy shows you feel you need to move him, and that's going to hurt your leverage. 

Horford's still very much on the block, but consider him substantially less likely to find a new uniform on Thursday.

 
The Professor could find a new college to teach at. 
 

The Wolves have some veterans on roster and they're ready to move forward with their young guys. Kevin Martin, Nikola Pekovic and Tayshaun Prince could all be somewhere else by Thursday. ESPN radio in Minnesota adds to that list by saying a deal could be found for Andre Miller: 

Hear there's a team kicking the tires on A. Miller -- not the Kings even though Karl loves him. Worth monitoring approaching Thurs. #twolves

— Darren Wolfson (@DWolfsonKSTP) February 14, 2016

Miller is ancient, but still able to throw lobs and provides veteran leadership, which teams do in fact value.

 
The Whiteside clock is ticking.
 

Rumors have been growing of the Heat's dissatisfaction with Hassan Whiteside. ESPN reported earlier this week that the Heat were testing the trade waters on Whiteside and now the Miami Herald builds on that story: 

Even before his ejection angered Heat officials Tuesday, there have been serious reservations inside the organization about giving Whiteside the type of contract Miami believes he could attract in free agency, one that could start at $17 million or more.

ESPN's Chris Broussard said the Heat is gauging trade interest in Whiteside, and two people in contact with the Heat told me that Miami appears open to considering a Whiteside trade, if it can dump other salary and get quality talent back, because it knows it's going to be uncomfortably costly to keep him. Heat officials have expressed frustration with him, for reasons we explained in last Sunday's column.

Source: With Whiteside's future here in jeopardy, a look at what can be done personnel-wise without and without him; Dolphins, Marlins, Canes, Panthers | Sports Buzz. 

Whiteside's going to be difficult to move because his value far exceeds what he's making. Whiteside is only being paid just over $980,000 this season. Any deal for Whiteside would likely have to include Luol Deng just to make financial sense for adequate return. 

 
The Celtics basically want to rob you blind.
 

Dealing with the Celtics sounds like a nightmare. Everything leaks, and yet nothing ever exposes the Celtics' position in potential deals. See if you can spot the pattern here: 

Atlanta center Al Horford, another big name that has been attached to the Celtics, falls into that group – with a price tag that is prohibitive for a player who is about to become a free agent. Denver's Danilo Gallinari, who has intrigued Celtics president Danny Ainge, was a dead issue well before those talks were reported.

Asked whether the team is increasingly reluctant to part with its collection of Brooklyn first round picks – 2016, the right to swap in 2017, and finally 2018 – the source said, "Not likely, sure."

Indeed, the Celtics' recent success considered, they do not feel an urgency to get something done by Thursday, though David Lee and his $15.5 million contract have to be burning a hole in Danny Ainge's pocket.

The source said that the Celtics, "do not feel that they have to do anything. Sure they'd like to do something. Every team wants to, but first you have to find something that works with a trade partner."

Source: Celtics bide time in trade market; Isaiah does some recruiting | Boston Herald. 

In that brief quote, the Celtics aren't going to overpay for Horford, won't part with any of the Nets' picks, and the Celtics aren't pressured to make a trade. Nevermind that they have more picks than they have roster spots available for next season, or that if the Celtics really want to make a playoff run they need to make a deal for at least one positional upgrade. 

Must be nice to be the Celtics, able to trade for anyone and not having to ever overpay.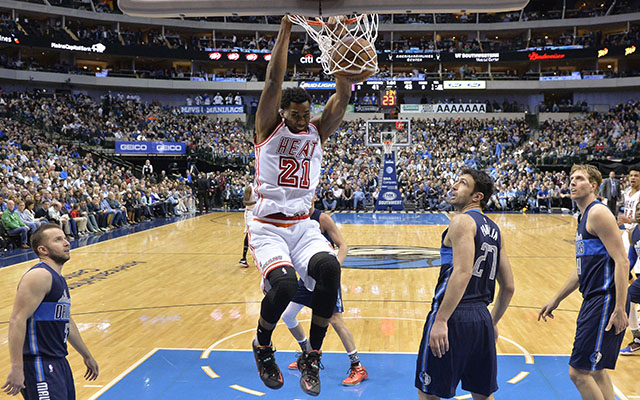 Show Comments
Hide Comments
Our Latest Stories
This sounds crazy, but it's totally plausible

This thing isn't getting any prettier for the two sides and what's coming out

Snakebitten Philadelphia sees another first-round pick with injury
The Sixers just started to get some good news before the Ben Simmons injury was announced

Bosh: 'I didn't get a call or a text or anything like that'

A budding star in Jokic, depth, trade chips -- Denver could be this year's Blazers