NBA Trade Rumors Live Blog 2.17.16: Celtics pushing for Kevin Love
The latest news and rumors about potential trades in the NBA before Thursday's deadline.
by

Eye on Basketball staff

• 13 min read
Our NBA trade rumors live blog will keep track of all the whispers, indications, and reported talks between teams from now until the Thursday deadline. Here's the latest on Wednesday, February 17, with one day to go before the trade deadline.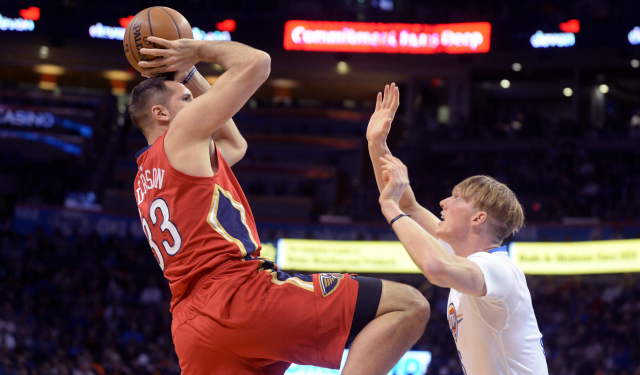 Cavs offered Anderson Varejao for Channing Frye but Orlando won't accept the trade


 

A short while ago, Marc Stein of ESPN reported that the Cleveland Cavaliers have offered up veteran big man Anderson Varejao in exchange for Channing Frye from the Orlando Magic. Part of this is the Cavs have reportedly coveted acquiring a floor-spacing big man like Frye, but also it would block the Magic from trading Channing to the Los Angeles Clippers.

However, Sam Amick of USA Today says the Magic don't have the intention of accepting this deal from Cleveland. The deal would provide cap relief for the Magic because Varejao's last two years on his contract aren't guaranteed.

As of right now, it's not a deal.

 

Philadelphia 76ers still looking for picks by picking up bad contracts


 

The Philadelphia 76ers took on the contracts of Gerald Wallace, Jason Thompson, and Carl Landry at various points over the last year as a way to secure first-round draft picks or the control of draft pick swaps. They may be willing to offer up their cap room to teams looking to dump salary again if the trade partner is willing to include an asset like a draft pick.

Keith Pompey of the Philadelphia Inquirer says the Sixers are still looking for assets at this trade deadline.

This is a big reason they have cap space. They were able to do it last season as well at the deadline when they acquired JaVale McGee along with a first. Sam Hinkie is hungry at deadline time.
 

Celtics emerge as third team in Cavs-Pelicans talks for Ryan Anderson

 

The Celtics are targeting Al Horford (more on that below) but they're also now engaged in talks with Cleveland and New Orleans in a potential blockbuster 3-team trade that would get them the player they've been after for so long, Kevin Love. 

The Cavs and Pelicans were talking about a deal that would send Ryan Anderson to the Cavaliers, but now CSN New England reports that Boston has entered the conversation: 

Cleveland's growing interest in New Orleans' Ryan Anderson bodes well in Boston's seemingly never-ending quest to acquire Kevin Love in what's shaping up to be a potential three-team deal that would include the Boston Celtics.

The particulars of the deal are still in the discussion phase, but the end result if it comes to pass would send Love to Boston, according to a league source.

Source: Cavs' interest in Anderson could lead Love to Celtics | Comcast SportsNet - CSNNE.com

Jae Crowder would reportedly be involved in such a deal, which would give the Cavaliers a versatile wing defender at the small forward spot to pair with LeBron James in smallball lineups, and Anderson would give them a floor-spacing power forward which appeases James' desire to have four shooters on the floor with him. 

This move would give all teams what they want. The Celtics get a star in Love, the Cavaliers get better fits for what they need to match up with Golden State, and the Pelicans get healthy assets. We'll see if they can pull it off. 

 

Trey Burke - Ty Lawson swap in the works?

 

ESPN and the Salt Lake Tribune report that the Utah Jazz and Houston Rockets have entered conversations about a potential deal that would send troubled point guard Ty Lawson to Utah in exchange for diminutive point guard Trey Burke. 

This would give the Jazz a theoretically more stable point guard option in terms of talent while Dante Exum continues to recover from offseason knee surgery, but Lawson has fallen from being a near-star in Denver to being nearly out of the rotation in Houston. He was traded to the Rockets last July following his third DUI in three years in Denver. 

Lawson is reportedly not a huge fan of Utah, but is also non-guaranteed for next season. 

 

Celtics "favorites" to land Al Horford

 

The Atlanta Hawks have been reportedly listening to trade offers centered around Al Horford but none have seemed to pique their interest. However according to CSNNE.com's A. Sherrod Blakely, if the Hawks decide that they want to shake up their roster and trade Horford, the Boston Celtics are the "favorites" to acquire the All-Star big man.

The Celtics have plenty of assets from draft picks and players to send to the Hawks in a potential Horford deal, so it makes sense that they are the favorites. If the Hawks do trade Horford, it signals the end of their current roster so they will have to make a deal aimed at their long-term future.

 
Pau Gasol is being "aggressively" shopped by the Bulls
 

The Chicago Bulls are "agressively shopping" All-Star big man Pau Gasol according to The Vertical's Adrian Wojnarowski. However, ESPN's Brian Windhorst reports that the Bulls have just merely taken some calls about Gasol and are not "actively shopping him." 

He may be moved or he could stay with the Bulls, either way, it seems like Gasol is one of the bigger names being mentioned in trade rumors.

 
Greg Monroe going nowhere 
 

Milwaukee big man Greg Monroe isn't going anywhere, according to USA Today's Jeff Zillgitt. There have been tons of rumors about him, but it appears talks didn't go anywhere. 

It's interesting that a source said there was "zero chance" Monroe would be moved. Typically, you never say never this time of year.

 

Jrue Holiday

staying put, too 
 

The Pelicans see guard Jrue Holiday as "untouchable," according to The Advocate's Scott Kushner. ESPN's Zach Lowe also reported that New Orleans is "rebuffing all inquiries so far" about him.

Injuries have made Holiday's tenure with the Pelicans pretty frustrating, but he can play. New Orleans should hold onto him if it believes he can stay healthy enough to be counted on.

 
The Pistons are not done 
 

Detroit general manager Jeff Bower said that the Tobias Harris acquisition wasn't necessarily the end of the team's deadline activity. 

"We're still active and would love to find one more move," Bower said on 1130 AM The Fan, via The Detroit News' Rod Beard. 

Bower also said that Pistons president and coach Stan Van Gundy has "great confidence" in Steve Blake as the backup point guard. The team has struggled with Blake on the court this season, though, and The Vertical's Adrian Wojnarowski reported Tuesday that Detroit was looking for another veteran guard. 

 
Cuban stays aggressive 
 

Mavericks owner Mark Cuban said in a radio interview that his team would be at the deadline in trying to add depth, but he didn't anticipate a major move, via Mavs Moneyball. 

"Yeah, we're trying to be [active]!" Cuban said. "We're trying to be! I don't think there's going to be any swinging for the fences kind of deals. We think we have some room to maneuver to improve our bench, but I don't think there's going to be any blockbuster type deals or anything like that."

The Mavs are sixth in the West, with Portland, Utah and Houston chasing them. You'd think improving the defense would be the first priority, but Dallas could use another shooter and playmaker, too.

 
Miami shoots for shooters
 

The Heat are "eager" to acquire more shooting, which has been an issue for them all year and is even more of a concern with Chris Bosh's health scare. According to the Miami Herald's Barry Jackson, they'd like to make a run at Sacramento's Omri Casspi and Ben McLemore, Denver's Randy Foye, Phoenix's Mirza Teletovic , Milwaukee's Jerryd Bayless and Brooklyn's Wayne Ellington. 

The problem is that Miami doesn't have a lot of similarly valued assets to offer in return. It feels like the Heat made their tweak on Tuesday by adding Brian Roberts and letting go of Chris Andersen. Now the bigger question is if more established players like Hassan Whiteside, Luol Deng and Goran Dragic could be on the move.

 
Defenseless Kings want Sefolosha
 

The Kings have interest in Hawks swingman Thabo Sefolosha, according to ESPN's Chris Broussard. Sacramento has hardly any good defenders on the roster, so this makes sense. It's not clear who would be going the other way in such a deal, but I'd imagine Atlanta would be interested in McLemore, who is still only 23 years old and is said to be on the block. 

It is hard to picture the Hawks trading Sefolosha without getting another wing in return. They're thin at that spot, and Kent Bazemore is headed for unrestricted free agency in a few months. 

 
 Magic offered Vucevic and Gordon for Griffin
 

David Baumann says the Orlando Magic made a play for Los Angeles Clippers ' star Blake Griffin .

Trade rumors and speculation have been running rampant with Griffin and the Clippers since he punched an equipment manager repeatedly outside of a restaurant in Toronto. Doc Rivers has denied the rumors and told the media on Tuesday that he wasn't trading Griffin.

The idea of the Magic offered up Nikola Vucevic and Aaron Gordon has to be intriguing though. Vucevic wouldn't fit next to DeAndre Jordan so one of those guys would have to be moved, but Gordon could be a young-ish, middle management version of Griffin.

 
Wolves struggling to move Martin, not shopping Rubio

 

Over the weekend, rumors started popping up that the Wolves weren't turning away phone calls for Ricky Rubio . With the trade deadline almost here, there isn't much chance to acquire a valuable point guard, even if he has some historic shooting issues.

However, the likelihood of Rubio being traded this week is extremely low. The Wolves are accepting phone calls but they aren't shopping Rubio. That could change this summer but it hasn't changed now, according to Adrian Wojnarowski of The Vertical.

Minnesota hasn't been actively searching for a trade for point guard Ricky Rubio this week, but that is likely to change this summer, league sources told The Vertical.

Someone the Wolves wouldn't mind moving is Kevin Martin . He has a $7 million player option for next season, and that potential commitment is keeping teams from pulling the trigger on a deal.

Minnesota has wanted to move guard Kevin Martin, but a deal is unlikely unless he's willing to forgo the $7 million player option on the final year of his contract in 2016-2017, league sources said. That is unlikely, given that Martin would be hard-pressed to recoup that money on the market.

If Martin does get bought out prior to March, Tim MacMahon says the Dallas Mavericks would be interested.

 
 

Dwight Howard

's back worries Wizards

 

Would the Washington Wizards consider trading for Dwight Howard? According to Jorge Castillo of The Washington Post, the Wizards covet an impact player like Howard and believe he's still an impactful player even though he's on the decline. However, the back injury worries them quite a bit and having to move the players necessary to match Howard's salary would gut the team of some key depth.

Plus the contract you'd have to re-sign him to, if he will re-sign, would take away any flexibility this summer.

The Houston Rockets are shopping center Dwight Howard, and the Wizards still consider him an impactful player despite a drop in production in recent years. He is a top-notch defensive presence who could flourish as Wall's pick-and-roll partner. But the Wizards likely won't make a move for Howard because they're wary of his back injury history, which is problematic for a player who relies on athleticism as much as Howard does, and they would have to give up at least three players because Howard is making $22.3 million this season and teams executing trades have to match salaries (technically within 125 percent plus $100,000).

Howard also is expected to opt out of his contract and ask for a max deal this summer, which likely would pay him more than $30 million next season because he has played at least 10 seasons and players in that tier qualify for up to 35 percent of the cap. That would leave the Wizards with just a couple million dollars and the room exception before they'd have to fill out their roster with minimum contracts.

Starting to wonder if the Howard trade market really exists.

 
Suns' asking price too high for

Markieff Morris

?
 

Sam Amick of USA Today says the Phoenix Suns , in their pursuit of a Markieff Morris trade, aren't having any problem finding an availability of draft picks. The problem is their asking price is first-round pick(s) and a young player they can add to the core of Devin Booker , Alex Len , T.J. Warren , and possibly Archie Goodwin as well.

 
Magic will waive

Lance Stephenson

 if acquired in a trade
 

Talks of a Channing Frye -for-Lance Stephenson deal between the Orlando Magic and Los Angeles Clippers are on hold as the Clippers look to see if they can move Stephenson in a bigger deal. It's likely the Clippers will decide Wednesday whether or not they want to advance in these talks.

One thing is for certain though: if the Magic do acquire Stephenson, he'll be waived almost immediately, according to Josh Robbins of the Orlando Sentinel. Maybe that opens up him heading to New York to play in his home city or maybe he looks to join a contender on the cheap, but it looks like Orlando wants the cap flexibility this summer.

 
Plans for Durant stopping Wizards from pursuing Ryan Anderson?

 

According to Adrian Wojnarowski of The Vertical, the Washington Wizards have been a team interested in Ryan Anderson, but they were also wary about having to pay him over $16 million per season if they were going to re-sign him this summer.

For what Randy Wittman has tried to install, Anderson would be a perfect stretch-4 and a great passing target for John Wall . But giving that kind of money to Anderson means they can't pursue Kevin Durant.

The Pelicans are struggling to get back significant value in a trade for Anderson. Washington has talked with New Orleans on a deal, sources said, but paying Anderson the $16 million-plus he can get on the market this summer would preclude the Wizards from clearing the max salary space it needs to pursue Kevin Durant.

Technically, the Wizards have to keep the Durant thing alive. Even if it's just a small possibility of signing him and bringing him home to the D.C. area, holding onto that hope could be franchise-changing in a way that makes them instant contenders.

 
Ryan Anderson's re-signing price scared off Pistons
 

Prior to the Detroit Pistons acquiring Tobias Harris from the Orlando Magic on Tuesday, it appears they went after an old stretch-4 of Stan Van Gundy's: Ryan Anderson. The Pistons and New Orleans Pelicans had "serious talks" about a deal for Anderson, according to Adrian Wojnarowski, but ultimately the definite cost of Harris outwayed the uncertainty of Anderson's upcoming free agency.

New Orleans and Detroit had serious talks on an Anderson deal in the past few days, sources said, but the Pistons ultimately reached an agreement with Orlando on a trade for Tobias Harris on Tuesday.

The issue for the Pistons – and several teams around the league interested in Anderson – remains this: How much will it cost to re-sign Anderson this summer in free agency? With Harris, the Pistons have cost-certainty on the three-years, $48 million on his deal through the 2018-'19 season.

This was a great decision by the Pistons if they can fix the outside shooting of Harris. He does more and has more versatility on defense, but it's hard to deny the impact a shooter like Anderson can have next to a big man like Andre Drummond in a system like Van Gundy has installed.

Not knowing if 1) you can keep Anderson and 2) if you will have to pay him $18 million per is making a great commodity this trade season go quite cold.
Show Comments
Hide Comments
Our Latest Stories
Snakebitten Philadelphia sees another first-round pick with injury

The Sixers just started to get some good news before the Ben Simmons injury was announced

Bosh: 'I didn't get a call or a text or anything like that'
A budding star in Jokic, depth, trade chips -- Denver could be this year's Blazers

Joakim Noah supports the troops but doesn't believe in war

LeBron wants J.R. Smith and the Cavs to come to an agreement as soon as possible