Nene points to higher power for reason behind injuries
Wizards center says God behind his injury issues.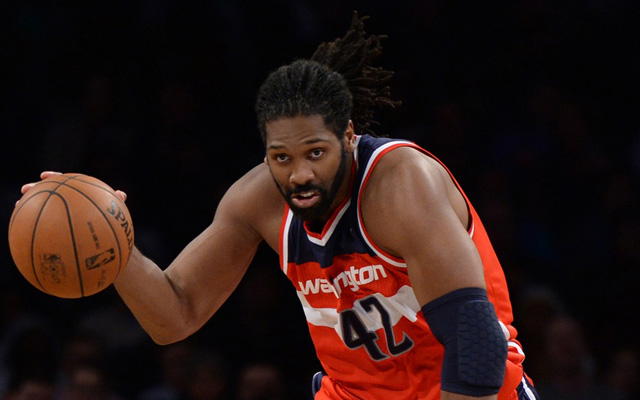 Nene has had a lot of trouble staying healthy. He's suffered through foot problems since coming to Washington and missed 45 games the past three seasons. He's been in and out of the lineup this sesaon as well. But in an interview with Grantland, Nene revealed not only does he not mind the "injury prone" label, he accepts it, and thinks that whatever the end is, there's a good reason he's gone through the trouble physically he has. 
Do you believe someone can be injury-prone? Meaning, in dealing with all these injuries, have you learned something about your body that might explain why you've had trouble staying healthy?

Yeah, yeah. I've had a lot of injuries all of my career. I've learned about my body. I know when something is gonna happen. But sometimes you can't control it. Sometimes you need to just do it, to just play. I try of think of ways to avoid injuries, but I'm getting paid a high price. But when you get some experience, you learn a little bit, and you learn how to take care.

Andrew Bogut is another guy who has been hurt a lot, and he gets angry when people call him injury-prone. Does that label make you angry?

No, the good thing is, all my injuries, I've learned something. I saw something about myself. And life is not in my control. It's in God's control. It is all for a reason.

So it's just bad luck?

No, it's not bad luck. That's what I mean. It's for a reason. Everything in my life is for a reason.
via Q&A: Nene on the Wizards, His Health, and the Future - The Triangle Blog - Grantland.
You have to admire the man's faith. To not be upset at those kinds of ideas and not be mad at how things have worked out takes a pretty bold spiritual approach. The Wizards can be a playoff team if they're healthy. They just need a few breaks. 
Unfortunately, whatever the source, those breaks have been hard to come by in franchise history. 
Show Comments
Hide Comments
Club reportedly wants to keep stars, but doing so promises more confusion and falling shor...

Warriors star talks to CBS Sports about how he gets his mind right

Vince Carter, Norman Powell and Nene have also shined on the big stage
A fantastic series will pit two of the best players in the league against one another, aga...

What does this mean for the future of Paul George?

Father's dream of his own billion-dollar brand prevents his son from landing a deal with the...