Nets assistant coach Lawrence Frank reassigned by Jason Kidd
Nets assistant will file reports but not attend practices or sit on the bench during games.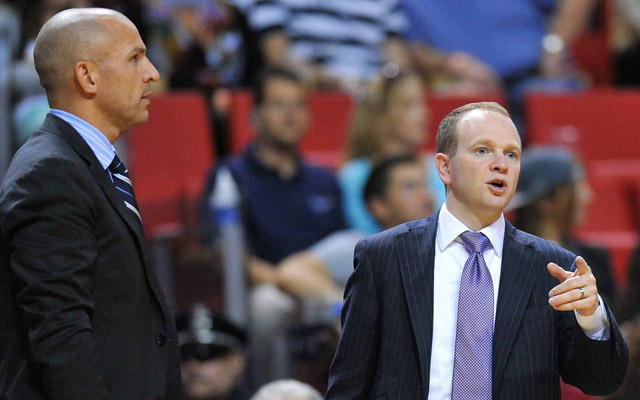 Nets head coach Jason Kidd announced Friday that assistant coach Lawrence Frank has been "reassigned." 
Lawrence Frank has been reassigned, per Jason Kidd.

— Tim Bontemps (@TimBontemps) December 3, 2013
Kidd says Frank will be filing daily reports, but won't be on the bench or at practices.

— Tim Bontemps (@TimBontemps) December 3, 2013
Kidd says it was "different philosophies" that led to the change. Will not be adding anyone.

— Tim Bontemps (@TimBontemps) December 3, 2013
Frank was added this offseason to be the stable, veteran presence for the Nets to cover for Kidd's inexperience as a first-year head coach. He coached Kidd in New Jersey during the Nets' Finals run in the early 2000s and was passed over for interim coach for Kidd to start the season when Kidd was suspended for his DUI case. 
Yahoo Sports reports that Frank's deal is $1 million per year for six years. 
Assistant coach Lawrence Frank, who Nets "reassigned," has a 6-year deal that averages over $1 million a year. Breakup had been building.

— Adrian Wojnarowski (@WojYahooNBA) December 3, 2013
And now he's been reassigned, as the Nets are 5-12 headed into a homestand that features a game against the 3-13 New York Knicks on Thursday. The Nets had a solid victory Saturday vs. the Grizzlies but lost Paul Pierce to a broken hand for several weeks. 
Pretty bold move by Kidd if this was a matter of throwing someone under the bus to try and appease management. You wonder if this was a rift between Kidd and Frank, or brought about by player dissatisfaction. Either way, moving him off the bench and announcing it is pinning the move on him. We'll see if the Nets can turn it around.
Show Comments
Hide Comments
Our Latest Stories
The center says he's not exactly asking to be traded, but something must be done

The center signed a max contract in July

The storylines, they are a plenty.
This seems a little extreme, no?

The Pistons coach is pushing his players to register to vote

The Thunder center used to say 'No English' whenever the future Hall of Famer came around