Nets-Bulls: Brooklyn's season of dough
The Nets were eliminated Saturday despite their payroll. Was it a good approach by the Nets?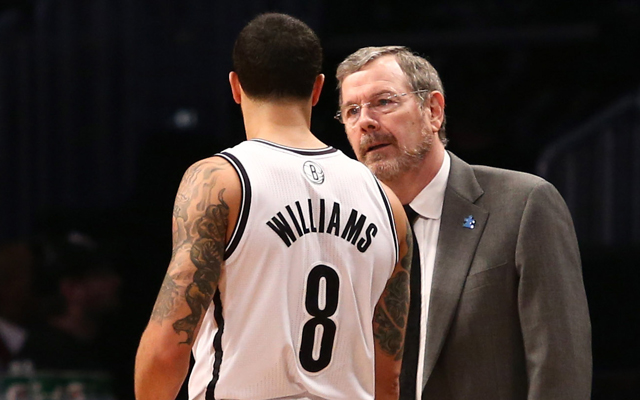 Buy high, sell low. That was the plan for the Nets. Overspend on free agents, throw out an $83 million payroll to get everyone excited for the move of Brooklyn, then say that just making the playoffs and being in the conversation for title contention is enough. Make a lot of money, sell a lot of T-shirts, and hopefully surprise. 
Here's the question: Is overspending justifiable and does it promote a good approach to team building? If you're running a company and you overpay for talent or materials, even if the company isn't important to your overall wealth, is that a good approach? The Nets overpaid for Kris Humphries. They took on Joe Johnson's contract despite it being arguably the worst in the league. They gave an aging Gerald Wallace $10 million per year. It turns out their best decision was giving Brook Lopez, who entered the season with injury issues and rebounding problems, a four-year max deal. 
Because for all the T-shirts sold, for all the billboards, for all the hype, the Nets bowed out of the playoffs quietly Saturday night in a Game 7 loss, at home, to the Bulls. Oh, and did I mention the the Bulls were missing Derrick Rose, Luol Deng, and Kirk Hinrich, that Joakim Noah has plantar fasciitis, Nate Robinson has the flu, and Taj Gibson is playing on a sprained knee?
Everything fell apart for the Nets. Their shooting, their execution, their bench, and their consistent problem throughout the year, their defense.
Joakim Noah was the tough player who refused to lose. Marco Belinelli hit big shots. Carlos Boozer was the reliable inside scorer. The Nets got none of that in Game 7. But it was more than that. The Nets seemed to have no motivation. They had no urgency in their play, no determination. The Bulls are entirely made of players who refuse to give up, who keep making you work for everything. The Nets just ran through their sets like it was a game in February. 
And while there's no way to generate those kinds of results using evidence, there is such a thing as a quality approach to building a culture. And the Nets, they did not have it. 
So now the Nets enter the offseason, trying to figure out where to go from here. Here's an idea: Maybe they should go out in free agency and pay for some upgrade ... oh, wait. 
Do the Nets try and improve? Or do they just hope the results go better next season? You can bet there will be changes. P.J. Carlesimo did a great job after taking over, but you have to think that since the Nets can't improve the roster much, they'll try and improve the roster they have through coaching. 
The Nets could cost whatever to owner Mikhail Prokhorov. He's too wealthy. But running a company with cost effectiveness will always be a better approach than just throwing money at problems. Because Saturday, all the Nets paid for was an exit.
Show Comments
Hide Comments
Our Latest Stories
The No. 2 pick in last year's draft is starting to show more of his potential

The Nuggets big man is not short on confidence

What Westbrook is doing will be referenced over and over again for years to come, in a meaningful...
The triangle will never die

The Pacers star praises the team that was rumored to be close to dealing for him a the dea...

Cavs star ticked off following Wednesday's mostly defenseless loss to the Nuggets