Nets-Bulls Game 2 Preview: A matter of pride
Previewing Game 2 of the first-round series between the Chicago Bulls and Brooklyn Nets.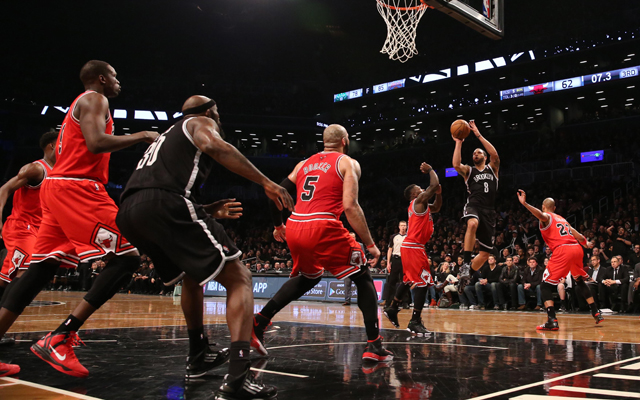 1. Where We're At: The Nets lead the series 1-0 after blowing the Bulls to smithereens in Game 1. The Bulls never had a chance after the Nets blitzed them in the first quarter. The Bulls just didn't have the weaponry to battle back. Joakim Noah was clearly limited by his foot condition, and Kirk Hinrich was banged up.
Oh, and that Derrick Rose guy would have helped, too.
The Nets played exceptionally well and impressed a lot of people by dominating at both ends of the floor.
2. The Big Number: 84.8. That's the offensive efficiency of the Bulls against the Nets' starters in 13 minutes. It's one thing to give up a high defensive number against a great Nets offense. (And they actually didn't get hurt too badly there.) But being held to a 84.8 mark for over a quarter of play? The Bulls have no shot if they can't produce offense at a level higher than that. They can't get controlled out of the gate like that.
For the Nets, they need to do everything they did in Game 1. That unit may not have put up huge offensive numbers, but winning a grind-it-out game like that is way better for their playoff prosects down the line. Scoring is not an issue for the Nets. Defense was, coming into the playoffs. 
3. Key Adjustment: Joakim Noah is just not healthy enough, and the Bulls are going to have to find a way to dig down and double effectively on Brook Lopez without getting killed from the perimeter by the Nets' shooters.
They can survive a big scoring night and/or series from Deron Williams, but they can't survive big nights from both Williams and Lopez.
4. The Big Story: Tom Thibodeau finally said Derrick Rose likely will not play this series or postseason. And if that's the case, then all the fighting the Bulls have done to get here and have a shot was for nothing but an extra paycheck. They can't beat Miami without Rose, so they're just waiting around for elimination. So it becomes about pride. Are the Bulls going to go out to a Nets team that struggles defensively and is in its first playoff season together?
The Bulls have been decimated by bad luck. All they have left is pride. We'll see if pride can produce a better effort in Game 2.
5. The Facts: 8 p.m. ET start time. Joakim Noah is expected to play according to Tom Thibodeau, as is Kirk Hinrich.
Show Comments
Hide Comments
The lawsuit stems from McGee's time in Dallas

Hammond had served as Bucks GM since 2008

Brown has played crucial minutes for Boston guarding LeBron James in the Eastern Conference...
The Cavs have had a much tougher time in the two games the Celtics have been without Isaiah...

Jackson left Duke after one season and signed with an agent, forfeiting his option to return...

Scott was expecting the team to pick up his option instead of firing him after last season