Nets have decided not to retain P.J. Carlesimo as head coach
The Nets have decided not to retain P.J. Carlesimo as head coach. Jeff Van Gundy is reportedly on their wish list for coach.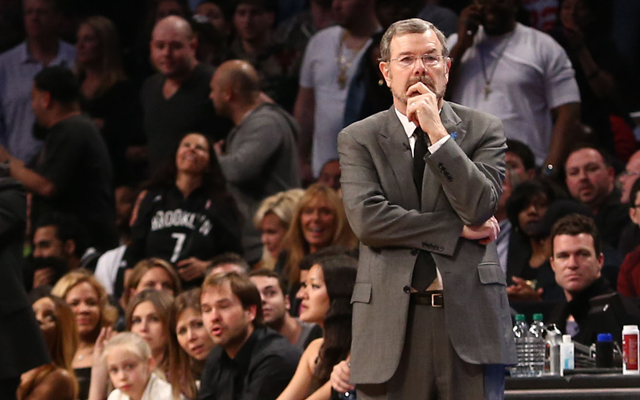 Hello, Brooklyn; goodbye, P.J.
After the Nets were eliminated in Game 7 on their home court in the first round by the Bulls on Saturday night, they announced Sunday morning they have elected not to retain interim head coach P.J. Carlesimo.
Carlesimo took over after Avery Johnson was fired in December, guiding the Nets to the fourth seed in the East. But a more determined effort from the Bulls allowed Chicago to get a 3-1 series lead, and despite rampant injuries, to close out the Nets in Barclays Center. 
The coaching search begins, and Yahoo Sports reports that Jeff Van Gundy is considered a leading candidate. It will be one of the most attractive open positions in the league this summer, with a huge payroll, true starpower, and an owner willing to do whatever it takes to win. And living in New York. That's nice, too.
Carlesimo honestly did a terrific job with this roster given what they showed throughout the season, and it's hard to pin their flameout on him. The roster needs to find its edge, and that's not something the coaching staff gets to decide.
Ken Berger reported early Sunday morning that Carlesimo was likely gone. 
Show Comments
Hide Comments
Our Latest Stories
Booker had a prolific, but unusual, scoring night

Boston's All-Star guard: 'It's weird what they were doing'

The second-year Suns guard got a lot of love on social media
Second-year guard's franchise record includes 51 in the second half, 28 in the fourth quar...

Former Laker greats, including Kobe Bryant, speak at ceremony

Who faces who, who's in, who's out, and what happens next?