Nets-Heat Game 3 Preview: Truth and KG's last stand?
Can the Nets get back into the series vs. the Heat who have looked dominant through two games? The series moves to Brooklyn for Game 3.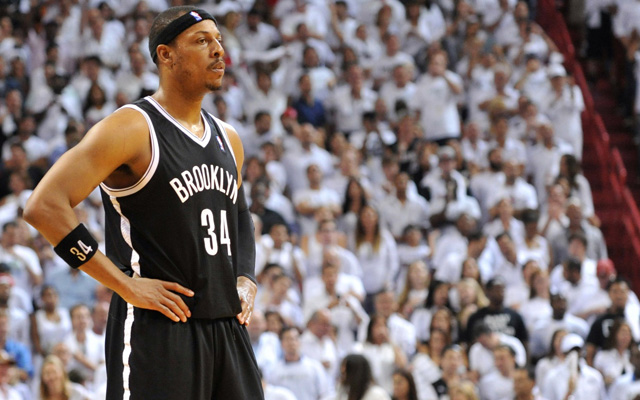 More postseason coverage: Playoff schedule, results | Latest news, notes
Previewing Game 3 of the Nets-Heat first-round series.
1. Where We Are: Brooklyn better get right in a hurry. They're down 2-0 and despite being in the game late in Game 2, the overall feel of the series is that Miami has this thing on cruise control. They've looked faster, stronger, better than the Nets. Kevin Garnett looks like that dude in "Last Crusade" who turns to dust when he drinks from the wrong holy grail. Deron Williams went scoreless last game. (Scoreless! In a conference semifinals game!) Their defense looks absolutely perplexed by what the Heat have thrown them on both ends, and beyond that the Heat's athletes look far superior. 
There's no reason to think the Nets can't get back into this series, but they need to make major adjustments and get stronger performances from some of the younger players. I'm not sure the old guys have much more they can give. 
2. The Big Number: Three. That's the number of post scoring possessions Joe Johnson has had in two games vs. Miami. By comparison, the Nets got 10 shots out of the post for Johnson vs. the Raptors. Johnson's not getting held scoreless in the post, he's being held shot-less in the post. That's a huge chunk of the Nets' offense -- it opens up their perimeter game -- and it's just non-existent. 
The Heat are fronting first and foremost. They've also used Shane Battier on either Pierce or Johnson, with LeBron James checking the other. That pretty much shuts Johnson down. The Nets have been unable to make them pay for that strategy outside of a few good passes to the weakside shooter. 
I'm not sure there is an adjustment they can make, but if they can find one to open up the post for Johnson, that sure would help their offense, which has been held to 99 points per 100 possessions. 
3. Key Adjustment: Will the Nets go bigger? Mason Plumlee played well against the Heat in the regular season but has been largely shackled because of his inexperience in this series. Meanwhile, Mirza Teletovic is the one Nets player who has given the Heat trouble. Brooklyn needs to try a "small-big" lineup with Teletovic spreading the floor and Plumlee attacking inside more. Using Andrei Kirilenko who has been bizarrely absent seems like a pretty good idea. 
(The thing I'm trying not to say is that getting Kevin Garnett off the floor except for burst stretches needs to happen. Sad, but true.)
For Miami ... they're pretty much good. Finding ways to counter Teletovic are hard because you don't want to push your "free safeties" in Chris Bosh and James too far to the perimeter. 
4. The Big Story: Is this the last stand for Kevin Garnett and Paul Pierce? A Game 3 Heat win in Brooklyn and the series is over. Four games, five games, doesn't matter. Brooklyn will be broken and they'll know it. They have to win this game to have a reasonable chance of extending this series. 
5. The Facts: 8 p.m. ET. All players except Brook Lopez (out for the season) are good to go. The Barclays Crowd is questionable with a #branding effort. 
Show Comments
Hide Comments
Westbrook recorded his third straight triple-double of OKC's series against the Rockets

The Pacers president echoed the fans' feelings with one look

The Warriors can complete the series sweep on Monday night
Nurkic, who had been out since March 30, played 17 minutes in his return in Game 3

Cleveland is off to the second round, but questions remain about the defending champs

Cleveland's margin of victory was just 16 points despite a dominant series from LeBron