Nightly Grades 12.18.12: Joakim knows how to topple the Celtics
Noah triple-double, Miami turns on the jets, Karl adjusts, and Tim Duncan is special in Tuesday night's grades.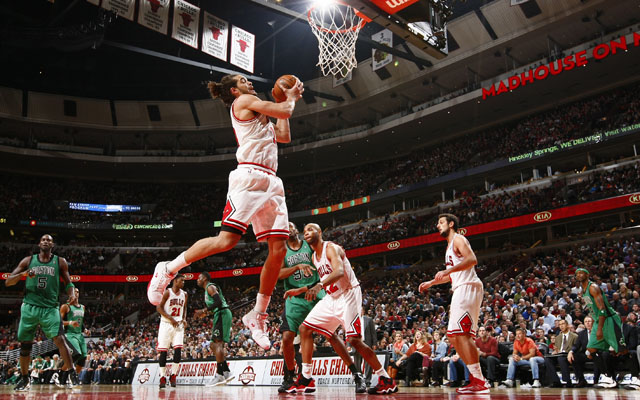 Joakim Noah had a triple-double over the Celtics.
(Getty Images)
Each night, Eye on Basketball brings you what you need to know about the games of the NBA. From great performances to terrible clock management the report card evaluates and eviscerates the good, the bad, and the ugly from the night that was.



Joakim Noah
Let's be very clear about this. Joakim Noah is beasting right now for the Bulls. It's not just the scoring. Noah logged another triple-double Tuesday night, with 11 points, 13 rebounds, and 10 assists. He's doing so much for a team that needs it in so many areas, and his work inside defensively was just as stout. The Celtics bring out the best in Noah.
Miami's after-burners
The Wolves were winning this game and doing it in impressive fashion. They had the Heat in a great position to get a win.

And then the Heat hit the jets, and it was "so long, Minnesota." Miami just jetted by them at the end of the half, and then took their time in increasing the distance. It was the kind of win that defending champions put up. They out-smarted, out-hustled, and out-executed a Minnesota team that wasn't off in its execution or intent. A quality home win for Miami.
George Karl
Another near-blown lead for the Nuggets at home, but even against a Spurs team that was on the end of another long string of games, this was impressive. The Spurs hit 14 3-pointers, but late in the game, George Karl made a key adjustment to basically let Tim Duncan (30 points, 18 rebounds) do whatever he wanted, as long as they cut off the corner 3's. That adjustment paid huge dividends and lead to the Spurs getting more and more desprate to find that shot, passing up open looks. Good win for a Denver team building momentum.
Tim Duncan
So good. So big. So fundamental. Duncan just torche everyone put against him. He used veteran tricks, length, size, skills, and quickness, the whole show. Duncan is just a dream to watch this season and it's a shame this performance was wasted.
Utah Jazz and the Brooklyn Nets
You can argue both teams should have lost this game. After digging themselves a huge hole, the Jazz finally got out of it and had the game won, when they bobbled their final possession, giving up a transition game-winning three opportunity to Gerald Wallace who missed, then allowed Reggie Evans to get the offensive rebound, who also missed. The Jazz won, but it was not a pretty performance late.

Meanwhile, the Nets blew a huge lead in the third quarter and gave up a home loss to a bad road team. Oh, and Joe Johnson passed up an inside turnaround look close to the basket to find Gerald Wallace for 3, and then Reggie Evans missed a layup with little to no defense. Ugh.
Boston Celtics
No defensive grittiness. No offensive execution. No muscle, no hustle, and no signaure win. Bad loss to the Bulls.
Show Comments
Hide Comments
Game 1 of the 2017 NBA Finals tips on June 1

LeBron reflects on emulating Michael Jordan growing up, but one thing he couldn't quite co...

Check back here for all of the conference finals results from the NBA playoffs
The Cavs clinched the series by winning Game 5 by 33 points in Boston

'I wear the number because of Mike'

Our experts predict every series in the 2017 NBA playoffs