Nightly Grades: Heat get back to business
The Knicks keep streaking, the Nets get a huge win, and the Heat keep rolling in grades from tonight.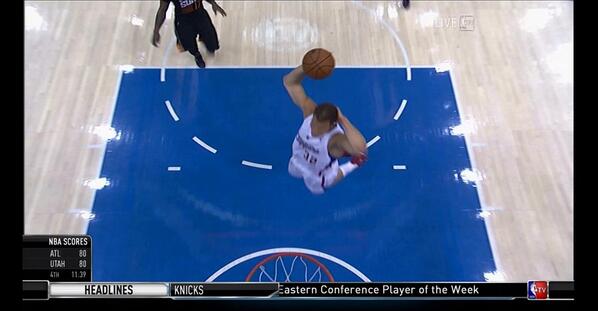 Each night, Eye on Basketball brings you what you need to know about the games of the NBA. From great performances to terrible clock management the report card evaluates and eviscerates the good, the bad, and the ugly from the night that was. 



Team
Grade
Analysis
C+

They hung, they just had two major issues. 

They don't have "knock down" shooters. They have "pretty good" shooters. Late, they had opportunities to close in and take the game into a tight one inside three minutes and they just couldn't hit the open threes. Against Miami, you have to hit those shots. 

The Miami Heat defense came out of halftime and just amped up the pressure. John Wall can't be 2-8 with a -19 vs. Miami. That can't happen. 

B

Dwyane Wade has been really fantastic this season. He hasn't been 2009 good by any means, but he's been really terrific at both ends. He was both a playmaker and a scorer vs. Washington and as good as LeBron James was, Wade was really the difference. 

22-5-6 for Wade in the win. LeBron James found his jump shot again. 

B-

Brandon Knight is one of maybe four Milwaukee Bucks having a good season. This was one of the better games I've seen from the Bucks this season and Knight was a big part of it. 

There's something to be said for the fact that down early against Orlando, Milwaukee kept fighting. I'm not sure, what but there is. 

D+

They just can't get stops when they need them, like a lot of young teams can't. They were foul happy with this game, and it cost them, with 25 free throws for the Bucks. Victor Oladipo playing 18:50 is a travesty. 

B

Gary Neal and Kemba Walker combined for 43 points and 11 assists in this one, Al Jefferson hammered Denver inside, and Chris Douglas Roberts hit two threes in the 4th that were huge in putting Denver away. Charlotte knows how to close games, and that's a big deal for a franchise trying to turn things around. 

D

It's a bad matchup for Denver, on a road trip vs. a team that works constantly to force tough shots. Wilson Chandler seemingly being checked out for the season doesn't help things. 

They don't have a defense they can fall back on when the shots don't fall, and the shots don't fall very often. 

B

The Atlanta Hawks held on for a win, so the New York Knicks stay three back of Atlanta for the 8th spot. But the Knicks have the Boston Celtics , Bucks, Los Angeles Lakers , Knicks, Sixers again, and the struggling Indiana Pacers in the next few weeks. They're in this thing. 

Oh, and a bunch of guys scored more than 20 points and they beat the crap out of Philadelphia who isn't trying to win. 

D

Early efffort was good, then they stopped doing all the good things and melted down, just like a good tanking team should. 

Tony Wroten had some nice moments. They need a defensive stopper down low in the biggest way. 

B+

Huge win for Brooklyn which keeps them within range of the division win. Paul Pierce has a bad shoulder and just worked and hustled his way for big plays, including a monster trey late to take the lead. Deron Williams wasn't great but the Brooklyn Nets ' interior defense was excellent without KG. 

Imagine if Brook Lopez was playing? 

Big win for Brooklyn which may have sealed no-worse-than-sixth with this one 

B-

Honestly a great game for the Toronto Raptors , just didn't get the bounces. Jonas Valanciunas made some plays underneath and Kyle Lowry was a monster. 

I will say that Dwane Casey's late-game rotations were insane. He had a lineup out there of Greivous Vasquez, Chuck Hayes  and John Salmons at one point. Those guys all have usefulness, but together? That's a nightmare, and it was one of the reasons they lost the lead. 

D-

They hung tough but the Hawks are an injured mess. They should have won this game. I'm not exactly sold on their frontcourt of Derrick Favors and Enes Kanter for the future. 

Let's just say neither player should prevent the Utah Jazz from taking Best Player Available in June. 

B

This showed a lot of the good things the Hawks do. They find good shots, and they work hard on defense. They struggle with adherence to scheme defensively, but they don't just surrender points. 

Paul Millsap is a monster. 

This one helps them keep their playoff spot a lot. 

D+

Nice comeback at the end, but their defense is just a sieve. Theyv'e got to make a more concerted effort on that end and get back to the smart shot selection that got them to this point. 

They're bleeding fast. 

B-

Blake Griffin was just incredible. The guy's just doing everything now. Staying out of foul trouble is a big issue for him, but overall he can't play much better. 

Danny Granger made some plays. Their fourth quarter was a disaster but they held on long enough. Another good win for the hottest team in the league. 
Show Comments
Hide Comments
Club reportedly wants to keep stars, but doing so promises more of confusion and falling s...

Warriors star talks to CBS Sports about how he gets his mind right

Vince Carter, Norman Powell and Nene have also shined on the big stage
A fantastic series will pit two of the best players in the league against one another, aga...

What does this mean for the future of Paul George?

Father's dream of his own billion-dollar brand prevents his son from landing a deal with the...