'No single reason' the Knicks chose not to match on Jeremy Lin
A league source tells CBSSports.com's Ben Golliver there wasn't a specific reason the Knicks didn't match on Jeremy Lin, but according to a report, one reason was that James Dolan felt "betrayed" by Lin.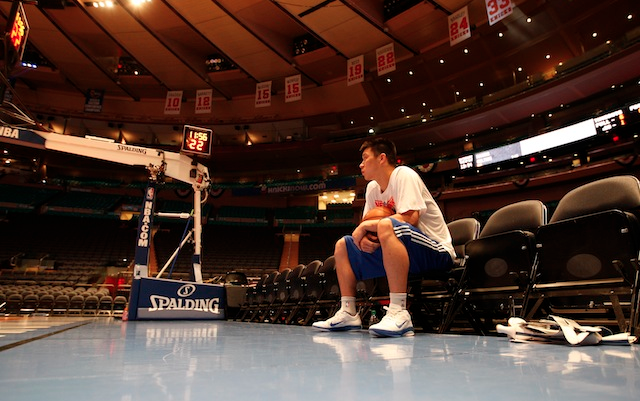 The negotiation surrounding Lin was some kind of strange.
(Getty Images)
Everyone loves to remind that basketball is a business. But business sometimes gets ugly.
With Jeremy Lin officially a Houston Rocket, signaling the end of Linsanity in the Big Apple, fans, media and casual onlookers are left wondering how and why it happened.
The simple explanation is money. With the Rockets backloading Lin's three-year, $25 million offer sheet, the Knicks were put in an extremely compromised position. With a potential $40 million luxury tax hit in 2015, New York decided to let the electric young point guard walk.
But wait a second. This is the Knicks. Since when does money affect their decision making? Is this a new James Dolan? Is this a new post-Isiah era where spending is more prudent? Nah, come on now. It's the Knicks. Especially when you consider Lin was going to stuff Dolan's pockets off the court with all the incredible marketing possibilities.
So what happened? Why in the world is Jeremy Lin playing in Houston now?
"There was no single reason they chose not to match," a league source with knowledge of the negotiations told CBSSports.com's Ben Golliver. "The talks got emotional, the price of the third year was pretty steep, there wasn't a comfort factor that he could be traded for good value if things didn't work out and New York's key players didn't bend over backwards to go to bat for him."
There was always an assumption that Carmelo Anthony had a hand in things and it appears that might be true. Jeremy Lin stole his spotlight with Linsanity and Melo was left being blamed when the Knicks didn't play well after he returned. It's not a stretch to say that Melo wanted to reclaim the Knicks and make sure everyone knows it's his team.
But according to the New York Daily News, it does go deeper in terms of perceived loyalty:
The decision was both financial and emotional since Garden chairman James Dolan was upset over Lin restructuring his deal with Houston last week to include a third year salary of $14.9 million. Dolan, according to sources, felt he was deceived by the 23-year-old Lin.

"Much love and thankfulness to the Knicks and New York for your support this past year," Lin said on Twitter. "Easily the best year of my life. #ForeverGrateful."

Of course, team officials privately felt that Lin's actions over the past few weeks were anything but grateful. They were upset that he hired a publicist without their consent and were livid that the second-year point guard out of Harvard went back to the Rockets for more money.
What does that mean, the part of Lin "going back" for more? Initially, Lin reportedly agreed to a four-year, $28.8 million backloaded deal with Houston, but obviously not quite as backloaded. But when he went to officially sign the offer sheet, the deal had been reworked to the current three-year, $25.1 million contract.
Of course there were the reports that Lin himself was upset over the Knicks not making an early play for him.
The fact Lin apparently was so helpful in sort of screwing over the Knicks evidently miffed Dolan. More via the NY Daily News:
Dolan has a history of overpaying his players and has never shied away from the luxury tax before.

But in this case, Dolan felt betrayed by Lin for going back to Houston to rework the contract. After all, the Knicks acquired Lin in December after he was released by both Golden State and Houston.
Betrayed? That's the word there. Betrayed. Evidently betrayed by the fact Lin took a very nice offer from the Rockets to which the Knicks could still match. Lin himself has even said he preferred to stay in New York.
Also, it's called free agency. When you're a free agent, you get to choose what to sign, pick where you want to go and do what you want to do. And again, the Knicks still had their chance to keep him!
Instead, the Knicks are stuck with an overweight castoff point guard in Raymond Felton and a 40-year-old just busted for driving drunk. I guess I can see why James Dolan is a bit fussy.
Show Comments
Hide Comments
James needs only 28 points to pass MJ for the most points in NBA postseason history

With all the rumors swirling around, one thing that's for certain, is Ingram will be staying...

Veteran guard is set to make nearly $24M if he returns to Chicago for 2017-18 season
The Cavaliers can clinch a trip to their third straight NBA Finals with a win Thursday nig...

Who is the best player your team could get in the offseason? Paul George? Jimmy Butler? Markelle...

The long-suffering Sixers arguably have as bright a future as any young team in the NBA