No surprise: Jamal Crawford indicates he's opting out
Jamal Crawford makes it sound like he plans to opt out and join free agency.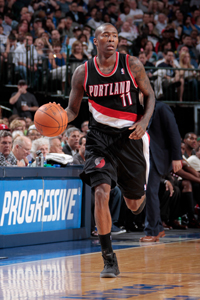 Jamal Crawford is indicating he plans to opt-out into free agency.
(Getty Images)
Jamal Crawford made a big to-do about his impending free agency during the lockout, taking input from fans and eventually discussing it with LaMarcus Aldridge. He wound up in Portland. He has a player option for next year, and after a fairly disastrous season with the Blazers where he was involved in trade rumors for most of the year because of contentious relations with the coaching staff, it's expected he'll use it. 
Crawford basically confirmed as much to a Portland radio station. From the Sporting News: 
Portland Trail Blazers guard Jamal Crawford indicated Thursday he plans to opt out of his contract this summer and test the free-agent market.

Crawford stated his intentions in an interview with Seattle television station KING (via Portland radio station KXL).

"I'm a free agent, so I'm excited about what's there moving forward," Crawford said when asked about his future. "There will be a lot of teams out there with a lot of interest. I'll sit back after July (free agency begins July 1) and see what happens."
via NBA free agency: Jamal Crawford to opt out of Blazers deal - NBA - Sporting News.
Crawford will hold just about the same value this summer as he did last winter, as a shooting guard who occassionally gets himself in trouble with his shot selection, and who is fading as a defender due to age. Crawford gets a bad rap about his defense, but at 32, is on the back side. Still, he'll have his choice of contenders and a partial mid-level exception wouldn't be crazy talk.
The Blazers will likely be relieved to hear this, it clears up $5 million for them as they continue to try and pick up the pieces of a shattered season and move forward. 
You can expect Miami, Chicago, New York, and a host of other good teams to make a reach for Crawford to play for less, but don't count on it. Crawford's likely seeking one more big contract to coast out on. 
It's Crawford, though, so you never know.
#analysis
Westbrook became the second player ever to average a triple double for an entire season.

Jeff Van Gundy is stepping back into coaching

When it comes to naming MVPs, particularly in basketball, we can't seem to figure out what...
Russell Westbrook finally receives validation

Celtics legend was honored with a Lifetime Achievement Award

It's the first time Draymond Green has been named Defensive Player of the Year