Nuggets PG Lawson day to day with torn plantar fascia
Denver's Ty Lawson is day-to-day with a torn plantar fascia in his right heel.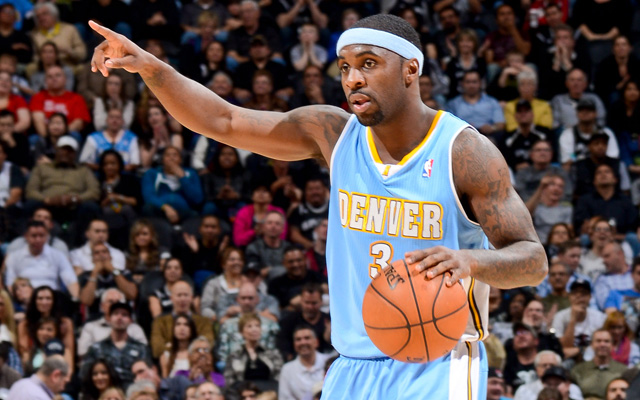 The Nuggets announced Friday that point guard Ty Lawson has suffered a torn plantar fascia. He won't have surgery and is listed day-to-day. He'll miss Friday night's game vs. Brooklyn. 
The injury is the same one that kept Pau Gasol out several weeks. Lawson has been dealing with the heel injury most of the year. He was held out several games last week before returning against the Spurs, scoring just two points and having to be pulled in the second half. George Karl expressed regret over having him come back for that game. 
Losing Lawson is huge for Denver, which is battling for the third seed and an outside shot at the division. He has been their best overall player. And with Julyan Stone hurt, that means that Andre Miller is the team's only true point guard available. This is troublesome on multiple levels. For one, Miller needs to play fewer than 25 minutes per game due to age. Two, Miller slows the pace and pounds the ball, something that works contrary to the rest of the Nuggets' strengths and is counter to all of their success this season. 
Miller doesn't make mistakes often, but he fails to execute successfully at this point in his career much of the time. 
Lawson's injury could be devastating to Denver's hopes of getting out of the first round. 
Paul vaults the Rockets up to a nearly even tier with the Celtics, but everyone is still chasing...

David Stern hasn't had an opportunity to veto this one yet but some fans have questions about...

A look at who your favorite team can possibly acquire this summer in free agency
Paul George could also end up dictating a lot of summer plans

Eleven rings made him great on the sidelines, but his Knicks run results in the NBA's biggest...

Knicks are looking for new leadership after a shameful run defined by arrogance and chasing...