Nuggets tender offer to rookie Quincy Miller
Denver has retained the rights to promising forward Quincy Miller. The Nuggets drafted the former Baylor star in the second round.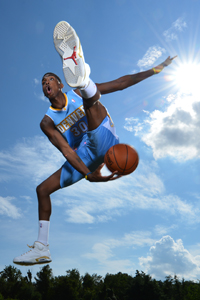 We had to use this photo, right?
(Getty Images)
Quincy Miller slid all the way down the draft board to the Nuggets in the second round, after a promising but incomplete career at Baylor. With the amount of wing forwards the Nuggets have, whether he will be retained was a considerable question. For now, at least, the answer is yes. 
Nuggets blog Denver Stiffs reports that the Nuggets have tendered an offer to Miller, retaining his rights as they work with his agent to get a deal done before training camp. 
Just so you get an idea of what we're talking about, here are players who could conceivably play the small forward position for the Nuggets: Andre Iguodala, Wilson Chandler, Danilo Gallinari, Jordan Hamilton, Evan Fournier, Quincy Miller, Corey Brewer, Anthony Randolph. Most of these players will play a different position, but still. Look at that. Eight players.
When they play Houston, this could just be a small forward battle royale. 
Anyway, Miller's got some talent, and if the other players slide to other positions, it's possible he could be retained. I'll be interested to see if his deal winds up guaranteed or not. 
Show Comments
Hide Comments
On a night of blowouts, Stephen Curry led the Warriors to a sweep and the Raptors got their...

The playoffs are getting interesting

The Cavs and Warriors have both swept their first-round opponents
Our NBA experts predict the first round of the playoffs

Our experts predict every series in the 2017 NBA playoffs

Golden State swept the series, 4-0