Nuggets-Warriors: After a 'weird' Game 1, momentum still up for grabs
Mark Jackson says after a Game 1 loss, that both teams are in for "a heck of a series" as the stats and pace left a confusing mark in a Nuggets win.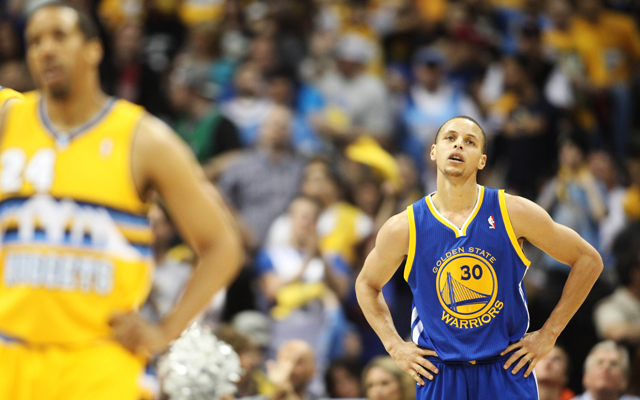 DENVER -- Game 1 between the Nuggets and Warriors was ... weird. The Nuggets had to come back, at home, against the Warriors despite for the greater part of the game having the higher field-goal percentage, having the rebounding margin, and taking more free throws. They trailed in the first half when Stephen Curry shot 1 for 10.
When things evened up, and the Warriors grabbed the rebounding lead and Stephen Curry got his shot to start falling ... the Nuggets surged into the lead and never relinquished it.
The Nuggets like to play at a very high pace, and while the game overall was extremely fast at a 103 mark (the Nuggets played at a 98 clip this season), in the first half when the Nuggets struggled, the pace was 105. When they took over and won, just 99. They played better when the game slowed down.
The Nuggets couldn't shoot, didn't have Kenneth Faried, turned the ball over and missed several shots inside. But on the other hand, the Warriors lost David Lee in the second half to a leg injury and got a poor performance from their star, Curry.
So who's got the momentum? How does this series feel? And should the Nuggets be encouraged or concerned?
"I am always encouraged," Nugget coach George Karl said. "I believe so much that winning tough games is tough-mindedness. Our personality is young but we believe, we trust, we fight. Would I like to have an easier game? Hell, yeah, I would like to have had an easier game. But playoff basketball is not about the easy games."
Ty Lawson acknwowldeged after the game that the zone Golden State deployed in the second half slowed the game down, but also thought that the fact the Nuggets won when a lot of things went wrong is a good thing.
"It's encouraging. I just think there were good shots we didn't hit. Layups, open-threes, even pull-ups. We missed a lot of them we normally make."
But the Warriors still have to be encouraged, pending the results of David Lee's MRI, which is expected to come Sunday. They had a poor game from their star and several missed opportunities, but got a great defensive game from Andrew Bogut and a blistering game from Klay Thompson until Andre Iguodala locked him up in the second half.
But the Warriors also failed to steal Game 1 with Denver's Kenneth Faried out with an ankle injury. Faried is expected to return in either Game 2 or Game 3. They slowed the pace, got the Nuggets to shoot poorly, controlled the points in the paint, and won the rebounding battle.
Warriors coach Mark Jackson refused to get involved into a question of whether the Warriors let one slip away, and instead may have most accurately summed up how this series looks after one, weird game in Denver.
"They won Game 1," Jackson said. "I won't look at it like they stole one or we could have stolen one. We're two good basketball teams that are in for a heck of a series."
Show Comments
Hide Comments
You play who's in front of you, and that's what Golden State did -- and beat everyone it f...

This is the first sweep the Spurs have suffered since 2010

Pop doesn't know whether Manu Ginobili will retire, but he wanted to give him a proper salute...
San Antonio doesn't know what will happen with Manu Ginobili and Patty Mills this summer

Our experts predict every series in the 2017 NBA playoffs

Check back here for all of the conference finals results from the NBA playoffs