Nuggets-Warriors: Stephen Curry is locked and loaded for history
After seeing Stephen Curry lead his team all season long with a historic perimeter attack, it's time to admit he's the best 3-point shooter ever.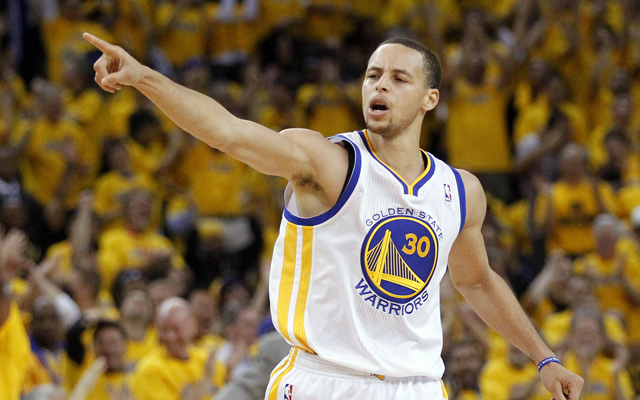 Stephen Curry is the greatest 3-point shooter I've ever seen.
I don't know if this is me overreacting to the moment in which Curry is treating Denver Nuggets' players like a ball rack in a 3-point contest or if I'm level-headed about this and trying to brainstorm any shooter I've ever seen let it fly like this. But the things we're seeing from Curry go beyond a hot series or an outlier that could be cooled off with a better defense. The Golden State Warriors' point guard is the most unique shooter we've ever seen because of his shot selection and his touch.
More on Nuggets-Warriors
Related links
When you look at the attempts he flings out there over the course of a game, it's like looking at Kobe Bryant's shot selection with Ray Allen's deft touch. He doesn't just spot up from behind the 3-point arc and wait for a pass. He's creating the majority of his looks with his dribbling ability and his feet. And his feet are always perfect, no matter what type of 3-point shot he's attempting. 
Curry is assigned the task of leading the Warriors' attack. He's the point guard or lead guard in most five-man units they throw out there. The way to maximize his talents is to let him run pick-and-rolls and carve up the defense. His passing ability is a big key in this because you can't just trap him. You'll have Andrew Bogut or Carl Landry or any other viable Warriors' weapon rolling to the basket where the baskets are supposed to be easier to make.
Because the NBA is so entrenched in protecting the basket and the defense naturally gravitates toward that magnetic hoop 10 feet above the ground, it allows Curry to trick you into believing you're playing defense. Really, all you're doing is giving him the necessary space to blitz you from the perimeter. 
The common thoughts against Curry right now are that he can't possibly keep up this shooting and that he's just making contested jumpers at an unreasonable rate. It's possible that this is a valid critique. However, I'd like to offer up another theory. What if Curry just needs to know you aren't going to block his shot to be comfortable shooting it against anybody, no matter what their proximity is to his shooting motion?
The NBA is full of skilled players who are either so good at everything that they're stars or so good at a few select things that they're role players. That's how you find a niche in the NBA. That's how you find a role. Curry's role is to pour gasoline on everything and flick lit cigarettes until everything ignites. 
Like all stars and role players, Curry works tirelessly on his craft and has the majority of his life. His best skill is making shots that are 18 feet away from the basket or farther. He's not a guy that's great at finishing in the paint; he's a guy that finishes on the perimeter. He's worked so much on trying to perfect this skill that he's always incredibly confident in his muscle memory. 
When he believes he has the room to get his shot off, why would he worry about the defender? What is the defender going to do? Distract him? If you ignore the distraction then it's just you working with your muscle memory to recreate a successful shooting motion. And nobody's shooting motion seems to be more successful than Curry's.
Check out his chart from the Warriors' Game 4 win against Denver:
Nine of those 10 makes came in the second half when he exploded for 24 points. 22 of those 24 points came on an insane run of makes and heat checks. 
Except with Curry there are no heat checks; there's just stoking the fire. Or in this case, stoking the inferno.
The reason I believe Curry is the greatest 3-point shooter ever isn't just because of this game, but this game certainly was a great microcosm for why his 3-point shooting is so unique. For his career, he's averaging 5.6 3-point attempts per game and he's making 44.6 percent of his makes. Only Steve Kerr has shot a better career 3-point percentage (45.4 percent) in NBA history. Over the course of 15 NBA seasons, Kerr got that NBA record percentage on 1,599 3-point attempts. 
Through four seasons, Curry has already attempted 1,443 3-point shots. 
Curry can flare to the corner, run through closing elevator doors, lead his defender into staggered screens, or curl to the 3-point line for any 3-point attempt. It's something guys like Reggie Miller and Ray Allen did for years. But what separates Curry from those guys is his consistent shooting rhythm when he's handling the ball as well.
Allen and Miller were able to handle the ball a little and hit step-back 3-pointers from time to time. It was a survival tactic when the defense had them pegged. Curry has this as a regular move in his arsenal of incredibly balanced footwork. He almost uses the side-step 3-point shot or the step-back 3-point shot to remind defenders that he can do whatever he wants with the shuffle of his feet and a flick of the wrist.
And that's why Curry is so unique in terms of historic shooters. He's more accurate than all but one shooter in NBA history. He's attempting 3-pointers at a prolific rate in the process. He's not bothered by your defense if he knows you won't tip the shot. And he's evolved the scoring point guard position into a perimeter-based version like we've never seen.
He'll take you into the deep end of the halfcourt and see how long you can tread water. He'll play with your defensive panic when he catches the ball on the perimeter, force you into a sloppy closeout, and then move slightly to the side so you can feel the motion of his pure shooting form. By the time you look to see if it went in, he's headed back up the floor.
Because of course it went in. He's the one that shot it. 
Griffin and the Clippers are at a crossroads

"He left because he wanted to be with James Harden," the Los Angeles coach said

The Warriors have shown that simply putting talent together isn't enough
Hayward will be in Miami this weekend, while Utah and Boston also have meetings scheduled

Sacramento signs Serbian to 3-year, $36 million contract while passing on Ben McLemore

Free agency is around the corner, which means there could be a ton of significant moves coming...