Obama comments on Donald Sterling alleged racism scandal
The President speaks while in Malaysia on the alleged comments from owner Donald Sterling.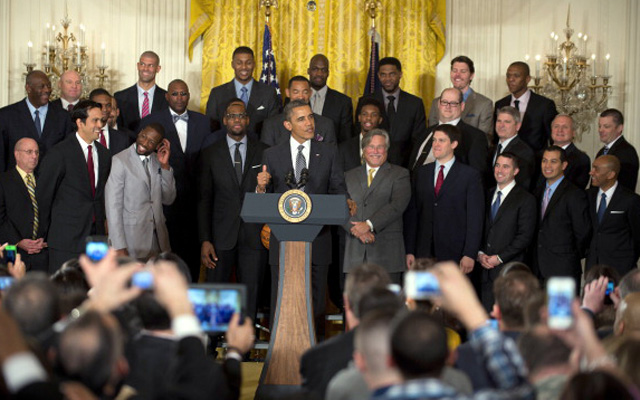 More on Sterling: League investigating | Barkley: Ban Sterling | Reactions
The Donald Sterling scandal over alleged racist comments he made while being recorded has gone all the way to the White House. During a press conference in Malaysia, President Obama spoke on the matter. Fom CBS News: 
"When ignorant folks want to advertise their ignorance, you don't really have to do anything, you just let them talk," Obama said when asked to respond to Donald Sterling's reported comments.

"The United States continues to wrestle with the legacy of race and slavery and segregation, that's still there, the vestiges of discrimination," Obama said during a news conference in Malaysia, where he was traveling.

"We've made enormous strides, but you're going to continue to see this percolate up every so often," he added. "And I think that we just have to be clear and steady in denouncing it, teaching our children differently, but also remaining hopeful that part of why statements like this stand out some much is because there has been this shift in how we view ourselves."

Obama said he's confident NBA Commissioner Adam Silver will address the matter. He said the NBA has "an awful lot of African American players, it's steeped in African American culture. And I suspect that the NBA is going to be deeply concerned in resolving this."
via Donald Sterling: Even Obama weighs in on L.A. Clippers owner's comments - CBS News.
Sterling has faced widespread outrage and denouncement over the comments that were leaked to TMZ. Commissioner Adam Silver said Saturday that Sterling will not attend Game 4 between the Clippers and Warriors while the league continues its investigation into whether Sterling was in fact the man on tape, and whether the comments were doctored. 
The Clippers released a vague, slight kind-of-denial Saturday night. 
Show Comments
Hide Comments
Vince Carter, Norman Powell and Nene have also shined on the big stage

A fantastic series will pit two of the best players in the league against one another, aga...

What does this mean for the future of Paul George?
Father's dream of his own billion-dollar brand prevents his son from landing a deal with the...

Will the Celtics, Jazz and Wizards all advance Friday night?

The Spurs and Raptors are the latest to move on from the opening round