Oh, by the way, the Cavs traded Alonzo Gee to Charlotte
Cleveland moves veteran wing for center and Stanford power forward.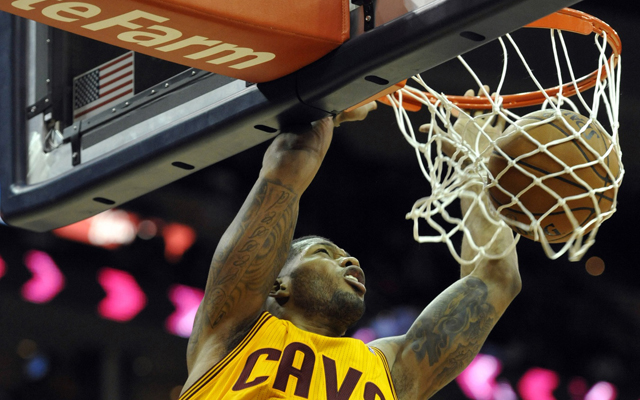 More Offseason Analysis: Coaching changes, news | Free Agency | Draft | Rumors
Sometimes, things get lost on draft night. You get to that second round and everyone's working on grades or winners and losers, or focusing on what happened in the first round. And this trade slipped under what looks like everyone's radar. 
The Cleveland Cavaliers traded Alonzo Gee to the Charlotte Hornets for Stanford second-round pick Dwight Powell and Brendan Haywood. 
The Cavs acquired Stanford senior Dwight Powell, the 45th pick Thursday night, and veteran center Brendan Haywood from the Charlotte Hornets in exchange for Alonzo Gee.

Gee has a $3 million nonguaranteed contract for next season and can be waived at no cost to the Hornets, while the Cavs wanted Haywood's future contract.

They're on the hook for $2.2 million for a center who missed all of last season with a stress fracture in his left foot, but they'll also have his mammoth $10.5 million nonguaranteed contract for the 2015-16 season to dangle in a trade.
via Cavs trade Alonzo Gee for Stanford's Dwight Powell and Hornets' Brendan Haywood - Cavs - Ohio.
Gee battled up from the D-League to earn a guaranteed contract from Cleveland, but fell mostly out of the rotation last season, averaging only four points and 2.3 rebounds in 15 minutes per game. 
He could excel in Steve Clifford's system, much like Chris Douglas-Roberts did, but the Hornets may also waive his $3 million which could set them up with close to $23 million in cap space to try and make a big improvement in free agency. The Hornets took Noah Vonleh with the only pick they retained in Thursday's draft. 
For Cleveland, they get Powell, who's a talented, smart power forward who had consistently landed in the top half of the second round in most mocks. To get him for Gee, and more importantly, potentially $10 million in cap space when they inevitably waive Haywood next year, is a steal for Cleveland, and makes their draft night that much better. 
Boston is working on adding serious star talent this summer

Light fixtures and outlet covers across the facility are covered in hidden notes

M.J. reminds Russ that even he won an MVP before winning an NBA title
Monk was the No. 11 overall pick in last Thursday's NBA Draft.

Everything you need to keep track of during the all NBA offseason madness

Can any of these theoretical superteams unite this summer and possibly challenge the Warri...