O.J. Mayo says DeMarcus Cousins has 'mental issues'
After DeMarcus Cousins "accidentally" hit O.J. Mayo below the belt, Mayo says Cousins has issues.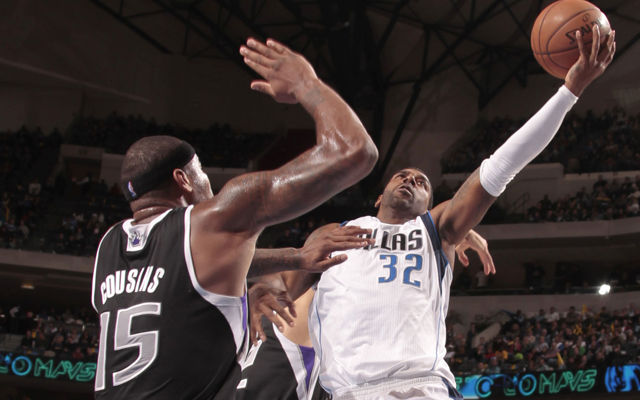 Mayo thinks Cousins is wasting his talent.
(Getty Images)
O.J. Mayo and DeMarcus Cousins have both had image problems over the course of their short careers. There have been many pundits and people inside basketball who have pegged each one as immature in different ways. But as Mayo appears to be righting his own ship with his play, Cousins is going in the opposite direction. 
During the second quarter of the Dallas Mavericks' 119-96 thrashing of the Sacramento Kings, Mayo and Cousins were fighting each other for position before a shot by the Kings went up. At first there was a little shove by Cousins to Mayo, and then Cousins appeared to hit Mayo below the belt.
After the game, Cousins said the shot "wasn't intentional" and admitted to there being a lot of trash talk. After Cousins hit Mayo, the Mavs guard was slow to get back on defense. He and the Kings center jawed at each other during a dead ball after the foul -- and each received a technical foul for his continued talking. After the game, though, ESPN Dallas had Mayo with some serious comments about Cousins:
"Man, I was so pissed," Mayo said after his 19-point, seven-rebound performance in the rout. "It's just, where does that come in in the game, you know what I mean? He's a talented player, has a chance to be an All-Star. But you do stuff like that, it takes you down a class."

"That guy has some mental issues, man," Mayo said. "He's a talented player. He has an opportunity to be the face of that organization, but I don't think he wants it. ...

"He's immature, man. Big maturity problem. Hopefully, he'll grow up out of it and become great. He definitely has the talent to."
The majority of O.J. Mayo's "immaturity issues" seem to have happened when he was in high school and college. And considering how most of us are in high school and college, it's certainly understandable (not necessarily acceptable) to see such immature behavior. Since coming into the league, Mayo has had a spat here and there, but for the most part he's been a struggling player trying to find his way.
As he's exploded with his production and accuracy this season, we're seeing a much more business-like Mayo. We can't say the same with Cousins. Cousins had plenty of maturity issues in high school and college, and when he got to the NBA, he had multiple run-ins with then Kings coach Paul Westphal.
After Westphal was fired last season, Cousins seemed to be getting his head right. He didn't really have any incidents with Keith Smart, and aside from a technical foul here and there, he showed that perhaps his previous issues were personality clashes with his coach and not just his own personality.
This season, though, Cousins has been back to his old ways. He's a big man without a filter on what he says. Seemingly, when something pops into his head he has no problem expressing it, immediately. It's why you see so much talking from him on the court. It's why you see his physical reactions to missed plays by himself and his team, or what he deems missed or wrong calls by the officials.
He's a guy who has the worst poker face in the world because you know instantly what he feels about a situation.
Cousins also had his run-in with Spurs broadcaster Sean Elliott earlier this season and was suspended two games for a "hostile encounter."
I've been a supporter of DeMarcus Cousins as someone who isn't really as bad as his reputation, especially after he seemed to correct what was going wrong after Westphal was fired last season. However, he's completely regressed from correcting his behavior on and off the court. Instead, he's living up to his reputation and the stigma his immaturity has saddled him with. 
Mayo was correct in that Cousins could be the face of the Kings franchise and an All-Star in this league. He has the ability to dominate a game, but we rarely see him wield that ability toward anything other than nice fantasy basketball lines. Instead, we see him openly pouting on the court after something doesn't go his way. Perhaps, he'll be a Zach Randolph type who needs a few stops throughout his career before he finally gets it.
Or maybe he'll just always be disappointing as a player and leave us wanting more. 
Show Comments
Hide Comments
Celtics reverse course in Chicago; Pacers head home

Our NBA experts predict the first round of the postseason

Can the Clippers close the series without Blake Griffin?
The playoffs are starting to heat up

The Cavs are the first team to move on to the next round

Our experts predict every series in the 2017 NBA postseason