Oklahoma City Thunder are the Orlando Summer League champs
The Oklahoma City Thunder beat the Houston Rockets 85-77 to be crowned the 2013 Orlando Summer League champions. Jeremy Lamb led with 18 points.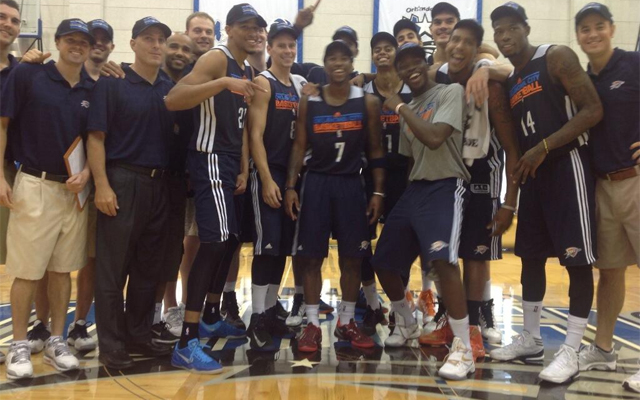 The Oklahoma City Thunder may have fallen short in the second round of the NBA playoffs after they failed to withstand the huge loss of Russell Westbrook to a lateral tear in his meniscus, but they've managed to bounce back at the organization's first crack at competition. Led by Jeremy Lamb's 18 points, the Thunder beat the Houston Rockets 85-77 to capture the Orlando Summer League title.
The Rockets and Thunder were both undefeated going into the championship day in Orlando, but OKC's ability to capture the final game made them the champions. Summer league is now using a point system in which the team that wins each quarter gets a point for that quarter. If the two teams tie for a quarter, they split the point. And the team that wins the game overall receives three points. A winning team can earn anywhere from four to seven points and the losing team can get anywhere from zero to three points.
Not only did the Thunder win the final game but they ended up finishing with the most points for the summer league sessions with 26. Houston finished with 22 points.
Reggie Jackson was the leading scorer for the Thunder with 19.5 points per game, but he only played in two games. Jeremy Lamb finished with the second highest scoring average on the team at 18.8 but had the most total points (75) for the Thunder. Steven Adams, the No. 12 overall pick in the 2013 draft, finished with 10 points and nine rebounds in the title game, and he averaged 9.0 points and 6.5 rebounds for the week.
Show Comments
Hide Comments
Game 1 of the 2017 NBA Finals tips on June 1

Check back here for all of the conference finals results from the NBA playoffs

LeBron reflects on emulating Michael Jordan growing up, but one thing he couldn't quite co...
The Cavs clinched the series by winning Game 5 by 33 points in Boston

'I wear the number because of Mike'

Our experts predict every series in the 2017 NBA playoffs