Omer Asik and Dwight Howard to start preseason game
Rockets will pair their two big men in a twin towers starting lineup. Can the combination work long-term or will something have to be done to address a logjam?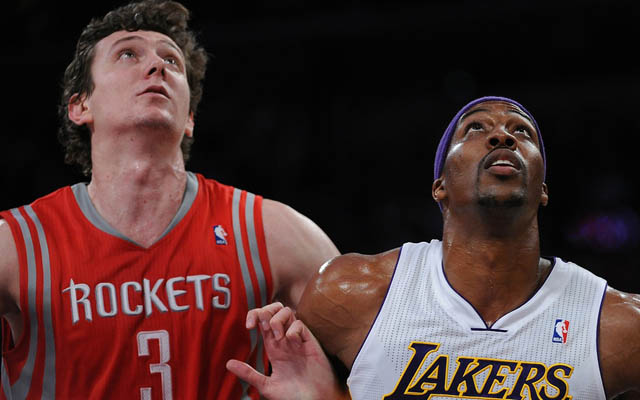 The grand experiment begins. 
The Houston Rockets are set to give the Omer-Asik-Dwight-Howard combo a try in the starting lineup on Monday. 
Omer Asik and Dwight Howard starting together tomorrow vs. Mavs. Lin starting at point.

— Jonathan Feigen (@Jonathan_Feigen) October 20, 2013
There's been debate over whether this combination can work since the Rockets signed Howard back in July. Immediately, reports surfaced that Asik was demanding a trade. Asik declined comment on the situation at media day, while Howard has said there won't be a problem playing next to the traditional center. 
It's just a preseason game, and lots of coaches are trying new lineups they won't necessarily use in the regular season right now. But it does show the Rockets' genuine interest in making the pairing work... at least as long as it takes to raise Asik's trade value. 
Howard's specific size and skillset could work well beside Asik's raw size. But if one of them gets in foul trouble, the rotations could come apart. The Rockets lack depth at the position, especially with Marcus Camby's injury slowing things up. We'll see how it works in the preseason, and more importantly, whether the Rockets want to pursue it as a long-term approach. 
Show Comments
Hide Comments
The sign, however, says Jordan never flopped -- which is incorrect, as the film shows

Curry's turnover was a key moment in the Warriors' Game 7 loss last season

Curry is having an impressive postseason campaign, averaging 28.6 points per game
They have consistently posed problems for the Golden Boy, but can they keep it up?

Kerr hasn't coached since Game 2 of the first round against the Trail Blazers

Parker was injured during Game 2 of the Spurs' series vs. the Rockets