One-dimensional no more, Blake Griffin's growth is the Clippers' gain
Lost in Doc Rivers uniting with Chris Paul is what the former Celtics coach has been able to do for Blake Griffin, who has vastly improved and expanded his game.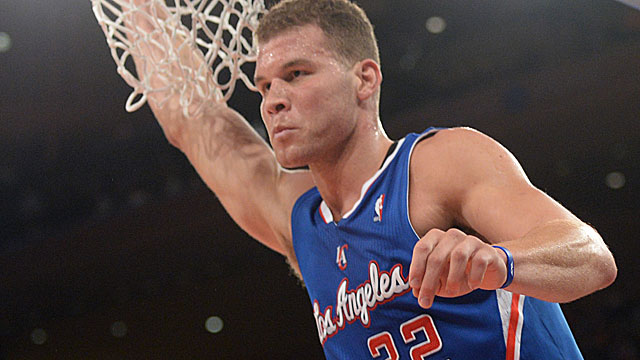 When the Clippers took their shot at becoming championship-caliber by welcoming Doc Rivers from the rebuilding Celtics, hearts swooned at the possibilities. Rivers would be the final stitch in the championship tapestry that would push Chris Paul to greatness. His defensive system and experience with Kevin Garnett would transform DeAndre Jordan into one of the NBA's most feared centers.
Maybe, just maybe, Rivers would have a loud enough voice and strong enough presence to block out the biggest problem with the Clippers over the past 30 years, that being owner Donald Sterling.
Lost in the analysis was what Rivers could do for the player who has turned out to be the Clippers' most important, the guy who'd wind up playing the biggest role in their transformation: Blake Griffin.
That's right, Blake Griffin.
During his first three NBA seasons, Griffin became known as a one-dimensional player – well, two-dimensional, if you count how great he is at making commercials. (Three-dimensional if you count flopping.) His greatest NBA accomplishment, it seemed, would be leaping over a sedan in the All-Star dunk contest. His biggest flaw was that he'd never develop a game below the rim.
Zach Lowe of Grantland did an excellent job dispelling the myths about Griffin here. The video and statistical proof of Griffin's burgeoning post game, and his improvement as a crunch-time option and free-throw shooter can be attributed to a couple of very important factors that a lot of us forgot when forming our opinions about him: 1) Griffin had spent the first three years of his career playing for Vinny Del Negro, and now is being tutored by easily one of the top three coaches in the league; and 2) he is not yet 25 years old.
Blake "Earthquake" Griffin – as Shaquille O'Neal likes to call him – is the one player Shaq always mentioned as the one he wishes he'd had a chance to play with. Not LeBron James, Kevin Durant, Carmelo Anthony, Paul or anyone else. Blake Griffin. His emergence as a more complete, more dependable player also is in line with something else that has been obscured by his high-flying dunks and the je ne sais quoi of his car commercials:  His work ethic.
Blake Griffin works very, very hard. It's the only way to improve and expand his game as much as he has.
And so as the Clippers take on the Warriors Thursday night – a clash of two teams that clearly don't like each other and, one would hope, will reunite for an epic, seven-game playoff series – Griffin's expanded game and heightened profile will take center stage on national TV. Since Paul went down with a shoulder injury on Jan. 3, the Clippers are 10-3. Griffin has been the driving force behind their success.
He's shooting 56 percent (117-for-210) from the field and 73 percent from the line (93-127) in the 13 games since Paul went down. What's striking about the work Griffin is doing is that it isn't all about style points. He's doing the grunt work, too, and doing it well.
And as noted, he is 24 years old, which means he will only get better. That is a scary thought, especially for anyone who thought the Clippers would actually contemplate trading him to the Knicks for Anthony, who will turn 30 this summer about a month before being eligible to sign a five-year, $129 million max contract. (Hint: They didn't, wouldn't and shouldn't.)
So before you cement your predetermined opinions about Griffin and who he is as an NBA player, behold what he is becoming. You might be surprised by what you see.
Show Comments
Hide Comments
Tampering is apparently nothing

Boston completely shut down Chicago on Friday, setting up an exciting matchup with Washing...

The Celtics and Wizards are moving on
The Spurs and Raptors are the latest to move on from the opening round

This was a career playoff high for the point guard

It seems like they have a type