Pacers expect Paul George to eventually be his old self
Pacers forward could return early after horrific leg injury, but team president Larry Bird isn't expecting it. Team doctors say they believe he will be back to 100 percent.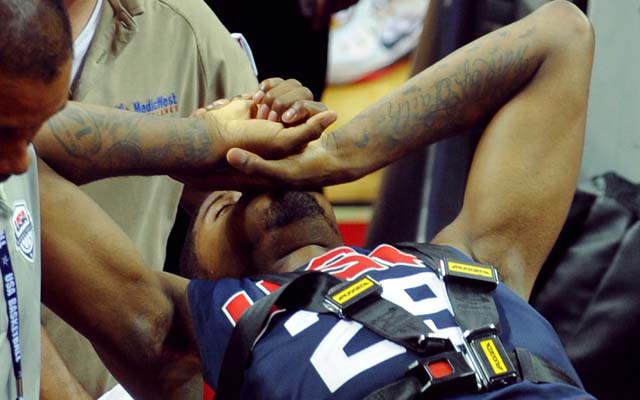 Offseason: Free Agency | Latest from Ken Berger | Rumors
Indiana Pacers president Larry Bird and coach Frank Vogel met with reporters Monday and said that while everything is looking good for forward Paul George's recovery from a traumatic leg injury -- and it's still possible George could play next season -- their expectation is that he will miss the entire 2014-2015 campaign. 
The AP reports that team doctors have said that George will be back to "his old self."
Eleven days after George sustained a compound fracture in his right leg during a USA Basketball scrimmage, president of basketball operations Larry Bird and coach Frank Vogel spoke for the first time about their star's prognosis. They said team doctors believe George eventually can be his old self on the court.
"No one has told us he's going to be out for the whole year, but based off our conversations, we're  expecting him to be out for the whole year but we don't really know. ... If he can play, he's going to play." 
George suffered a compound fracture during a Team USA exhibition earlier this month and immediately had surgery. Players expressed their support after the incident. The Pacers' odds to win the title plummeted after the injury, and the team has been pursuing Shawn Marion as a replacement. Marion has also drawn interest from the Cavaliers. 
Show Comments
Hide Comments
The two best point guards in the East go at it in a series sure to be filled with drama.

Breaking down key matchups as the second season reaches the conference semifinal series

The second round of the 2017 NBA Playoffs tips off Sunday at 1 p.m. ET, with Game 1 of Cel...
The Spurs have homecourt advantage, and will host Game 1 Monday night at 9:30 p.m. ET

All-Star guard flew to Washington after Game 6 vs. Bulls to attend his sister's funeral Sa...

Some love for the Rockets over the Spurs, and at least one expert says the Cavs are going...