Pacers GM Kevin Pritchard tweets Frank Vogel is safe with Pacers
Indiana Pacers general manager Kevin Pritchard tweets that Frank Vogel's job with the team is safe.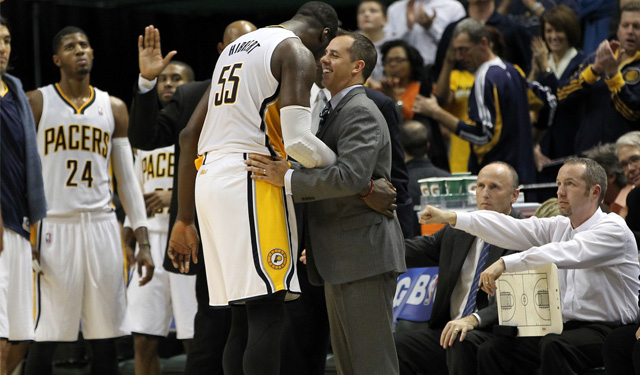 More Playoffs: Schedule | Threat Matrix | Previews: East | West | Picks
With the Indiana Pacers in a two month-plus slide and potentially in danger of losing an opening-round playoff series to the eighth-seeded Atlanta Hawks, there were reports Wednesday that coach Frank Vogel could be coaching for his own job security with the organization. The Pacers dropped Game 1 to the Hawks and have looked shaky since the All-Star break, after looking so dominant for more than half the season.
Pacers general manager Kevin Pritchard tweeted out Thursday morning that Vogel's job is safe, after speaking to Larry Bird about his "sources."
Larry Bird just told me his sources say Frank Vogel's job is safe. @Pacers

— Kevin Pritchard (@PacersKev) April 24, 2014
It would be completely reactionary to fire Vogel after a bad two-month stretch when his coaching, developing, and preparation helped turned the Pacers from a solid team that can make the playoffs every season to a legitimate threat to the Miami Heat in the East. Whether or not they're still that threat to the Heat as of right now, Vogel's work in turning this team around has to have more clout than the past two months.
But we've seen crazier coaching firings in the past and Vogel certainly wouldn't be that unrealistic. Assuming the Pacers can regain their form and replicate the dominant second half they showed in a Game 2 victory over the Hawks, they can probably get their confidence and execution back up to make a deep run in the playoffs. Regardless of what happens, it looks like Vogel will coach this team next season.
Lillard said 'good luck' to the champion Warriors if the Blazers acquire Carmelo Anthony

Now NBA stars are invading your neighborhoods and looking for your hoops

Raptors want improved ball movement and spacing, and the big scorer ran the show some last...
The 15-year veteran says his decision to return was influenced by his coach's plea

Shaquille O'Neal certainly knows how to bring attention to himself

Warriors, who are not leaning on taxpayers for the arena, plan to pay back the fee after 30...