Pacers-Hawks Game 4 Preview: Wrestling for control in the dark
Previewing Game 4 of the Pacers-Hawks first-round series.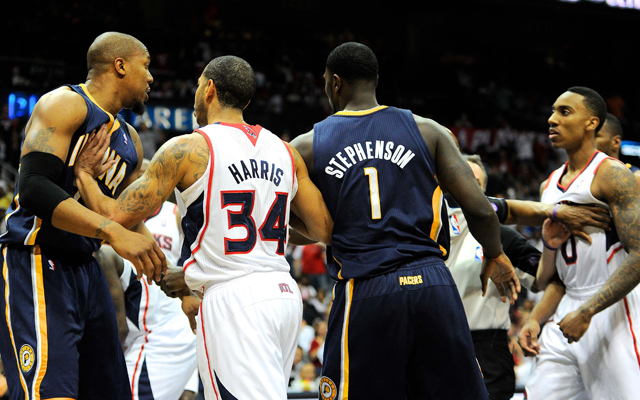 Previewing Game 4 of the Pacers-Hawks first-round series.
1. Where We Are: The Pacers lead 2-1 but have to be wondering if the series has shifted. The Hawks absolutely throttled them in Phillips on Saturday.
The Pacers' offense is always in danger of randomly dying like a car that that just won't start, and that happened in Game 3. Will it turn over on Monday? There's no way to know in advance. You just have to turn the key.
For Atlanta, there's a lot to feel good about from Game 3. They pounded it inside, controlled the pace, and sliced between the normally stout defense. They also completely locked down on the Pacers.
2. The Big Number: 16th. That's the Pacers' effective field goal percentage ranking in the playoffs. They're literally shooting the worst from the field of any team in the playoffs. They have a 2-1 advantage and have the worst effective field goal percentage in the playoffs. Even a horrible Game 3 performance wouldn't drag that down enough to excuse that level.
The Pacers' offense is in major trouble.
3. Key Adjustment: The Pacers have become too dependent on Paul George as a perimeter creator. In Game 3, he had only one catch-and-shoot opportunity.
George simply isn't as effective against quality defenses when he's working off the dribble. George Hill has been incredible in this series and needs to work to create open looks for George on the catch. The Pacers need easy, open offense, and that means going away from George as creator off the dribble.
4. The Big Story: The series that no one noticed was going on. The big story is that quietly, these two teams are playing pretty well throughout the series, and this one could go long if Indiana doesn't regain control in Game 4. And every game it takes them to put away the Hawks could be one more game that the Knicks get to rest on them.
And if the Hawks can really hang ...
5. The Facts: 7:30 p.m. ET tipoff. 
Show Comments
Hide Comments
Our Latest Stories
The center says he's not exactly asking to be traded, but something must be done

The center signed a max contract in July

The storylines, they are a plenty.
This seems a little extreme, no?

The Pistons coach is pushing his players to register to vote

The Thunder center used to say 'No English' whenever the future Hall of Famer came around