Pacers-Heat Game 2 Preview: Miami looks for a split
The Pacers started the Eastern Conference finals with a win. Can they keep it going against the two-time defending champs?
• 2 min read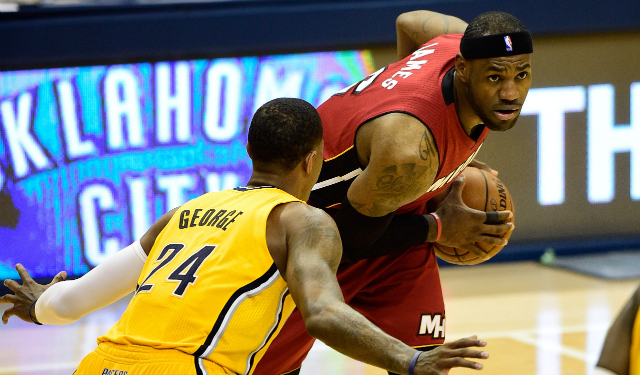 More postseason coverage: Playoff schedule, results | Latest news, notes
Previewing Game 2 of the Pacers-Heat Eastern Conference finals series.
1. The Facts: 8:30 p.m. ET (ESPN). Follow the action here. Evan Turner will be back; both teams are fully healthy.
2. Where We Are: We're where we were supposed to be all along. Months ago, it seemed obvious that these two teams were on a collision course and that the Indiana Pacers were the team best suited to take down the Miami Heat. With how the Pacers limped to the finish line in the regular season, though, it was fair to wonder if they'd be able to challenge the champs like they did in last year's seven-game series. Their inconsistency against the Atlanta Hawks and Washington Wizards in the first two rounds of the playoffs didn't dispel the doubts, either. 
Indiana made a statement in Game 1, though, leading wire-to-wire for a 107-96 win. The Pacers protected home court, the advantage they'd fought so hard for and talked so much about. They looked like the team that had been looking forward to this matchup, sharing the basketball and attacking the basket. They also kept Miami away from its sweet spots. Indiana expects the Heat to respond with a better effort — "We got to match that," Paul George told reporters on Tuesday — and heading home with a split would make this a successful start of the series for Miami. 
3. The Big Number: 120. That's how many points the Pacers scored, per 100 possessions, in Game 1. That's not just big, that's an enormous number for an Indiana team that has had more than one 14-point quarter in these playoffs. Every Indiana starter contributed positively, and the ball movement and aggressiveness was dialed up. The Heat shot poorly from deep and couldn't get to the line, but all they were talking about after the game was defense, and there's a good reason for that. They'll need to make life much more difficult on the Pacers this time.
4. Key Adjustment: Improve the perimeter defense. The presence of Roy Hibbert on the inside sometimes makes Miami play more passively on the outside, but the Heat are going to have to ramp up the pressure and do their best not to foul. They're going to have to try to make Indiana revert to its worst habits on offense: over-dribbling and turning the ball over. George, Lance Stephenson and George Hill all looked entirely too comfortable for Miami's liking on Sunday. 
5. The Big Story: Can the Pacers keep this going? The pressure is still on Indiana, as this team has not proven it can handle success. LeBron James and company have routinely come back from series-opening losses, and a decisive Heat victory at Bankers Life Fieldhouse would make everyone wonder who the real Pacers are again. 
Ball wasn't happy about a foul call, swore at a referee and took his team off the floor

Jared Sullinger wants back in the NBA; he knows his weight will play an important part

Cleveland is one of Rose's biggest suitors, and the Irving situation could lead to an even...
Five years later and Celtics fans continue to throw shade -- Allen later deleted the comme...

Irving has a desire to team up with Butler dating back to June

Apparently, Irving first asked to be traded in June in hopes of joining Jimmy Butler in Ch...