Pacers' Paul George fined $25,000 for 'home cooking' remark
Indiana Pacers forward Paul George was fined $25,000 by the NBA for public criticism of the officials after the Game 4 loss.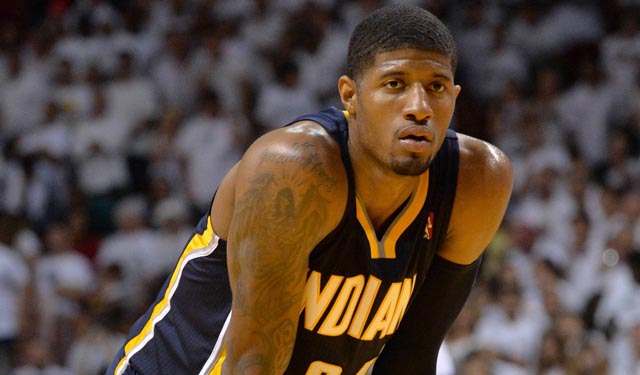 More postseason coverage: Playoff schedule, results | Latest news, notes
After the Indiana Pacers lost to the Miami Heat 102-90 in Game 4 to go down 3-1 in the Eastern Conference finals, Paul George didn't believe the Heat had outplayed his team. He commented multiple times in his postgame press conference that he felt the Pacers were just as aggressive attacking the basket as the Heat, but didn't shoot nearly as many free throws. He wondered if "home cooking" was at play.
Those comments brought a $25,000 fine from the NBA for publicly criticizing the officiating. NBA president of basketball operations Rod Thorn fined the Pacers' star on Tuesday. From the NBA:
Indiana Pacers forward Paul George has been fined $25,000 for public criticism of the officiating, it was announced Tuesday by Rod Thorn, President, Basketball Operations.

George made his comments in the postgame press conference following the Pacers' 102-90 loss to the Miami Heat on May 26, at AmericanAirlines Arena.
The Heat were called for 17 fouls, compared to 27 for the Pacers, and doubled Indiana's free throw attempts. The Heat were 30 of 34 from the line while the Pacers made 11 of 17. George had these comments in light of the loss and the free throw disparity:
"Looking at the stat sheet, we outplayed them," George said in the post-game press conference. "We got to give them credit. They won this game at the free throw line and they were really able to get to the free throw line more than we were. But I thought we outplayed them tonight. 
"It's just demoralizing when the game is lopsided. I'm sorry to say but that was the case. Again, how rare is it we shoot around 50 percent, turn the ball over around 13 or so times, outrebound a team and lose the ball game. I thought we did a great job. You know, I just thought we did a great job. We rallied at the end to try to make a push, but again, they made 30 free throws. That put them over the edge."
When asked if he thought the free throw disparity was a matter of aggressive play on the Heat's part or home-court advantage, George replied in an agitated state. 
"What do you think?" George answered. "You can't tell me we don't attack the basket as much as they attack the basket. You can't tell me we're not aggressive. Maybe we're too aggressive. I feel like we're just as aggressive as they are attacking the basket, making plays at the rim. Maybe this was just home cooking."
Don't even think about it -- LeBron's reportedly not going anywhere

The point guard's unhappiness reportedly helped lead to his eventual trade request

Even Floyd Mayweather weighs in on the war of words between the two stars
The three-team deal would have also shipped Kevin Love to Denver

Ball wasn't happy about a foul call, swore at a referee and took his team off the floor

Jared Sullinger wants back in the NBA; he knows his weight will play an important part