Pacers' Vogel: Heat are 'the biggest flopping team in the NBA'
Pacers coach Frank Vogel wants the officials to be on alert for Miami's flopping ways.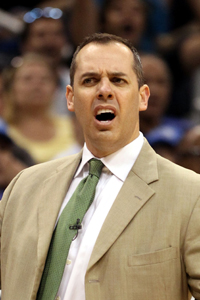 Pacers coach Frank Vogel has fired the first shot of the series.
(Getty Images)
Pacers
head coach Frank Vogel knows he's got a big challenge ahead for his Indiana Pacers. The Miami
Heat
enter as the best remaining seed, having dominated the New York Knicks in five games. They feature two of the top five players in the
NBA
, depth, excellent defense, and physicality. But Vogel is already trying to get a head start on winning one battle, the one with the officials. 
Vogel spoke with reporters on Friday morning and began to work on complaining about flopping before the series even starts. From ESPN:
"They are the biggest flopping team in the NBA," Vogel told reporters at Thursdays practice in Indianapolis. "It'll be very interesting to see how the referees officiate the series and how much flopping they reward."

"Every drive to the basket, they have guys not making a play on the ball, but sliding in front of drivers," Vogel said. "Oftentimes theyre falling down even before contact is even being made. It'll be interesting to see how the series is officiated."
via 2012 NBA playoffs -- Indiana Pacers coach Frank Vogel says Miami Heat biggest floppers in league - ESPN.

Oh, good. As if we don't have enough of this in every series the Clippers play.

The reality is that the Heat play a positional defense, less focused on say, turnovers like the Memphis Grizzlies or attacking the dribble with multiple defenders like the Chicago Bulls, and more about closing off driving lanes and forcing players into bad positions. As part of that, players step in and take the charge.

And then flop.

Because it works. If the NBA wants to stop flopping, it's going to have to legislate against it retroactively. The backwards fall is effective because it illustrates contact even where there sometimes is none.

Vogel's trying to curtail that to start with, but it's a tough road to go down. By compaining before the series starts, you're setting a tone as a team that's going to be aggressive in driving, which only draws more attention to it. It's a worthwhile pursuit, but not in any indicative of anything personal with Vogel. He's just doing his job, trying to give his team the edge by exaggerating the facts, much like the Heat will by flopping.

The Eastern Conference Semi-Finals for Miami and Indiana don't start until Sunday, but the chess match started Friday. 
Can the former MVP be a healthy contributor to the reigning East champs amid organizational...

Lillard made the comments in regards to the Kyrie Irving situation

Rose reportedly agreed to a one-year deal with the Cavs
Fredette starred for the Shanghai Sharks last season

The free-agent point guard spent last season with the New York Knicks

Stevens was trying to take Hayward and his wife to their hotel