Pacific Division Offseason Report: New predators on the hunt
Does Doc Rivers make the Clippers contenders? Can Andre Iguodala make the Warriors elite? And what about the Lakers after Dwight?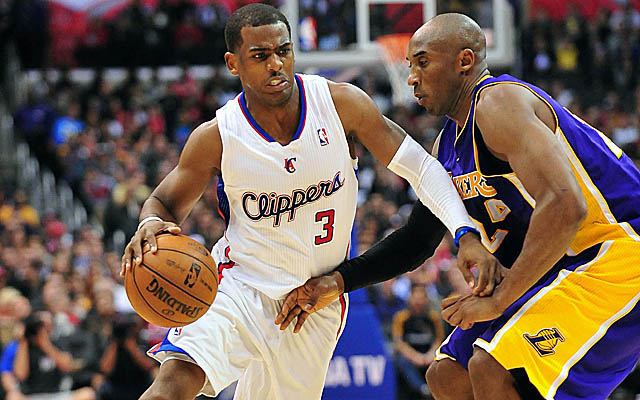 We took a team-by-team look at the Pacific Division this week in our Offseason Reports. Now it's time for a bigger-picture look at the division and how it shook out this offseason. 
If a predator in a given environment is wounded or otherwise limited, what happens? Another predator will take its place as the dominant predator. The chain moves up, and the third-string consumer becomes the second and so forth. That's what you see with the Pacific Division that has seen its T-Rex, the Lakers, brought to its knees thanks to the disaster of 2013 and Dwight Howard 's departure in free agency.
The Clippers had already claimed the top of the food chain, and only became stronger with this fall by the other LA team. The Warriors seized the opportunity and have also taken a step forward, building off the momentum of their playoff run. 
Yet we can't just move the Lakers to the ranks of prey for the rest of the division. They're still a beast with teeth. 
The Suns and Kings, meanwhile, are more like fighters who know they're not ready for the title card but are spending every day in the gym, learning what they need to improve. They're not ready for the big time, but for the first time in a long time, both franchises seem to at least understand their situations and are working with a plan to improve them. Last year seemed more like they were just trying anything to see if it would work. But now, they have a blueprint for where they want to go, and are working to take the steps forward. 
So how many playoff teams come out of the Pacific Division?
With a long way to go before even camps open, from where we're at, it looks like two with a decent chance at three. The Clippers and Warriors should be in prime position for top-five seeds. The Lakers are the question mark. They could be much better than last year, and a solid six-to-seven seed vs. the seventh-seed sneak they were in 2013. Or they could be, you know, an even bigger disaster. 
Here's a rundown of our takes on the division's teams:
From Matt Moore's 2013 Offseason Report on the Suns.
The Phoenix Suns have surprisingly managed to make a team that will both achieve their tanking objectives and be fun to watch while it's losing. They cleared salary and invested in their future.

There's always the possibility that this team will be surprisingly good, that Len will immediately be a phenom, that Bledsoe will ascend to All-Star status out of the gate, that Michael Beasley will "get it." But when you look at the probabilities, a run at Andrew Wiggins or Julius Randle looks much more likely.
The Suns are set to be the token "fun league pass team that wins 20 games" next year. The Kings have been trying to get there for four years. Ryan McDonough's two big moves (the Eric Bledsoe trade and the Luis Scola trade) were tremendous ones, but that Alex Len draft still has us a little tentative. If he surprises, though, they'll be further along in the process than we thought, and set up nicely to make big strides next summer with the draft and free agency. 
From Zach Harper's 2013 Offseason Report on the Kings.
The sale of the team to Vivek Ranadive's ownership group not only keeps the Kings in Sacramento, but it also gives the organization its first real glimpse of what it's like to be owned by a progressive group of wealthy businessmen that are going to look at problems from all angles and find solutions that makes sense to fixing what's wrong with the roster. One of those solutions was to bring in Pete D'Alessandro as general manager to replace Geoff Petrie.

They also brought in first-time head coach Mike Malone, one of the most well-respected and sought-after assistant coaches in the NBA, from the Warriors. Couple all of that with the beginning of reshaping the roster and you have to feel a lot better about the direction of the Kings.
There's this scene in the movie Grosse Pointe Blank, where in the midst of answering intense phone calls about an arms deal, John Cusack's assistant, played by his sister Joan Cusack is ranting to a friend about how celery and carrots are just "the base of the soup." That's the Sacramento Kings . They have the base of a soup now, with better management, better ownership, and a young base of talented players like DeMarcus Cousins and Ben McLemore . 
But they've been trying to find the solution the last few seasons and haven't managed to discover lightning in a bottle. This is a big year for the Cousins era in Sacramento. 
From Royce Young's 2013 Offseason Report on the Lakers.
The Lakers 2013-14 season seems to be dead on arrival. General manager Mitch Kupchak did what he could to save it by inking Jordan Farmar on a one-year deal, Nick Young to a vet minimum contract, Chris Kaman to a cheap deal, summer league standout Elias Harris to a small contract and amnestied Metta World Peace to save some money.

But with so much money committed to Kobe Bryant , Pau Gasol and Steve Nash , there really wasn't much room to do anything. When Howard left, the season became mostly a wash and it was then about positioning for the future while still trying to remain competitive as possible by filling out the team with veterans on the cheap. In that regard, well done.
The Los Angeles Lakers are all about the summer of 2014. They've opted not to tank, and are positioning themselves to have an attractive offer to the marquee free agents in next year's class, beyond just "we're the Lakers and this is LA." They said they wanted to get younger, and they did, but they also didn't get much better. So much of their wins and losses will depend on health again. Steve Nash's back, Pau Gasol's feet, Kobe Bryant's ankle, they have to get a lot of guy with a lot of miles a lot healthier if they want to make any big strides. 
In many ways this season feels like a 2006-like reset. It may be a frustrating year while they wait, but eventually, they'll get back on top. They're the Lakers. That's what they do. 
From Zach Harper's 2013 Offseason Report on the Warriors.
With everything the Warriors did this offseason, they not only got more versatile, but they also set themselves up for the future without destroying their cap situation. They potentially have help down the road with Nedovic and bringing in Iguodala now to bolster an already impressive perimeter attack was huge. They have a lockdown defender to pair with Harrison Barnes and show the young wings the tricks of the trade when it comes to defending. He's also an under utilized playmaker who can help find the open shooters for Golden State.

Their bench got weaker by substituting Jack for Douglas and Landry for Speights, but ultimately the youth on their roster should be able to make up for that within a couple of years. They still have a handful of young players on rookie contracts and could potentially have solid cap space going into next offseason with Bogut's expiring contract. If they manage to get rid of David Lee 's deal at some point, they could be in even greater position to add a key star down the road or pay their own young players to keep the core together.
Weird quirk. On a recent sketching of who lands where in the West, I had the Golden State Warriors third. Then, separately, I was thinking about division winners, and I assumed the Clippers would win the division. This, despite knowing at about 80 percent confidence that the San Antonio Spurs and Oklahoma City Thunder will be No. 1 and No. 2 in some order. That shows you how tight this could get. The Warriors have a great shot at stealing the division if the Clippers take any step back at all next year. 
Maybe most impressive, for the first time in a long time, 55-plus wins is a realistic goal for the Warriors. 
From Matt Moore's 2013 Offseason Report on the Clippers.
Now, the Clippers have more balance. Their wing depth remains exceptional and should be slightly better with the youth movement. (Jamal) Crawford, (J.J.) Redick, Jared Dudley , Willie Green and (Matt) Barnes can all bomb from deep. (Chris) Paul was retained and they will have exceptional out-of-timeout sets with (Doc) Rivers around, as well as one of the best motivational coaches in the league.

Still, they're extremely dependent on Griffin and Jordan. Griffin improved in many ways few noticed last season, but still isn't a dominant rebounder and teams remain unafraid of his (admittedly improved) mid-range jumper. He and Jordan have to make considerable leaps this season for the Clippers to contend for a title, otherwise, they remain solvable.
The Los Angeles Clippers are finally entering a season as the favorites to win their division. A lot of people are going to have them as title contenders. They look like a legitimate powerhouse in the league and have their frachise cornerstone locked up in Chris Paul . 
If ever there was a season to break the Clippers Curse once and for all, this is it. But there are still "ifs" with this team. They're not a lock for anything but a playoff spot. We'll have to see if they can live up to those kinds of expectations, something they haven't done well throughout franchise history. 
Offseason Power Rankings
1. Warriors: Adding a sub-star like Andre Iguodala who fits a need and makes them immediately better balances out the loss of depth, and their replacement parts ( Marreese Speights , Toney Douglas ) are quality players. 
2. Clippers: Doc Rivers is a big get, but can he fix all the chemistry problems between Chris Paul and Blake Griffin ?
3. Suns: Bledsoe could be a building block going forward and they cleared cap space. 
4. Kings: The Carl Landry signing was odd and the need more time to figure out their roster. They're on the right path, but this wasn't the summer for big strides. 
5. Lakers: They lost Dwight Howard. You lose the best center in basketball, you're last in these rankings. That's it. 
Show Comments
Hide Comments
Draymond wasn't mad about the move, though. He was mad about the way he heard about it

All-Star forward was sent from the Bulls to the Timberwolves on draft night

It's not so much who Boston took, but who it didn't take
Former Bulls star was venting after being traded to the Timberwolves

Phoenix Suns' top pick was a bit off the mark with ceremonial first pitch at Diamondbacks...

Lakers traded Russell to the Nets along with Timofey Mozgov in exchange for Brook Lopez and...