Parsons friction illustrates Rockets' leadership issue
It's not that James Harden is wrong. It's what his statements about Chandler Parsons reveal about Houston and its leadership situation.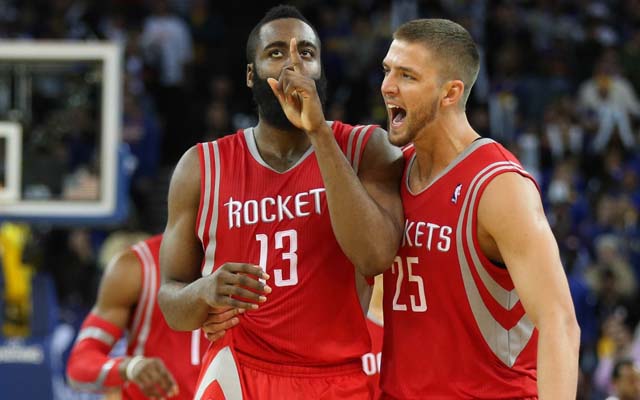 Offseason: Free Agency | Latest from Ken Berger | Rumors
With friends like these, who needs the Mavericks? Well, it turns out Chandler Parsons does.
A year ago, the Houston Rockets were celebrating the acquisition of Dwight Howard . It was a huge day. A superstar, a true superstar, the best center in the league, had left the mighty L.A. Lakers to join Houston and form a superteam with James Harden . There was always supposed to be a third star, rumors of that had surfaced as soon as Howard touched down in Texas. But Parsons was supposed to be the third weapon, the could-be superstar that provided the bridge between Harden in the backcourt and Dwight down low.
But Parsons' role in Houston was more than that. Parsons was a second-round pick who became a true star, or at least sub-star, thanks to his athleticism and shooting. He was central to the Rockets' success in 2012 that paved the way for their acquisition of Howard. More than that, it was Parsons who openly, aggressively and convincingly lured Howard to Houston. Parsons reached out to Howard early and often, and lobbied him aggressively through text messages in free agency, he'd later say.
As arrogant as it would be to say that Parsons was the reason Howard signed in Houston, so too would it be pompous to say that he did not have a huge role in landing Howard's services, or into making Houston a top-four seed in a brutal Western Conference (first-round disappointment or not). Parsons helped create the locker room environment that helped them win games and help bring in Howard. He spread the floor and made plays. He's a natural leader, even if he's been too young in terms of league experience to really take up that role until now.
Which is what makes all the nonsense that broke out between Parsons and his former superstar teammates in Houston so ridiculous. It was one thing when Howard said the team would be "unaffected" by the loss of Parsons. Parsons understood that; it's what you have to say, lest you be seen as criticizing management/ownership. Having confidence in one's team has never hurt an NBA player or his brand.
But then there were Harden's comments Friday, that beyond he and Howard, everyone else was a role player. That's a direct swipe at Parsons. It shows legitimate disrespect to what he helped accomplish in Houston, and it compounds with Houston's decision to let him go as a swipe to Parsons' professional pride.
Parsons on Harden: "It's a pretty ridiculous statement, if he meant that. I'm excited to go to DAL. I'm ready for next step, a bigger role."

— Alex Kennedy (@AlexKennedyNBA) July 24, 2014
After the comments came out, Harden took to Twitter and suggested his comments about Parsons had nothing to do with disrespect. Our own James Herbert suggests that there genuinely wasn't any disrespect meant, and it's not like Harden dropped a diss track on Parsons. The point was not that Harden was intentionally disrespectful. That can be chalked up to word choice, and word choice is easily misinterpreted out of context. But word choice is different from negligent intent. The problem is not that Harden, or Howard for that matter, intended to insult Parsons. It's that their comments, coupled with Houston's decision to let Parsons walk, make it seem like Parsons didn't matter.
And he does. His 16.6 points, 5.5 rebounds and 4.0 assists per game on 54 percent effective field goal percentage were a lot more valuable at less than $1 million per season, but independent of per dollar cost, Parsons is still a versatile, athletic wing who can run the floor, shoots from 3 at 37 percent and is just 26 years old. Let me put it this way: Parsons would have been the best player on Milwaukee last season. He'd be the second best player on the Lakers behind Kobe Bryant last season, and would be the second-best player behind Bryant this season. It would be a toss-up between he and Gordon Hayward for best player on the Jazz.
He's not inconsequential. And the Mavericks clearly saw it that way. That's why Dallas handed him the contract that shoved Daryl Morey up against the wall and made him choose flexibility or talent. The Mavericks know, just as the Rockets do, that the modern NBA is built on two things: versatility and the ability to stretch the floor. Each Spur is able to play multiple positions, able to do multiple things, and almost all of them can stretch the floor.
Parsons is that guy. He's still learning as a defender (and running out of time to reach "passably good" level). But Dallas' offense will absolutely burn with him on the floor. He's in a position to contribute to a winning team. The Rockets didn't just make themselves arguably worse (and you can argue that Trevor Ariza was a better 3-point shooter and objectively he is a superior defender). They made a division rival, in the toughest division in the league, better.
Finally, Harden suggesting that these role players don't matter tells us something else. Stars aren't learning. For seven years now we've seen a superstar arms race. The Celtics formed their Big 3, the Lakers retaliated with the Pau Gasol trade. The Heat formed the Big 3, the Clippers added Chris Paul to Blake Griffin and DeAndre Jordan . The Knicks splurged to get Melo along with Amare Stoudemire and Tyson Chandler , the Nets spent the GDP of a small nation to stock their team, and then sold more future assets and paid more money to get Kevin Garnett and Paul Pierce .
Yet the 2011 Mavericks taught us the power of veteran depth and balance. The Heat's 2012 and 2013 titles were built on the back of LeBron's greatness and the Big 3 talent, but the separation between them and others was the role players like Ray Allen , Mike Miller and Shane Battier . When that supporting cast eroded, so did the Heat. The Nets were a disaster that managed to hide it enough to save face. The Knicks imploded.
Meanwhile, even beyond San Antonio, which honestly at this point is an unfair comparison to everyone else in the league, you have Indiana, which has two All-Stars but whose success was dictated by their defense and overall team concept (before the floorboards rotted and they fell into a cavernous mine of sadness). Portland is led by two All-Stars but its strength was its offensive firepower. Washington, Toronto, Atlanta, Charlotte ... all these teams were lead by great players, but their actual value as a team was in their collective strength.
In fact, you can easily argue Houston's entire problem was that they were too star-dependent. In 2013 they were a much more dangerous team, but less talented. They could hit you from anywhere. This year, it was slogging through possessions with Howard and Harden, trying to force feed their talent down opponents' throats. They needed better balance, better defense, better cohesion.
And they needed better leadership. They needed someone to set the tone on the perimeter on defense. Harden wasn't going to do that. They needed someone to calm the ship late in games. Howard wasn't going to do that. And Parsons wasn't going to do that, either, not yet anyway. But role players shouldn't have to. Harden is right that the cornerstones are what matters. Star-power talent wins in this league. But his dismissing all the guys who contribute who aren't stars shows part of the problem with Houston. You need stars. You need role players.
Leadership isn't just hitting big shots or setting a tone. It's about lifting up those around you. Any basic research into the subject will tell you that, and anecdotal evidence throughout the league's history would support that premise, from Kareem Abdul-Jabbar to Larry Bird to Michael Jordan to Kobe Bryant. 
You need stars who make role players feel like stars. The talent is there in Clutch City. The leadership isn't. And now, neither is Parsons.
Show Comments
Hide Comments
James has said he doesn't feel he has anything left to prove

How they match up with what each team does well, and poorly, headed into the big battle for...

LaVar Ball will be happy with this futuristic mix of his son in Lakers gear
LeBron had some high praise for his coach

The King had some high praise for Warriors' "new" addition

LeBron and the Cavs are looking for their second straight title