Pau Gasol wants to stay with the Los Angeles Lakers past 2013-14
Los Angeles Lakers big man Pau Gasol has been through a lot in his career with the Los Angeles Lakers and would like to stay there past this season.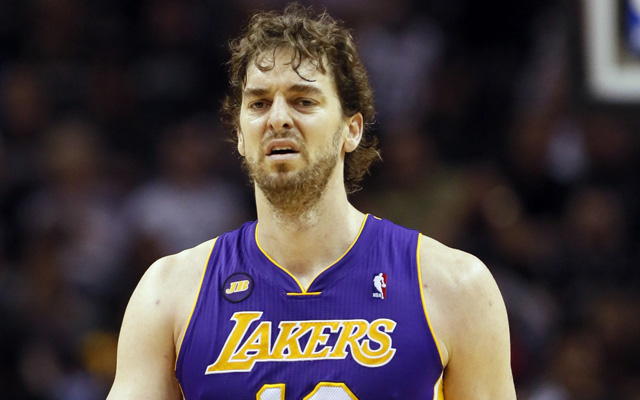 There have been times in which it seemed like the Los Angeles Lakers and Pau Gasol needed to part ways. His pricetag didn't matched his production the last season, mostly due to some injuries to his lower extremeties that have robbed the Spanish big man of his effectiveness on both ends of the floor. The Lakers also went away from using Pau as such an integral part of the offense in favor of trying to convince Dwight Howard that he was their present and future if he decided to stay in town.
That hasn't deterred Gasol from wanting to extend his time with the Lakers past the summer of 2014 when his contract is set to expire. Mike Bresnahan of the Los Angeles Times has Pau talking about how nice it is to remain with the Lakers after the recent doubt in his effectiveness and impact. He also would like to re-sign with the team this summer when they will possibly be major players in the free agent market when only two current deals are guaranteed to be on the books for the 2014-15 season. 
"It's nice to be here in the last year of my contract," Gasol said. "I'd love to continue to play with the Lakers [next year]. We've been through so much together. Mostly amazing moments and some hard moments too.

"It's like a relationship. If you're still together, it shows improved strength and consistency and how solid the relationship is. Hopefully we'll see if we can extend it."
The process of keeping the core of their current roster, even if it is quite old in NBA terms, isn't complicated by any means. It's just going to take Pau Gasol and Kobe Bryant taking significant paycuts in order to stay on the team and give the Lakers enough flexibility to go after at least one major free agent. With Carmelo Anthony and LeBron James both eligible to opt out of their current deals for 2014, the flexibility could be quite lucrative for the Lakers as they look for the next era in their franchise's history.
Gasol makes $19 million this year and with his recent injury history and age, it's highly unlikely he approaches such a big number per season in his next deal. What is the cutoff for what he might be willing to take to remain with the Lakers? Just for argument's sake, if Kobe Bryant is willing to take around $18 million per season, down from $30 million, would Pau be willing to sign for a similar type of deal like Manu Ginobili signed with the Spurs (2 years, $14.5 million) this offseason? 
Maybe that's the only way to keep this core together while adding a big star.
Show Comments
Hide Comments
Vince Carter, Norman Powell and Nene have also shined on the big stage

A fantastic series will pit two of the best players in the league against one another, aga...

What does this mean for the future of Paul George?
Father's dream of his own billion-dollar brand prevents his son from landing a deal with the...

Will the Celtics, Jazz and Wizards all advance Friday night?

The Spurs and Raptors are the latest to move on from the opening round