Paul George promised a Team USA spot in 2016, tribute being planned
USA Basketball has told Paul George that he'll have a roster spot at the next Olympics, and the team is trying to figure out how to honor him in Spain.
• 1 min read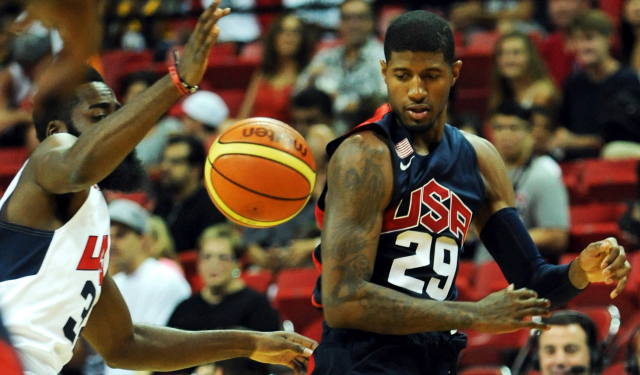 Offseason: Free Agency | Latest from Ken Berger | Rumors
USA Basketball chairman Jerry Colangelo said that Indiana Pacers forward Paul George has been promised a spot in the 2016 team that will be going to the Rio de Janeiro Olympics, via NBA.com's Scott Howard-Cooper.
"We've told him we have a spot for him in '16," Colangelo told NBA.com at festivities Thursday in advance of the Friday enshrinement of the Hall of Fame class.

Without seeing how he comes back?

"Right," said Colangelo, also the Hall chairman. "That's what we told him.

"We thought it's the right thing to do," Colangelo said. "That's it…. We didn't give thought to all the detail. Just that when a guy goes down and all these things, the circumstances, his career passes before him, he's out for a year, a year-plus, he's not able to participate now with us — we wanted to throw that out and say, 'We're counting on you. You've got a spot in '16.'"
That's a classy gesture to a player who has just suffered a broken leg and has a long road to recovery ahead of him. It carries a risk that he won't be the same player then, but that's the point -- USA Basketball wants George to know the organization is confident in his ability to bounce back.
There's also some sort of tribute being planned for George at the 2014 FIBA World Cup in Spain, but the team hasn't quite figured out how to do it yet.
USA Basketball has looked into a uniform patch with his initials or jersey number, and adopting the NBA tradition of writing a message on shoes, but the rules of FIBA, the sport's international governing body, prohibit altering uniforms. So USAB may move to change the rules.

"As far as the players are concerned, this is a rallying point in terms of what happened to Paul,"Colangelo said. "We just want to take some steps that are yet to be determined that we're talking about to bring attention to Paul George and what his contribution has been."
Team USA players have already voiced their support for George, most visibly on social media. They'll surely do whatever they can to make it clear he's part of the team. It'd be nice if FIBA would grant them permission to alter their uniforms in this circumstance. 
Rose played in 64 games for the Knicks before a season-ending knee injury

Durant chose an odd way to shout out his former OKC teammate

Teams are reportedly trying to bring in the veteran forward in an effort to weaken the War...
LeBron has reportedly already ruled out any chance of joining the Clippers

The Thunder plan to offer the recently named MVP a massive five-year extension worth around...

Paul opted out of the final year of his contract last week