Pelicans GM admits they will consider trading Eric Gordon
The Pelicans' general manager Dell Demps admitted this week that the team will consider trading G Eric Gordon.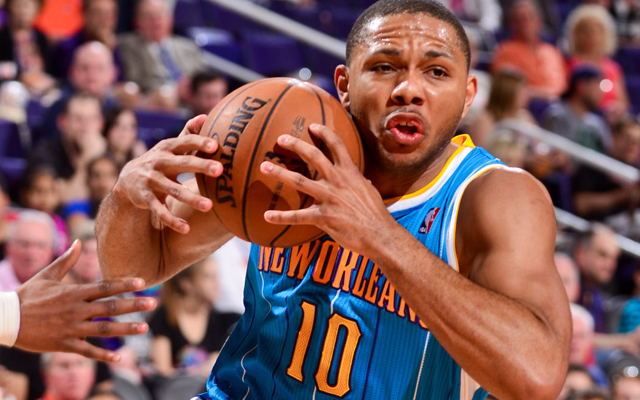 When I saw the quote, I literally said to my colleagues "Oh, hey, I get to write the 'New Orleans may trade Eric Gordon' post for the 60th time. Woo!" 
And here it is. 
After a season in which Gordon missed much of the early part of the year with knee "soreness" without any structural issues, prompting vaguely slighting comments from head coach Monty Williams, and following a late-season episdoe in which Gordon and Williams yelled at one another, general manager Dell Demps said earlier this week at the team's post-season availability that trading Gordon is something they're open to. 
"To say if I anticipate [Gordon] being back — I don't know if that's something I can answer right now, or him not to be back. We're going to sit down and evaluate every situation and opportunity," Demps said Monday.
via Pelicans open to trading Eric Gordon.
Gordon is going to fetch good value on the market, but the Hornets ... I mean, Pelicans are short on leverage. Other teams look at it as an unhappy would-be star who didn't want the Pelicans to match his offer sheet last summer from the Suns, has knee issues and problems with the coach. 
Kind of hard to play "hard to get" with trade offers under that scenario. 
But Gordon, despite the injury and attitude issues, also showed when he did play this season that he can be a terrific 2-guard. The Hornets have a young core to build around and some good pieces. They might be better off trading Gordon. 
Show Comments
Hide Comments
Club reportedly wants to keep stars, but doing so promises more confusion and falling shor...

Warriors star talks to CBS Sports about how he gets his mind right

Vince Carter, Norman Powell and Nene have also shined on the big stage
A fantastic series will pit two of the best players in the league against one another, aga...

What does this mean for the future of Paul George?

Father's dream of his own billion-dollar brand prevents his son from landing a deal with the...