Pelicans' Williams: '[Tanking] is what's bad about the NBA'
Pelicans coach Monty Williams said Sunday that tanking is what's bad about the NBA and that it starts with the message given to players.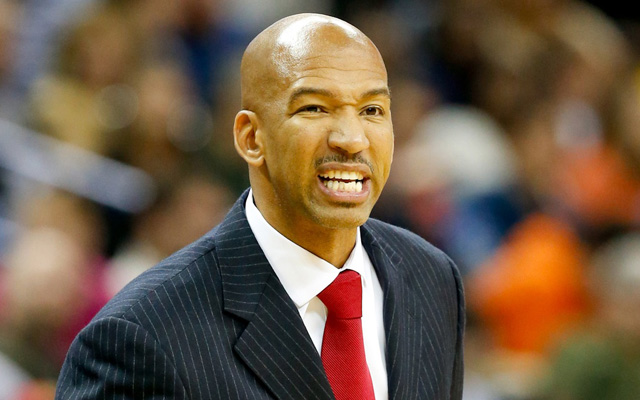 Pelicans coach Monty Williams told CBSSports.com Sunday that in his mind, tanking is the big problem in the NBA. Wlliams was asked how his team has managed to survive without star power forward Anthony Davis, who fractured his hand on Dec. 1. The Pelicans were expected to drop off the map, but have actually gone 4-3 with some real progress shown on an East Coast road trip.
"I don't buy into this idea of tanking and teams who quit when things don't go their way. To me, that's what is bad about the NBA. Guys are still getting paid, guys are still getting shoe contract money, all those things are still in play. So when things don't go your way, you can't tuck tail and run. And we just don't bring in guys who are susceptible to that."
Williams attributed the team's ability to survive Davis' injury to the character of his players.
"We have competitive guys on our team who have a lot of pride. That's why we bring in character guys, so that when you have those situations, they're going to do the right thing."
Williams said the key with avoiding players just giving in when adversity hits is making sure that from the top down, everyone in the organization is committed to avoiding the kind of attitude that leads to surrender.
"I think it's on everybody, coaches, players and management to make sure that that message is sent right from the jump. Look, you're going to run into tough times. But it's too early in the season to make assessments about where we are. I do like the fact that we've played better. When you lose Anthony and you have a guy like Ryan [Anderson] to take his spot? It helps a lot."
Davis is still two to four weeks from returning from the hand fracture he sustained in New York vs. the Knicks, and the Pelicans lost Tyreke Evans to an ankle sprain last Friday. The depleted depth limited their ability to adjust to foul trouble in Sunday's loss vs. Denver. We'll have to see what they look like when they get healthy, and if that'll be enough to compete for a playoff spot.
Show Comments
Hide Comments
Our Latest Stories
Golden State is hoping to get Durant back before the end of the regular season

Shaquille O'Neal wishes his resume was a little bit stronger

The Philadelphia big man said it went 'better than expected'
Maybe just let everybody enjoy this

This is the Mamba mentality, I guess

Hornets swingman Jeremy Lamb hit the star in the eye on Friday