Phil Jackson reveals 2011 prostate cancer diagnosis
Phil Jackson reveals he was diagnosed with prostate cancer in March 2011.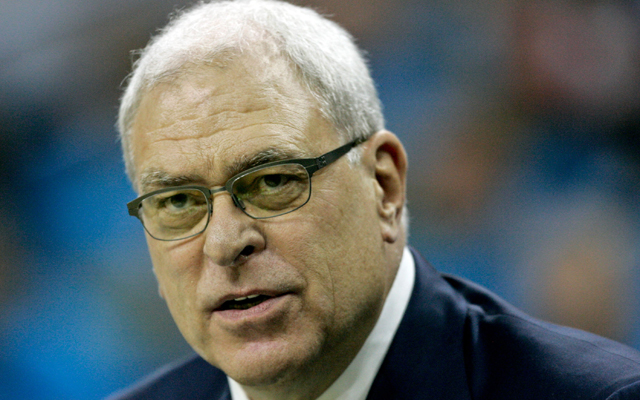 The Orange County Register reports Phil Jackson reveals in his new book that he was diagnosed with prostate cancer in March 2011. 
Jackson was diagnosed with prostate cancer in March 2011. After doctors assured him the cancer could be controlled by drugs temporarily, Jackson waited until after the season to undergo surgery.

…

"Shocking," Pau Gasol said Saturday, remembering Jackson's disclosure to the team. "But then you also could understand certain moments of his demeanor, energy and involvement because of what he was going through health-wise. It explained certain things. It was a shock. A difficult moment for the team."

Gasol said Jackson talked with team captains Kobe Bryant and Derek Fisher privately before telling the whole team in a video session -- but Jackson was left second-guessing the revelation in which he became teary-eyed as he spoke … the Lakers strangely fading in that series vs. Dallas.

Gasol allowed that it was different for the team to see Jackson -- "such a big figure, the physical and spiritual leader of the team" -- as vulnerable.

"As much as I love Phil and I appreciate everything about him," Gasol said, "it was difficult to know."
via Gasol ponders future, present and Jackson's past prostate cancer
The Lakers, coming off back-to-back titles, seemed to struggle that season, especially late, but it was considered just rust for a championship team. Many questioned Jackson's energy when the team was swept in the second round by the Mavericks. This would seem to explain much of that. 
Jackson left the team following the 2011 season and was considered to replace Mike Brown early this season before the Lakers chose to go with Mike D'Antoni. Recently, Jackson has talked about taking a role in a front-office capacity. 
Show Comments
Hide Comments
The two best point guards in the East go at it in a series sure to be filled with drama.

Breaking down key matchups as the second season reaches the conference semifinal series

The second round of the 2017 NBA Playoffs tips off Sunday at 1 p.m. ET, with Game 1 of Cel...
The Spurs have homecourt advantage, and will host Game 1 Monday night at 9:30 p.m. ET

All-Star guard flew to Washington after Game 6 vs. Bulls to attend his sister's funeral Sa...

Some love for the Rockets over the Spurs, and at least one expert says the Cavs are going...