Phil Jackson to be executive producer on new Showtime drama
The legendary coach will be moving into a new role on a different bench as an executive producer on a TV show.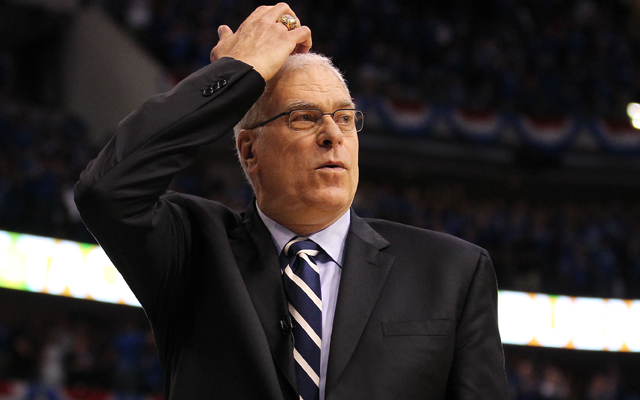 Phil Jackson flirted with an NBA comeback last season, but ultimately decided retirement was too good. 
So what's he doing with his time? 
One thing: He's going to be an executive producer on a TV show. Showtime is making a show about a family that runs a basketball team and Jackson, his fiancee Jeanie Buss, Lakers assistant Kurt Rambis and his wife are all credited with executive producer roles for it. Via Variety:
Ron Shelton, the creative talent behind such noted sports movies as "Bull Durham," "Tin Cup" and "White Men Can't Jump," will write, direct and exec produce the project.

Jeanie Buss, the senior vice president of the Los Angeles Lakers and Linda Rambis will executive produce via production company Street Reason Entertainment.

In an interview, Buss said her experiences working with the Lakers as well as managing events, would inform the stories told in the potential series. "We've seen so much, the things that go on behind the scenes," she said. "We go to events and people ask us a lot of questions about what they don't see. They know the game. They see the game, but they don't really know what leads up to getting the team on the court." Most people "don't know what makes a championship season or what it's like to go through a losing season."
I honestly have no idea what an executive producer does (is is just a fancy title to give someone that put up some money for the project) but the show actually sounds like it could be neat. And the premise seems like it's right up Jackson's and Buss's alley. 
Show Comments
Hide Comments
Curry's turnover was a key moment in the Warriors' Game 7 loss last season

Curry is having an impressive postseason campaign, averaging 28.6 points per game

They have consistently posed problems for the Golden Boy, but can they keep it up?
Kerr hasn't coached since Game 2 of the first round against the Trail Blazers

Parker was injured during Game 2 of the Spurs' series vs. the Rockets

'Road Trippin' with RJ and Channing' is the best podcast in basketball