Phil: Odom's bridges with Lakers may have already been burned
Former Lakers coach says troubled former star may never have another chance with the team.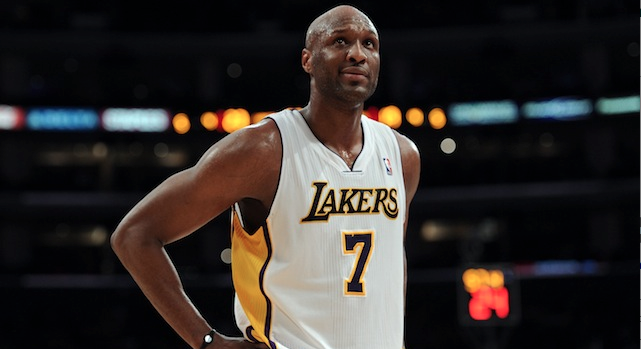 Former Lakers forward Lamar Odom remains a free agent and embroiled in rumors of drug abuse. On Tuesday, TMZ tracked down Odom's former coach Phil Jackson who said that despite an interest in Odom's well being from the organization, it's unlikely the team will reach out to bring him back into the fold. 
Lamar Odom may have ruined his chances of EVER returning to his beloved Los Angeles Lakers ... so says his ex coach and NBA legend Phil Jackson.

Jackson didn't mince words to TMZ when we asked if he thought Lamar would ever return to the purple and gold.  He said, "I think that bridge might have been burned."
via Phil Jackson -- Lamar Odom May Have Burned His Lakers Bridge | TMZ.com.
Odom's got bigger problems going on his life. He was arrested on DUI charges and plead not guilty earlier this month despite refusing a blood test at the time of the arrest. Teammates and friends have reached out to him but so far no one's been able to make an impact or get him into a treatment facility. 
But being entered back into a familiar environment like a locker room with people he trusts could do good things for him. The Lakers already have Jordan Farmar and Pau Gasol on roster along with Kobe Bryant, teammates of Odom's from the 2009 championship team. They could add Shannon Brown, who is also a free agent. If they're not winning a championship this year, creating a positive environment would at least go a long way to erase a dismal season. Most importantly, it could save Odom's life. 
But this is a business, and if anyone knows how the Lakers feel about things, it's Jackson, still close to the organization and engaged to vice president and part-owner Jeanie Buss. 
In July, it was reported the Lakers reached out to Odom to try and help him but not to bring him in as a player.
Show Comments
Hide Comments
The Bulls great doesn't think Jordan/LeBron comparisons are fair because their roles are so...

The lawsuit stems from McGee's time in Dallas

Hammond had served as Bucks GM since 2008
Brown has played crucial minutes for Boston guarding LeBron James in the Eastern Conference...

The Cavs have had a much tougher time in the two games the Celtics have been without Isaiah...

Jackson left Duke after one season and signed with an agent, forfeiting his option to return...