Philadelphia 76ers' ugly tank-fest finally ends with win over Pistons
After an NBA record-tying 26 straight losses, the Philadelphia 76ers finally celebrated a victory on Saturday night. Being historically bad was the only way for them to get better.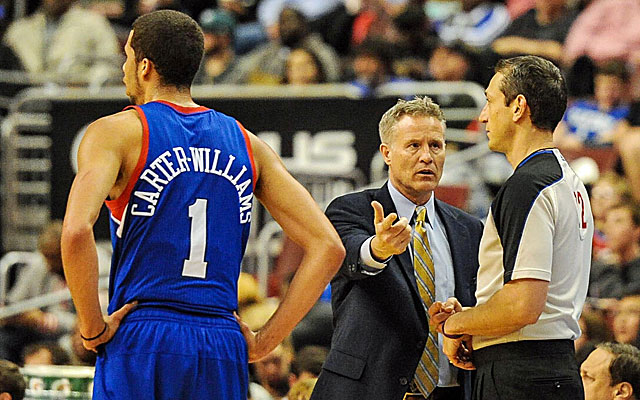 More NBA: Power Rankings | Expert Picks | Latest news, notes
It turns out, the Philadelphia 76ers can't even succeed at losing.
In the midst of March Madness, the most attractive game on the NBA schedule on Saturday night was Pistons-Sixers, if only because we wanted to see if one of the most intentional losers in league history would become historically good at it.
Alas, the Sixers' streak ended at 26 consecutive losses, tied for the NBA record, because they managed to not only beat but trounce the Pistons 123-98. Philadelphia led by 19 at halftime and by 30 after three quarters and celebrated its first victory since Jan. 29 at Boston -- and its first home victory since Jan. 15 against Charlotte. Incredibly, 18 of the Sixers' record-tying 26 consecutive losses were at the Wells Fargo Center.
"Change is coming," Thaddeus Young said during the postgame TV interview on the court. "We've been fighting all season long. We know it's a rebuilding process, a restructuring process."
Not a tanking process, mind you. A rebuilding process. A restructuring process.
The Sixers, with first-year GM Sam Hinkie and rookie head coach Brett Brown, are well within their rights to build their team the way they see fit. And while the worst team hardly ever gets the No. 1 pick, they may very well prove to be visionaries when it comes to building an NBA contender in a less-than-glamorous market.
I say this as someone who lived and worked in sports writing in Philadelphia for two years. It isn't a good city; it's a great city. And while Eagles fans are the vocal minority, Philly is, at its core, a basketball city. It's a Big Five city first, but when the Sixers are good, it can be a special place on the NBA map.
But nobody said it better than Brown recently when he opined, "No free agent is going to want to come to Philadelphia at this stage. Why would a good free agent want to come in and be part of a rebuild?"
This isn't the NFL, where any team, regardless of market size, has equal resources and a chance to compete as long as it's well managed. (That last part is the Oakland Raiders clause. Their resources do not matter because they are not well managed.) Market equilibrium was the goal of then-deputy commissioner Adam Silver during the 2011 lockout. It presumably remains his goal as commissioner now. 
But the reality is, this was the only way for the Sixers to have a chance to get better. Bottom out, lose in epic fashion, hope they wind up with two picks in the top 10 of a loaded draft, and go from there. Does anyone really think the Sixers should've kept Jrue Holiday, Spencer Hawes and Evan Turner and crossed their fingers that LeBron James or Carmelo Anthony would decide to opt out and bring their talents to the intersection of Broad and Pattison this summer?
That would've been the very definition of insanity. So the Sixers cleared the decks and went about the unsightly business of stinking -- or tanking, if you must. Of the 22 players who've worn their jersey this season, only nine had more than two years of NBA experience.
What do they have to show for it? A thrilling rookie point guard in Michael Carter-Williams; the sixth pick in the 2013 draft, Nerlens Noel, who hasn't played a minute all season; the potential for two premium picks in this June's draft; some potentially salvageable youngsters who've proven their mettle by continuing to work through the misery of what is now a 16-win season; a GM who was taught how to GM by Daryl Morey; and a coach who was taught how to coach by Gregg Popovich.
Somehow, someday, maybe that will make all the losing worth it. Personally, I don't think there was any other way.
Show Comments
Hide Comments
Dirk Nowitzki had some fun with Harrison Barnes as he approaches 20 seasons in the NBA

Thunder fans used the term 'cupcake' in reference to Durant after he left OKC in free agen...

There appeared to be some wishful thinking on the part of Charlotte general manager Rich C...
Thompson is one of the best shooters in the league, but it appears dunking isn't his speci...

Cuban was willing to part ways with employees who leaked ahead of the official announcemen...

Draymond wasn't mad about the move, though. He was mad about the way he heard about it