PHOTO: 2014 NBA All-Star jerseys reportedly leaked
Are these the All-Star jerseys? Or should we say, shirseys?
On Thursday, images leaked of supposed jerseys for the 2014 NBA All-Star game. The jersey features a black background, green typeface, a Fleur-de-lis in honor of the host city, New Orleans, and... sleeves.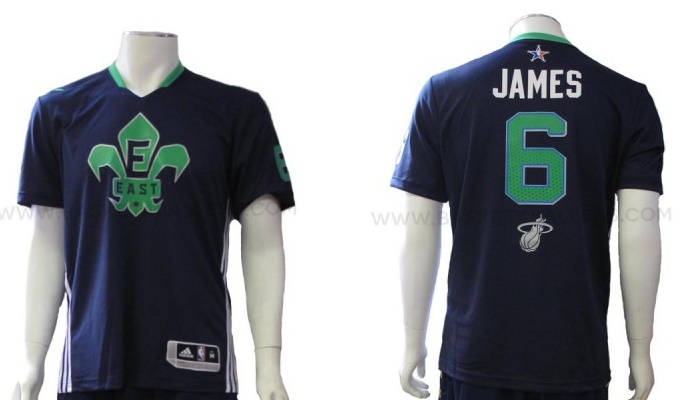 The jerseys were first leaked on French website Basket4Ballers.com and then reportedly confirmed by UniWatch. 
Lets' be really clear. The tyranny of sleeves in the NBA must end. I don't care how profitable it is, this is a disgrace to everything basketball. The players by and large have expressed distaste with them, ranging from "eh, not big on them" to "I hate them." And they just look weird. The NBA used them for Christmas and they were all gross. 
Other than that, I like the design. The silver logo beneath the back number is nice, and I'm a big Fleur-de-lis fan. I even like the open-ended collar ring. It's pretty great overall. But something's just not quite right. Like if you just took away one element it would be perfect. What could that be? Let's see. 
Oh, right, the sleeves. 
Ban sleeves. 
Show Comments
Hide Comments
Washington's forward suffered a nasty ankle injury in the second-round opener vs. Boston

Butler says he enjoyed playing Rondo this past season, despite their season ending in the first...

Thomas immediately caught fire after losing his front tooth
All-Star guard flew to Washington after Game 6 vs. Bulls to attend his sister's funeral Sa...

The final Game 7 of the first round will tip off at 3:30 p.m. ET

Game 1 of the second-round series between the Celtics and Wizards tips off at 1 p.m. ET on...