PHOTO: LeBron James already has Johnny Manziel Browns jersey
LeBron James already has a Johnny Manziel Cleveland jersey, even though Johnny Football has been a Brown for less than 24 hours.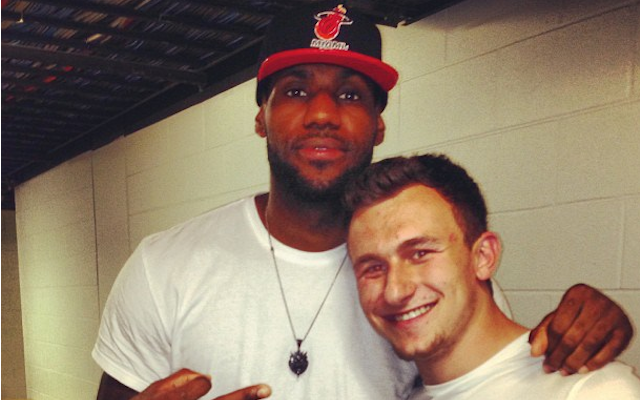 LeBron James wasn't too happy when the Cowboys passed on Johnny Manziel with the 16th overall pick in the NFL Draft on Thursday. Apparently it did't take him too long get over it though because by Friday, he was already wearing a Manziel Browns jersey.
The picture in the tweet below was taken on Miami's team plane. The Heat play at Brooklyn on Saturday in the second round of the NBA playoffs. 
LeBron James in a Browns Manziel jersey — pic.twitter.com/kFFnShnZ4z

— Scott @ WFNY (@WFNYScott) May 9, 2014
The big question here has to be: Is LeBron wearing the jersey Manziel received at the draft? There'd really be no other reason for James to have a No. 1 jersey made since Manziel will likely be wearing No. 2 in Cleveland. 
If LeBron is wearing Manziel's draft jersey, it's possible he got it from Maverick Carter. Carter is a friend of James and the man who masterminded 'The Decision.' He also happens to be Manziel's main marketing guy. 
On the other hand, maybe the city of Cleveland would be better off if LeBron and Manziel don't have any ties together and never talk to each other again. 
EXCLUSIVE: LeBron already telling Manziel how to leave Cleveland. pic.twitter.com/2fsciCCztj

— SportsNation (@SportsNation) May 9, 2014
Show Comments
Hide Comments
After their scuffle during Game 4, Butler claimed Smart wasn't "about that life"

The former Pacers star understands George's desire to win

Iverson clapped back at Tim Hardaway for his claims that The Answer carried the ball
Riley signed Bosh to a five-year, $118M contract back in 2014

The Grizzlies take on the Spurs on Wednesday night in a pivotal Game 5

It's not all about Stephen Curry and LeBron James being awesome -- we knew that already