PHOTO: Mike Woodson's 'Coach' shirt is sensational
Just look at what Mike Woodson was wearing today. It's great.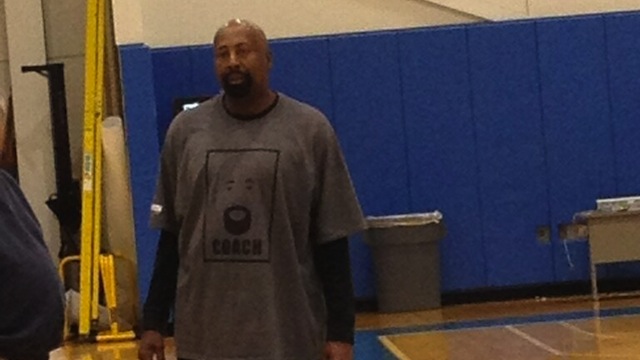 That is Knicks' coach Mike Woodson at Tuesday's practice. How do we know it's Mike Woodson and how do we know he's the coach? Because it says so right there on that terrific shirt.
Via Chris Herring of the Wall Street Journal, Woodson was wearing that today. Where did it come from? Why is he wearing it?
Here's what he told Herring: "It kinda looks like yours. You'd just have to grow your [goatee] out a little thicker."
Only criticism of it: Too much eyebrow.
Show Comments
Hide Comments
Hammond had served as Bucks GM since 2008

Brown has played crucial minutes for Boston guarding LeBron James in the Eastern Conference...

The Cavs have had a much tougher time in the two games the Celtics have been without Isaiah...
Jackson left Duke after one season and signed with an agent, forfeiting his option to return...

Scott was expecting the team to pick up his option instead of firing him after last season

The 32-year-old Paul may elect to chase a ring paired next to Kawhi Leonard in San Antonio