PHOTO: Who's excited to be a Boston Celtic?
The Celtics held a press conference to introduce the new players they acquired in a trade with the Nets. It was an, um, exciting day.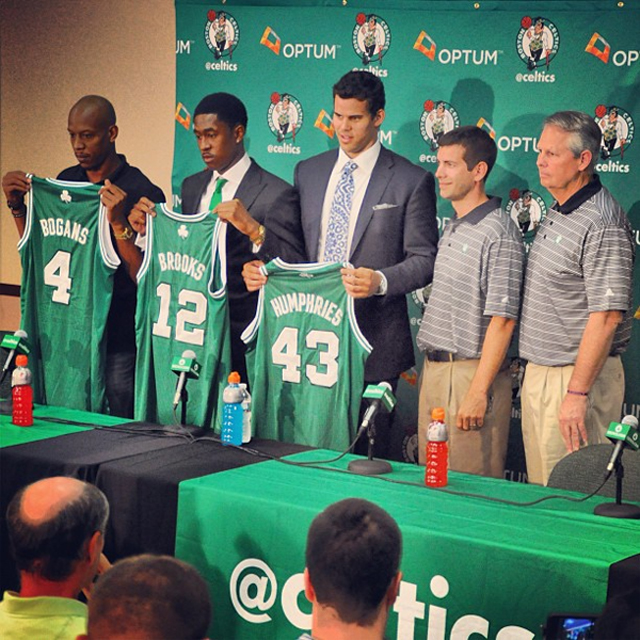 Police lineup or introductory press conference for the new Boston Celtics? 
This might surprise you, but this is indeed a press conference for the new era of Celtic basketball featuring Danny Ainge introducing Kris Humphries, MarShon Brooks and Keith Bogans who look... um, who don't, well, look all that excited. At all.
Humphries, Brooks and Bogans don't exactly join the Celtics in the best of circumstances. They're simply bit pieces in Boston's effort to begin a serious rebuilding effort. The Celtics traded away Kevin Garnett and Paul Pierce to acquire the trio from the Nets, so it's kind of understandable why there might not be that much excitement.
It's a transitional phase in Boston, and the looks on these faces really kind of says exactly what kind of transition it will be. 
One, two, three, ubuntu! Right guys? Right?
Picture via @celtics
Show Comments
Hide Comments
The two best point guards in the East go at it in a series sure to be filled with drama.

Breaking down key matchups as the second season reaches the conference semifinal series

The second round of the 2017 NBA Playoffs tips off Sunday at 1 p.m. ET, with Game 1 of Cel...
The Spurs have homecourt advantage, and will host Game 1 Monday night at 9:30 p.m. ET

All-Star guard flew to Washington after Game 6 vs. Bulls to attend his sister's funeral Sa...

Some love for the Rockets over the Spurs, and at least one expert says the Cavs are going...