Pierre Jackson thriving in D-League while stuck in NBA limbo
Pierre Jackson scored 58 points and is averaging 29 and six this season. So why can't he get called up?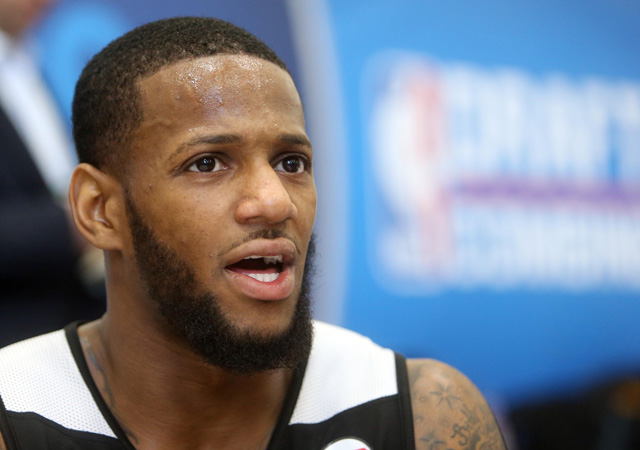 It's not a huge stretch to say that Pierre Jackson is the best player in the United States who isn't in the NBA.
Jackson, a 5-10 point guard out of Baylor, actually is in the NBA. Kind of. Sort of. Not really. But in a way. At least his rights are.
Jackson was drafted 42nd in the 2013 NBA Draft by the Sixers, and then traded to the New Orleans Pelicans. He was twelve picks shy of the first round, and yet he's never stepped on an NBA court in-game. The Pelicans acquired his draft rights... and that's it.
Jackson exists in a weird purgatory, stuck in the NBA D-League with the Idaho Stampede. The Pelicans have not renounced his draft rights, which would make him a free agent, and they haven't signed him, even after an injury to Jrue Holiday. He can't be called up by another team. He can't sign with another team. All he can do is work on his game in the D-League and hope something, anything happens before he's forced to head to Europe for the money.
"(Europe's) on the back of my mind," Jackson told CBSSports.com over All-Star Weekend. "My family needs the money. I need to provide for my family so whatever I have to do, I'll have to.
"The NBA's always been my dream, and I think I'm good enough to play there. But the way the cards are dealt, I may have to go overseas for my career."
It would be a waste of a talent for Jackson not to get a shot in the NBA, but at least the D-League has provided him a place to showcase his talents. Jackson's a D-League All-Star. His selection was a no-brainer, as Jackson is averaging 29.1 points, 3.6 rebounds, and 6.2 assists per game for Idaho. Last month, he broke the NBA D-League scoring record with 58 points. I don't care what league you're playing in, dropping 58 is insane.
Funny enough, his record came because he wanted to get a teammate back. Kevin Murphy scored 51 in the game before.
"My teammates told me I had 49," Jackson said. "So I told them 'I'm bringing up the ball the rest of the game.' My teammate had actually scored 50 a few games back, so I wanted to top him."
Jackson has scored over 40 points six times in 31 games. The problem is that the D-League is flush with guards who can light it up. Maybe not to the extent Jackson has this season, but teams are looking for guys who can contribute in meaningful ways. This fact doesn't escape Jackson.
"Defensively, I'm trying to be that pesky defender since I'm smaller," Jackson says. "My offensive role's a little different this year because I have to be a scorer on this team. But defense is really what I want to work on."
In fact, one D-League source suggested that Murphy is actually a better prospect, and that in fact Terrence Williams might be above Jackson. 
Jackson says he knows teams are looking for a backup, and that he envisons his role as an energy player. Still, being a guy who's dropping nearly 30 points a game gets frustrating since still no team will "come and get him" by trading for his rights from the Pelicans.
Jackson sounds nearly desperate when he says "I just want something to really stand out so I can get called up. The 58 didn't do that for me, so maybe I gotta score 60," he jokes.
And still, the D-League more than ever is a place where Jackson can get better at what he needs to: defense and running a team. His four turnovers per game stand out nearly as much as his six assists. But in Idaho he works in NBA sets against NBA-caliber talent, often against guys who have considerably more motivation than your average NBA pup resting on a guaranteed salary.
"We've got a lot of hungry players down here. I've got teammates that are hungry to get to the next level. We're competing every day in practice and games, and it shows in the call-ups."
For now, Jackson waits, caught somewhere between the draft and free agency, weighing a future overseas that could spell the end of his NBA dreams, and wondering what he has to do show people the best player in the D-League deserves a spot in the NBA.
Show Comments
Hide Comments
The Spurs have homecourt advantage, and will host Game 1 Monday night at 9:30 p.m. ET

All-Star guard flew to Washington after Game 6 vs. Bulls to attend his sister's funeral Sa...

Some love for the Rockets over the Spurs, and at least one expert says the Cavs are going...
Ball is expected to be one of the top picks in the NBA Draft later this summer

The Bulls guard fielded questions about his future during exit interviews on Saturday

The two teammates were still up playing at 4 a.m.