Pistons Brandon Jennings vows to change game, create Detroit Lob City
Newest Detroit Pistons point guard Brandon Jennings says he'd like change his game and bring Lob City to the Detroit Pistons in the process.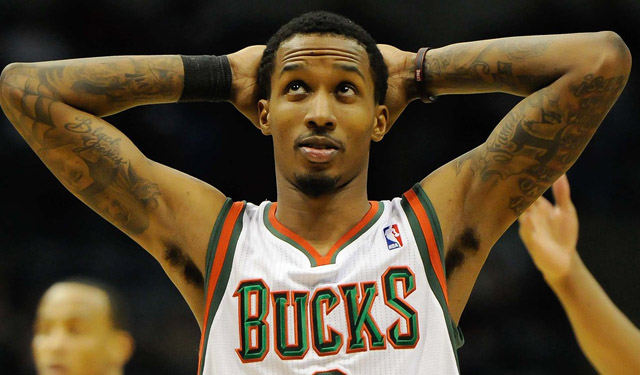 Brandon Jennings has been a frustrating player to watch in the first four years of his NBA career. He started off his career with a bang, looking like an absolute star in the making during the first month of his rookie season. The big spotlight game happened for him when he broke the Milwaukee Bucks' rookie single game scoring record by dropping 55 points on the Golden State Warriors.
Since then, he's been fairly mediocre. He's a career 39.4 percent shooter from the field and he's been known to take a bad shot or 10. He hasn't capitalized on the immense amount of talent he seems to possess. Perhaps new scenery with the Detroit Pistons will help him change his game, which he said he wants to do now that he doesn't have to "take all the bad shots." From Dan Feldman at ProBasketballTalk:
"You're going to see a whole different player," Jennings said. "…I definitely have to change my game."

"The things that I was doing in Milwaukee, I won't have to do here, take all the bad shots," Jennings said. "Now, I can just actually be myself and be who I was five years ago when I was in high school, playing AAU basketball."
There is both good and bad in this statement from Brandon Jennings. I don't doubt that he was forced to take a lot of bad shots during his time with the Bucks. They rarely had much of an offense for him to run and the options for him to pass to were definitely limited when compared with a few of the top point guards around the league. But how often did he have to "take all the bad shots" with the Bucks?
Just for comparison's sake, I decided to use 82games.com's shot clock usage charts to compare Brandon Jennings with 2009 Draft classmate Stephon Curry over their respective four years.
On average, Jennings took 42.5 percent of his shots in the first 10 seconds of the shot clock while Curry took 44.5 percent of his shots on these "quick" possessions. 26.25 percent of Jennings' shots came in the next five seconds of the clock or 11 to 15 seconds into the shot clock. That number is considerably larger for Curry at 30.5 percent. In seconds 16-20 into the shot clock, Jennings saw 18.25 percent of his attempts; Curry took 17.75 percent of his shots then.
At the end of the shot clock, Jennings saw a much bigger percentage of his shots than Curry did and this is probably what he's talking about in his comments. Jennings took 13 percent of his shots over his four years in the last four seconds of the shot clock. It's just 6.75 percent for Curry. That means nearly 600 of Jennings' shots over his career comes at the end of the shot clock when a lot of guys have to rush attempts and bail out their teammates.
If he can avoid that in Detroit, we should see a big bump in his field goal percentage, in theory. The part that worries me about his comments is how he mentions he wants to be himself like he was in high school and AAU basketball. High school and AAU basketball are not even close to the caliber or style of effective NBA basketball. AAU basketball is often a one-on-one fest that has been phased out in successful NBA play a lot more than we realize with today's rules.
He should want to change his style of play from what we saw in Milwaukee because what we saw in Milwaukee wasn't very good, overall. However, to see him wanting to play a brand of basketball that simply doesn't coincide with successful NBA basketball, even if he was a different player stylistically, just sounds bad.
Hopefully, he just means playing more as a distributing point guard and less as a shot-hungry lead guard. As he pointed out in his introductory press conference with the Detroit Pistons, he has a few nice targets to pass to around the rim with Andre Drummond, Josh Smith, and even Greg Monroe.
"We could bring the Lob City to Detroit this year," Jennings said.
If he does change his game, this could be a lot of fun in Detroit Lob City. 
Show Comments
Hide Comments
Our Latest Stories
Nuggets star narrates some of his wildest, and best passes of the season

Knicks All-Star not a fan of Phil's grand design

Marshall Plumlee was once left stranded in the middle of the woods
The No. 2 pick in last year's draft is starting to show more of his potential

The Nuggets big man is not short on confidence

What Westbrook is doing will be referenced over and over again for years to come, in a meaningful...