Pistons' Greg Monroe: NBA's best-kept center secret
So Greg Monroe will continue to be the best player on a bad team, and even his coach, Lawrence Frank, said before the game that the Pistons were made up of good players and no stars. Why ... exactly, should Monroe not be considered as such?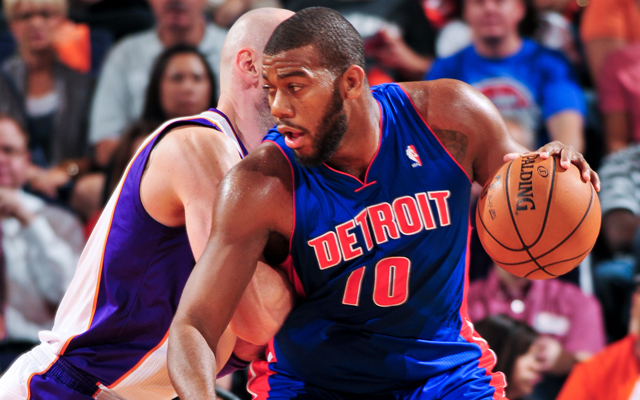 Monroe is the Pistons' best player, but they need more to break a slump.
(Getty Images)
Greg Monroe will likely remain in the shadows, again, this year.

Monroe is maybe the best kept center secret in the league, toiling on a Pistons team that was disappointing last year, and has started the season downright horrible. Monroe posted 27 points, 10 rebounds, 2 assists, 2 steals, and 3 blocks Tuesday night against the Denver Nuggts.

The Pistons lost by 12 to fall to 0-3 and were not competitive for much of the second half.

So Monroe will continue to be the best player on a bad team, and even coach Lawrence Frank said before the game that the Pistons were made up of good players and no stars.

Why... exactly, should Monroe not be considered as such?

Monroe averaged 15 points, 10 rebounds last season with Detroit, along with a stunning 22 PER and shot 52 percent from the field. He's started off slow (like everyone in Detroit) but is still averaging 15 and 8 with a 15.4 PER. Hardly star numbers, until you watch his games and realize how much potential there still is for the 22-year-old.

Monroe is not just the best player on the team, but he's clearly the guy you most want leading the franchise going forward. Joe Dumars has called him self-motivated, something you want to see from your best players.

It's always important for me to be self-motivated," Monroe told CBSSports.com this week. "I've always been driven by winning. So I just always want to find ways to continue to get better, and by doing that I can help my team win.

Monroe, unsurprisingly, says the Pistons, now 0-4, are faced with a sense of urgency.

We obviously feel like we have to start winning games. I focus on winning every game. What we're going through right now is definitely something we feel we need to change. There's a sense of urgency. We're not panicking but we definitely have a sense of urgency."

Monroe has faced a lack of attention since he was drafted, with temperamenal but explosive big man DeMarcus Cousins always getting more of the attention. Monroe, for his part, thinks that the only way he's going to wind up getting the attention he probably deserves is if he improves and the team starts winning.

"I have to continue to improve. Winning takes the front end of any sport. You won't ever get that attention until you become a good player on a winning team. So I focus on winning and trying to improve."

Monroe's defense is where he says he needs the most work, but his offense is where he's most overlooked. Being left-handed, Monroe's left-handed hook is his go-to, something he learned at arguably the best big-man school in the country, Georgetown.

"[The hook] is something that I've been able to use my whole life, basically," Monroe said. "It's something I really improved on at Georgetown, working on it so much. I'll never go away from it, it's something I'll always count on."

So what makes for a great hook?

"Just positioning. Positioning your body, full extension, the things you read about. It may sound crazy, but it's the simple things, just being fundamental with it."

Monroe credits Georgetown with so much of his success.

"My two years there, the way they coach, they don't just coach you for their system, they coach you for basketball, period. In that system, you learn how to make reads, how to play off the ball, how to make plays for others with the ball. I definitely learned a lot, I still use a lot that they taught me, and I just try and expand from that. "

For a guy who is constantly asked why he's overlooked, who wasn't invited to Team USA's Select team despite the abhorrent lack of size this summer, Monroe isn't lashing out or blaming anyone else.

He wants to get better. He's aware he needs to. And that may be something that sets him apart from the standard "best player on a bad team" mold. Monroe says he never was a big reader, except when school required it, but it's become something he's gotten into. Why? He's looking, as always, for motivation.

"Books are something I started to pick up recently. I'm reading a lot of good books recently. Right now I'm reading "Training Camp" by Jon Gordon. It's motivational, it's inspirational. It's not just about athletics, it's about life in general. He has a few different books that he's talks about life from different angles.

It's a new thing for me. I used to just read for scool. But I'm starting to freelance and try and find different things on how to motivate myself."

The Pistons need Monroe to improve so they can get back on track.

Monroe knows that, and wants to do it.

The Pistons need better defense from Monroe.

He knows that, and he's working on it (though he's got a long way to go after getting torched by Dwight Howard and the Nuggets' bigs).

When asked what he wants for his career beside the winning, Monroe took a different approach. He didn't talk about awards or All-Star appearances. He talked about what he wants to give the team that drafted him.

If the Pistons are going to be a long-term reclamation project (and early on they certainly look it), they're going to want a guy who wants to live up to expectations.

"If I'm winning, I'm happy," Monroe said. "I want to be someone this organization can rely on to come out and play hard and to the best of my abilities every night."
Five years later and Celtics fans continue to throw shade -- Allen later deleted the comme...

Irving has a desire to team up with Butler dating back to June

Apparently, Irving first asked to be traded in June in hopes of joining Jimmy Butler in Ch...
Despite Melo being a good trade piece for the Knicks on paper, he has his sights set on joining...

Kyrie is reportedly open to leaving Cleveland, and New York is among his top choices to be...

It appears Wall will be staying in Washington for a long time