Pistons owner says Isiah Thomas is 'not a candidate for any job'
Tom Gores denies report Pistons are considering hiring Isiah Thomas to take over.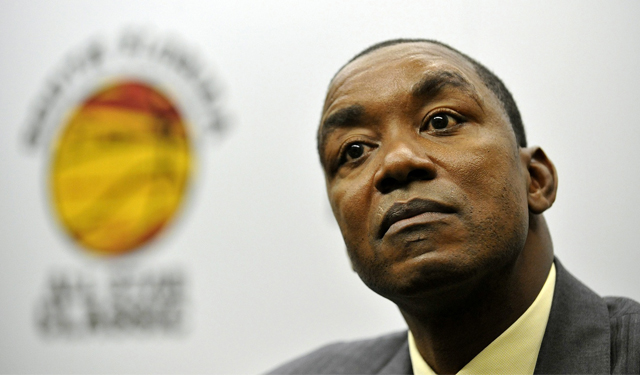 On Sunday, reports surfaced that the Pistons were considering hiring Isiah Thomas, or as he's commonly known, "former NBA champion and organizational harbinger of doom Isiah Thomas" as their next head of basketball operations to replace or supplant Joe Dumars following the Pistons' woeful season. 
Now Pistons owner Tom Gores has denied that report through a spokesman to MLive.com: 
A spokesman for Detroit Pistons owner Tom Gores called a report that the team is wooing Isiah Thomas as its next general manager "absolutely false."

"He is not a candidate for any job with the Pistons," Mark Barnhill wrote about Thomas in an email to MLive.

Barnhill, a partner in Gores' Platinum Equity, wrote that he and Gores had dinner with Thomas a couple weeks ago in Los Angeles but the upcoming Bad Boys reunion "was the sole topic.  Period."
via Isiah Thomas 'not a candidate for any job with the Pistons,' owner's spokesman says | MLive.com.
That sound you hear is every Pistons fan hitting their knees to thank whatever deity they subscribe to. Thomas scuttled the CBA as the commissioner of it, then went to the Knicks and ushered in an era of misery that somehow surpasses their current disaster. 
The Pistons' problem is that they overpaid for inefficient, big-name talent with no regard for organizational culture, team chemistry, or smart basketball. So it already sounds like an Isiah Thomas team. No reason to bring in the inventor to drive the vehicle he drew up the prototype for. 
But what this does show is that the Pistons are already looking at changes. Just the fact that this report somehow surfaced is evidence that Joe Dumars' time in Detroit could be coming to an end. He has to be considered No. 1 on the hot seat list this summer. 
Rose played in 64 games for the Knicks before a season-ending knee injury

Durant chose an odd way to shout out his former OKC teammate

Teams are reportedly trying to bring in the veteran forward in an effort to weaken the War...
LeBron has reportedly already ruled out any chance of joining the Clippers

The Thunder plan to offer the recently named MVP a massive five-year extension worth around...

Paul opted out of the final year of his contract last week