Pistons trade Ben Gordon, draft pick to Bobcats for Corey Maggette
The Detroit Pistons have reportedly traded guard Ben Gordon and a first round pick to the Charlotte Bobcats for forward Corey Maggette.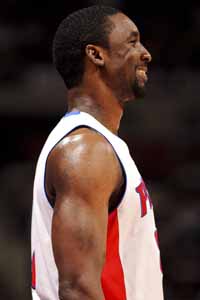 Ben Gordon has been traded to the Charlotte Bobcats. 
(Getty Images)
Every year about this time, the NBA's dregs look for ways to make themselves slightly less than terrible.
On Tuesday, two of the league's worst teams -- the Detroit Pistons and Charlotte Bobcats -- connected on just such a trade.
Yahoo Sports reports that the Pistons will send guard Ben Gordon and a future first-round pick to the Bobcats in exchange for forward Corey Maggette. The pick is lottery-protected in 2013, top-8 protected in 2014, top-1 protected in 2015 and unprotected in 2016.
Ken Berger of CBSSports.com confirmed the trade particulars and the Pistons formally announced it later Tuesday night.
"We welcome Corey Maggette to our organization in a transaction that provides us with a veteran scorer and defender in addition to increased roster flexibility moving forw
ard," said Joe Dumars, President of Basketball Operations. "We thank Ben Gordon for his commitment to our organization over the last three years and wish him the best in the future."
Gordon, 29, averaged 12.5 points and 2.4 assists in 26.9 minutes per game last season. He is on the books for $12.4 million in 2012-13 and has a player option worth $13.2 million for 2013-14.
Maggette, 32, averaged 15.0 points and 3.9 rebounds in 27.6 minutes per game, although he appeared in less than half of Charlotte's games because of injury. Maggette is entering the final year of a contract that will pay him $10.9 million.
The Bobcats actually acquired Maggette in a 3-team trade involving the Milwaukee Bucks and Sacramento Kings on the night of the 2011 NBA Draft. He didn't last long. His merry-go-around figures to continue swinging after a brief stay in Detroit, but who really knows what the Pistons are up to. 
For Detroit, this amounts to paying the draft pick to offload Gordon's contract. Signing Gordon in free agency turned out to be a costly mistake, as he never really found a fit in Detroit as the team sputtered to lottery trip after lottery trip. Depending on how things go in free agency this summer, ditching Gordon means that Detroit could be well under the salary cap next year, especially if they break out their amnesty clause.
While Maggette is a foul-drawing savant and a capable scorer, the aim here is really all about that future cap flexibility as opposed to any strong and immediate win-now vision. Because, really, Maggette can't be counted on: he hasn't played in more than 70 games in any of the past five seasons. That, and the Pistons are already well-committed at the three and four, with Tayshaun Prince, Austin Daye, Jonas Jerebko and Charlie Villanueva already on the roster. Given that logjam, there's a decent chance another move is coming before the start of next season.  
Charlotte does well in this one, getting Gordon to fill a backcourt shooting/scoring hole while also picking up an extra asset to aid its full-scale rebuilding project. The Bobcats have such a sparse payroll and future salary committments that paying him isn't all that painful. Bobcats GM Rich Cho has stressed the value of Draft picks and he nets one here for relieving Pistons president Joe Dumars of Gordon's 2013-14 salary number. This is just another milestone in Cho's steady accumulation of assets.
Now, for the biggest short-term implication: How does this impact 2012 NBA Draft plans?
Perhaps the Pistons use the No. 9 pick in the 2012 NBA Draft to plug the hole left by Gordon's departure. There are a number of talented two guards -- UConn's Jeremy Lamb, Syracuse's Dion Waiters or Duke's Austin Rivers -- who could be on the board when they select. Recent rumors seem to have Detroit looking to fill out their frontcourt though.
For the Bobcats, does the acquisition of Gordon prevent Florida guard Bradley Beal from making sense at No. 2? Shipping out Maggette could also be read as a way to open up wing minutes for Kentucky forward Michael Kidd-Gilchrist or UNC forward Harrison Barnes. Or, they could have simply their eyes on Kansas forward Thomas Robinson, and this trade wouldn't have much impact. Of course, we'll know on Thursday.
Show Comments
Hide Comments
The Bulls great doesn't think Jordan/LeBron comparisons are fair because their roles are so...

The lawsuit stems from McGee's time in Dallas

Hammond had served as Bucks GM since 2008
Brown has played crucial minutes for Boston guarding LeBron James in the Eastern Conference...

The Cavs have had a much tougher time in the two games the Celtics have been without Isaiah...

Jackson left Duke after one season and signed with an agent, forfeiting his option to return...