Playoff Assist: Kawhi Leonard has the toughest job in the playoffs
Kawhi Leonard of the San Antonio Spurs has faced Kevin Durant in the playoffs before, and may have some idea on how to bother his scoring.
More postseason coverage: Playoff schedule, results | Latest news, notes
When Kawhi Leonard was a rookie, he was thrust into a basketball culture with the San Antonio Spurs in which you had to perform and you had to perform in the playoffs. Leonard's expressionless and emotion free face handled everything with aplomb. Even when he matched up with Kevin Durant in the Western Conference finals, the Spurs' rookie put on his proverbial hard hat and did his work.
Leonard didn't have the same success in the playoffs as he did in the regular season that year. When the Oklahoma City Thunder matched up with the Spurs in the 2011-12 regular season, Leonard did a very good job defensively on Durant. Durant was an incredibly efficient scorer back then (shocking, I know). He made 49.6 percent of his shots and 38.7 percent from three on the season. But when Leonard was on the court, that percentage dropped. It wasn't a huge drop-off, but Durant shot 45.0 percent from the field and 20.0 percent from 3-point range (on 10 attempts). 
When these two faced off in the Western Conference finals, success turned into frustration for the Spurs as they attempted to defend Durant. With Leonard on the court, Durant made 56.0 percent of his shots and 41.2 percent from 3-point range. He was unstoppable in his quest to get to the NBA Finals and it was a great lesson for Leonard. The playoffs are a different animal and regular season success doesn't have to mean anything.
Two years later, Kawhi has been through pretty much everything you can imagine for a third year super role player. He's faced Durant in the playoffs, LeBron James in the NBA Finals, had huge moments of clutch failure and chugged along to still do what's asked of him next. He's defended four positions and become a guy who has to be accounted for on offense.
With these two getting a rematch and Leonard undoubtedly drawing the Durant assignment once again, we'll get to see if the growth of Leonard as a defender can surpass the growth of Durant as a scorer. Drawing the MVP has its obvious problems, but it's something Leonard is as prepared to deal with as he can be.
The problems of defending Kevin Durant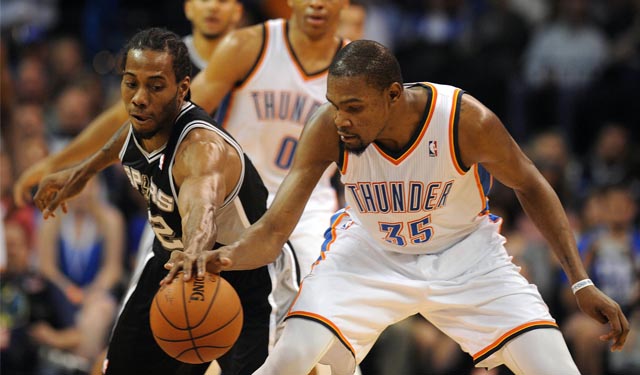 It's not a secret that the 6'11" frame of Durant along with the 7'4" wingspan, the incredible handle, and the feathery shooting is an impossible combination for almost every defender in the world to handle by himself. The 2013-14 MVP was also the leading scorer in the league because he could murder your defense inside, outside, in the middle, at the free throw line, and any spot inside of half court. There are times in which you can defend him beautifully and still get scored on because he's that good.
During the 2013-14 season, Durant had some success against the Spurs no matter how good the defense was. If you made a mistake, he killed you. If you didn't, he still probably killed you. He's a video of some of his scores against San Antonio this season with a few screen shots mixed in at the exact point of destruction:
As you can see, Durant operates so well in the space given by the defense to get good, quality shots off almost every time. Scott Brooks and the Thunder don't give Durant a lot of variation in the offense they run. He runs some basic pick-and-rolls, comes off some screens, and attacks defenders in isolation and the post. On the pick-and-rolls, you have to respect his handle and his jumper at the same time, as you can see in the video. There is only so much cushion you can give him coming off that pick.
If you overplay Durant and try to deny him the ball, he'll reverse course and be at the rim before the defense even knows it. You can't ever be flat-footed. You can't let him get a head of steam on the break. In fact, just don't let him get the ball period because it's basically over when he does.
Kawhi Leonard bothering the shot
Even with all of the problems Durant presents, Kawhi Leonard still does a great job defending him. With Leonard on the court this season, Durant shot 46.9 percent from the field and only made 1-of-8 from 3-point range. He takes away a lot of 3-point attempts by Durant by crowding him on the perimeter. It makes the Thunder have to constantly put Durant in pick-and-rolls, which isn't a bad idea. But as long as Leonard doesn't allow himself to get taken out by the pick, remains just inside on Durant's hip, and can crowd him on the shot while funneling him into a secondary defender, he can have success defending the best scorer in the league.
Here's a video of some of the great defense Kawhi played against Durant this season. As you can see, it doesn't happen without fantastic help from his teammates:
Kawhi takes away space and he does a great job of taking away some of the balance Durant has on his jumpers. When they're running Leonard off of screens to get Durant free, Kawhi is one of the best in the league at avoiding the screen, navigating the men on the floor, and meeting Durant before he's free for a jumper or drive to the basket. 
One great tactic Leonard utilizes and gets away with a lot is keeping his non-challenging hand on the midsection of Durant as he goes up for the shot. It's not necessarily a foul, but it's also not not a foul either. You're rarely going to have a real chance to block his shot, but you can get as close as possible to try to make him uncomfortable.
Kawhi Leonard forcing turnovers
The Spurs did a great job of forcing Durant into turnovers, and Kawhi was one of the biggest parts of this. He has huge catcher's mitts for hands and is so sound with his defensive fundamentals that he's in a great position to rip Durant's dribble. He stays low, he stays in front of him, and he doesn't reach in to foul a whole lot. Here are some of the turnovers Durant committed against the Spurs:
Kawhi helps turn Durant away from being a playmaker and forces him to be a scorer or turn the ball over. With Leonard on the floor this season, Durant had just nine assists and committed 15 turnovers in 82 minutes of play. He's not afraid to be aggressive in hounding the scorer because he is constantly trying to crowd him.
You're never going to stop Durant. The Spurs' third year small forward learned that in his first go around against Durant in 2012 when he was lit up in the Western Conference finals. But if you keep working and keep the defensive principles of Gregg Popovich going, you can have an impact. Even if you're making him work for every point he scores against you, it can have the same effect as a boxer delivering body blows. Eventually, it will wear the scorer down and that could leave him not having his best punch in crunch time.
The Thunder will be in trouble with Serge Ibaka out for the playoffs, and the team has had trouble executing in playoff games for key stretches. Kawhi Leonard will do the work and it will be up to Kevin Durant to raise his game. It should be an incredibly fun match-up to watch during this series.
Show Comments
Hide Comments
The excitement was just too much to handle, apparently

Westbrook noticed something the players all had in common

The reserve guard has missed the last 11 games for the Clippers
Sounds like the Knicks need to figure out what's going on with their star forward

The future Hall of Famer opened up about his post-NBA life

Boston's star guard addressed the media for the first time since his sister's death