Playoff Picture: First look as race starts to take shape
A look at the NBA playoff picture, including the Heat and Pacers' battle for the East No.1 seed and Thunder vs. Spurs for the West No.1.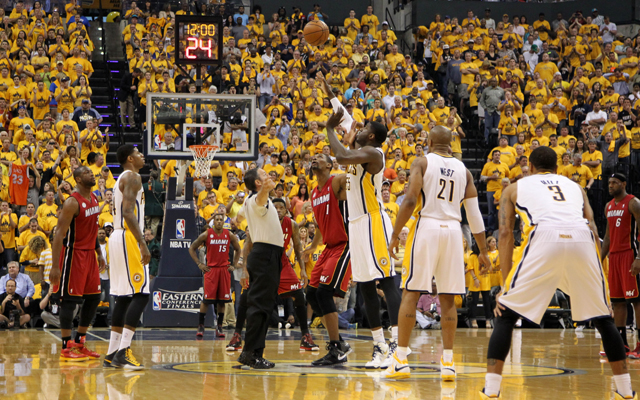 3rd Quarter: East Grades | West Grades | Awards
As we enter the last quarter of the NBA, it's time to start discussing the season that matters, the postseason. We're less than 20 games and 40 days from the playoffs, which is just close enough to take a look at how the playoff positioning is taking shape. Here are the important battles in each conference. Bear in mind that a lot can change, but consider this a primer for where we're at as we head down the stretch.
Orlando Magic numbers: number of games that in combination a team must win or their closest challenge must lose to clinch the spot in question.
EASTERN CONFERENCE
No.1 Overall Seed: Miami vs. Indiana
Miami Heat back one game, none in the loss column. Remaining games: 21 for the Heat, 19 for the Indiana Pacers . Magic number: 20 for the Pacers.
The Pacers had chances with a recent Heat falter and Miami's overall coasting to push this thing to an insurmountable lead. Instead, the Pacers are in free fall. What started as "not convincing wins" has eroded into actual losses with the Pacers going .500 in their last ten, and having lost four straight.
The dynamics of this one are fascinating, though. The Heat likely want to start shutting it down and coasting to the finish line by resting players sometime in early April, but they're so close to getting homecourt, it's going to be a tough sell for them not to push to the end. They know being healthy is more important for them than homecourt advantage, but they also know how demoralizing it would be for Indiana to take it from them in a season where Miami honestly hasn't tried all that hard.
Meanwhile, Indiana doesn't want to coast, but it also doesn't want this thing neck and neck to the finish line. They're a half-game back of the San Antonio Spurs for homecourt advantage throughout the playoffs to boot. But how long is it going to take for them to kick the Heat off their tails?
No. 3 through No. 6 battle for matchup and homecourt: Toronto vs. Chicago vs. Washington vs. Brooklyn.
Chicago half-game behind Toronto for No.3 (one in loss column), Washington 2.5 back (three back in loss column), Brooklyn three back (three back in loss column). Remaining games: 20 for Toronto, 19 for Chicago, 19 for Washington, 20 for Brooklyn.
Magic number: 21 for Toronto, 18 for no worse than fifth.
This mess could wind up pretty fascinating. If you're the Brooklyn Nets , do you want a higher seed to potentially avoid Miami in the second round (if the Heat stay the No.2), but risk having to face Chicago, the "team no one wants to face?" Chicago on paper is actually the weaker team, and Toronto can play Brooklyn tight as they did on Monday.
Meanwhile, the Washington Wizards are just far enough out to where they likely won't catch. It's going to take a big slip even at just 2.5 games for Washington to catch. But homecourt advantage is just close enough to keep them engaged.
This one's going to go down to the wire, barring a calamitous fall-off from someone. Don't be surprised if Brooklyn, who has played the best of the teams since January 1st, makes a run and might even snag homecourt.
The Bubble
Safe: Brooklyn
Mostly Safe: Charlotte
Bubble: Atlanta, New York
Dead meat: Detroit, Cleveland
Charlotte three back for the No.6 (four back in the loss column), Atlanta two back for the No.7 (one back in the loss column), New York 3.5 back of the 8th spot (five back in the loss column).
Magic numbers to clinch playoff spot: 11 for Brooklyn, 13 for Charlotte, 16 for Atlanta.
Welcome to the Eastern Conference, y'all, where the New York Knicks are still alive at 25-40. Detroit may not be tanking, but if they're not they have no concept of how to win. They're tied with New York at 3.5 back, and have one less in the loss column. But they've absolutely imploded and don't seem to have any answers right now. They have more incentive to lose (and keep their pick that would go to Charlotte) than win.
Yes, Cleveland could make it. The Atlanta Hawks ' magic number to clinch over Cleveland (should the Knicks and Detroit Pistons implode) is a whopping 15. Thats' a lot of wins for the Hawks should the Cavs get hot. Cleveland has 18 games left, though. At current pace, they're only on track for six-to-seven more wins. It doesn't look likely.
But New York... once thought to be dead, they've won four straight. Atlanta is 2-8 in its last ten, and has been decimated by injuries. This could get tight, but the Knicks absolutely must go strong through their next three weeks of weak games. They have Boston, Milwaukee, the Sixers, the Los Angeles Lakers , and the Sacramento Kings coming up, with a stop vs. the freefalling Pacers. That Indiana game isn't a must-win, but it would sure help a lot.
Charlotte could conceivably fall out, too. They've got Washington, Minnesota, Brooklyn, Atlanta, Portland, Houston, Brooklyn again, and Washington again before April comes. But if they can survive til then, Charlotte finishes with Philly, Orlando, Cleveland, Boston, and Philadelphia again.
WESTERN CONFERENCE
No. 1 overall spot: San Antonio vs. Oklahoma City
Oklahoma City Thunder a half-game back for the No.1, one game back in the loss column.
It's a battle with no end in sight. OKC had built up a decent lead for a while, but their struggles since Westbrook returned has put San Antonio up at the top. Realistically, neither team thinks it needs homecourt over the other one, but San Antonio might want homecourt in case it gets back to the Finals, after that whole.. you know... Game 6 thing.
Overall, OKC has been the better team this season, but it's close, and the Spurs are clicking at the right time. With 20 games left, the Spurs and Thunder are 14 wins away from 60 wins, and both look relatively likely. This one will in all likelihood go down to the wire.
The Middle-West Bloodbath Gauntlet of Doom. Houston vs. LA Los Angeles Clippers vs. Portland vs. Golden State Warriors .
Houston at No.3, Clipper tied (one game back in the loss column). Portland two games back for the No. 3/ No. 4 (two games back in loss column). Golden State 4.5 back of the No. 3/No.4, 2.5 back of the No. 5. (four games back in loss column).
Magic numbers: Let me put it this way. Houston has won 44 games and their magic number just to finish no worse than 5th is 14 with 19 games left. There are no magic numbers, just pain.
This one is just brutal. Houston's only two back of the No.2 seed, which is a whole other level of intense I won't deal with yet. Let's assume for the moment the Thunder and Spurs are locks for the top two spots. You're talking about four great teams battling over who gets who in the first round.
Do the Clippers want to aim for OKC in the second round? That could have a lot to do with this. Houston's also likely to aim for the Thunder like they did last year. Where OKC finishes could actually have a lot to do with this. Portland likely wants to avoid Houston.
Last year, avoiding the 4-5 matchup was the keypoint for teams, but then Denver lost to Golden State despite grabbing the 3-seed. This year, you get the Warriors again in the three spot.
The Western Conference is absolutely brutal. The best thing these teams can do is just try and win as much as possible and hope for the best. There are no optimal roads through the West.
The Western Conference Bubble:
Safe: Golden State (probably)
Bubble: Dallas, Memphis, Phoenix
Dead Meat: Minnesota
Phoenix is a half-game back of the 8th spot, one back in the loss column.
Games remaining: 18 for Golden State, 18 for Dallas, 20 for Memphis, 19 for Phoenix.
Magic numbers for playoff spot: 16 for Golden State, 20 for Dallas.
Golden State is 3.5 up over the Phoenix Suns . It's not insurmountable, but if they can just keep up their pace as of late (8-2 in their last ten) they should be fine. They're just inside the furthest reaches of the danger zone.
Dallas dipped into the 9th spot in February and since then have managed to kick and claw their way to the No. 7 spot. They're not out of the woods by any stretch of the imagination, but they've also managed to dodge bullets like they're in the Matrix.
At this point, Phoenix is the concerning one. They've lost six of their last ten, and Memphis has been gaining on the bubble teams for two months. The schedules for all the remaining teams is tough, but at this point, Phoenix has to be the underdog for a spot. With Eric Bledsoe coming back, though, this one could go to the wire as well.
Minnesota is five back, which isn't insurmountable, but it's not easy to summit with 20 games left either.
Show Comments
Hide Comments
The Spurs have homecourt advantage, and will host Game 1 Monday night at 9:30 p.m. ET

All-Star guard flew to Washington after Game 6 vs. Bulls to attend his sister's funeral Sa...

Some love for the Rockets over the Spurs, and at least one expert says the Cavs are going...
Ball is expected to be one of the top picks in the NBA Draft later this summer

The Bulls guard fielded questions about his future during exit interviews on Saturday

The two teammates were still up playing at 4 a.m.