Power Tankings: The Sixers are claiming their rightful throne
The Philadelphia 76ers may be the lead tank now, but the area behind the Sixers and Bucks has a lot of potential for an epic Power Tankings finish.
A week ago, we had the ultimate tanking showdown that was going to set the stage for the final stretch of the season when the worst teams in the league started getting serious about their lottery odds. The Philadelphia 76ers and Milwaukee Bucks were meeting for the final time this season, just after the Sixers traded away two of their three best players and the Bucks traded two of their four best guards. They faced off in Milwaukee and the Bucks ran the Sixers out of the building.
The only thing that kept the game (Bucks won 130-110) as close as it was happened to be the 23 turnovers we saw from the Bucks. They were giving the game to the Sixers and the Sixers were lighting those chances on fire to see the brilliance of the tanking fireworks. Now, we've got the Bucks grasping onto a three-game lead over the Sixers for the worst record in the league and it's only two games in the loss column.
We've got 6.5 weeks left as these two titans jockey for position and a couple of big market hopefuls try to find a way to better their odds for a quick rebuild. 
As always, the winner gets Master P's gold tank and the best lottery odds: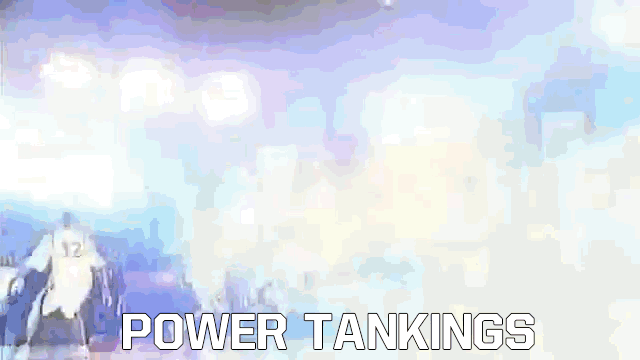 Here are the Week 19 Power Tankings:
Record: 15-45 (0-4 this week), Net Rating: -10.9 points per 100 possessions
The Sixers got their tank into battle mode with the blowout loss to the Bucks, but really they've been getting serious about this number one pick thing for quite a while. They're in the middle of a 14-game losing streak that has included 11 losses by double digits or more. They have a net rating of -19.1 points per 100 possessions during this losing streak. The 2011-12 Charlotte Bobcats that set the standard for worst team in NBA history had an offensive rating of 92.3 that season. The Sixers during their losing streak are rocking an offensive rating of 91.5. 
All the while, Thaddeus Young is just there wasting his talent. He'll eventually be moved, one would assume. During the 14-game losing streak, he's still been pretty good. He's averaging 19.2 points on 47.0 percent shooting, 5.9 rebounds, 2.6 assists, and 2.7 steals. There needs to be some kind of Sad Thad Watch there rest of the season to let him know we're recognizing and appreciating his talent and production on the court, even if it's coming for a team that is eating itself like some rogue bacteria. 
Record: 11-47 (1-2 this week), Net Rating: -9.3 points per 100 possessions
The Bucks are still really bad but it's amazing how in just a couple of weeks they've been completely pushed aside by the Sixers. Milwaukee hasn't beaten an above .500 team all season long. Their 11 wins have come against Boston (twice), Cleveland, Detroit, Washington (when they were .500), Chicago (they were still below .500), the Lakers, the Sixers (twice), the Knicks, and the Magic. The wins against the Wizards and Bulls (if you want to count them as teams above .500 because they've improved all season) came back in the first half of December. The Bucks have been awful but they haven't been Sixers sucky. 
Their next week isn't a terribly tough schedule either. They have home games against the Utah Jazz and Sacramento Kings. They have a road game against a battered New Orleans Pelicans team and then they head home for another game against the Wizards. Can the Bucks conceivably win one or two of those games? That's asking a lot out of such a bad team, but they make fall into a win or two, which would really hurt their chances against the Sixers the rest of the season.
Record: 20-39 (1-2 this week), Net Rating: -4.8 points per 100 possessions
The Lakers are right there for cracking into the top three of the worst teams in the league, potentially giving them the top five pick they'd desire in this year's draft. Knowing they really only have one shot to grab a top young player over the next three years, unless we get some type of Chicago Bulls Derrick Rose lottery miracle in 2016, the Lakers really need to maximize their position this season. They seem to be doing that, due to injuries and not bringing in good players that would require a long-term commitment to acquire. But can they really secure a top five pick?
The Lakers are four losses back of the Magic for the third worst record in the NBA. Luckily for their draft status, they have a pretty tough stretch of games over their next 10. They're at Portland then home for New Orleans in a back-to-back. They complete a four games in five nights with a home game against the Clippers and a road game in Denver. They have a home-and-home with the Thunder after that. Then they have another home-and-home with the Spurs. They finish that off with home games against the Wizards and Magic. That stretch of games ending with a loss to the Magic could be huge for their draft pick.
Record: 19-43 (2-2 this week), Net Rating: -5.1 points per 100 possessions
At the 50-game mark of the season, the Magic were 13-37 and looking at another potential top three pick in the draft. Since then, they've gone 6-6 with wins over the Pistons, Pacers, Thunder, Knicks, and Sixers (twice). The reason for their resurgence could be the improved play of Tobias Harris , who looks really healthy. In those 12 games, he's averaging 17.8 points on 48.7 shooting to go with 6.1 rebounds. He's looking like the trade deadline steal they got for  J.J. Redick last season.
They're really stuck in the middle of this cauldron of crap after the Sixers and Bucks at the top of the Power Tankings. Six teams in there are separated by just two wins, although the Magic have a three-loss lead over the closest team. But that might not be a big enough cushion for them. The good news for their tanking prospects is they have a pretty tough schedule for the rest of March. Eight of their 12 games the rest of the month are against playoff opponents, although they have a matchup with the Bucks, Lakers, and Jazz mixed in. The two against the Lakers and Jazz will be huge for Tankings seeding in May.
Record: 20-40 (1-2 this week), Net Rating: -4.8 points per 100 possessions
At the Sloan analytics conference in Boston, Celtics' owner Wyc Grousbeck gave this quote about the idea of his team tanking, "If we want to lose games, we absolutely hired the wrong coach. That guy [Brad Stevens] would light himself on fire to win a quarter of a game and he's been doing it all year." Now that I've unrolled my eyes from the very back of my head, I want to commend the Celtics on such a brilliant and textbook tanking model. They traded their aging veterans and their championship coach for crappy veterans and then signed a young coach with loads of potential. 
They hired a guy that will coach his tail off to try to get this team to win. The great thing is management and ownership haven't given him much to work with on the court. That team sucks and it sucks by design. They can blame the Rajon Rondo ACL recovery for their losses this year while selling to the casual Celtics fan that they never stopped trying to win. Instead of commending them for the coach (which was a fantastic hire), I'd love for someone to follow up with Grousbeck about the terrible roster they put together and why that's not a sign of wanting to lose games. You're tanking. We all know you're tanking. Please save us on the celebratory quotes, Wyc. Your season tickets will sell to that fan base regardless. 
Record: 21-38 (2-2 this week), Net Rating: -6.9 points per 100 possessions
This has nothing to really do with the Jazz and tanking but I'm really fascinated at the restricted free agency market for Gordon Hayward this coming summer. Restricted free agency has become something that bidding teams seem to try to avoid if they believe the offer sheet will just be matched. Look at what happened with Nikola Pekovic and the Minnesota Timberwolves. They went well over a month before any real progress happened with it because it was understood the Wolves were going to match an offer sheet for him. They were going to do it because no team was going to overbid and throw a max deal at Pekovic.
Hayward though is a different story. Coming off the rookie deal, that first max contract isn't really a big deal nor is it much of a cap killer for a team with so much flexibility like Utah. Ideally, they'd land in a four-year, $50 million range for Hayward in the restricted market and happily match that for such a versatile player. The Jazz could put out feelers into the market that they'll match any offer to try to sedate the market for his services, but teams with lots of cap space can afford to threaten with a max offer sheet to match. The Jazz could also draft a good wing player to complement or replace Hayward, giving themselves even more options. 
Keeping an eye on:

Denver Nuggets
Record: 25-33 (0-3 this week), Net Rating: -2.3 points per 100 possessions
The Nuggets are missing five of their top players right now and everything bad is happening for them. They still have quite a few games to lose before they get immersed into the Power Tankings but the fun thing for them is they can lose a lot of games and sit back to watch the  New York Knicks blunder, since they have the opportunity to swap picks for the most advantageous scenario for Denver. Technically, they're on the bubble watch for Tankings because the Knicks' blunders give them the best-case scenario, regardless of how they finish out the season.
Show Comments
Hide Comments
The Blazers had no answer for the Warriors once they got going in Game 3

Memphis can still grind out these victories

The Warriors erased Portland's lead in the blink of an eye
Memphis' franchise center made franchise history

How to watch the first-round series between San Antonio and Memphis

The Thunder and Celtics each picked up their first wins Friday night